Microscopy UK: "Pioneering Microscopy on the Web!"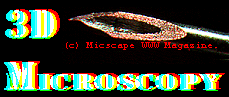 3D MICROSCOPE IMAGES
THE BUSINESS END OF A SCOPE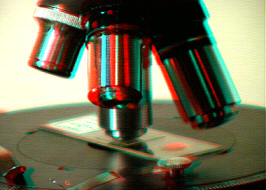 This is a good old sturdy Vickers Microscope, or at least the part of it where the specimen slides are placed for study. You can see the turret is holding four objective lenses of different powers of magnification. Also, note that the stage is a circular one - commonly used on a petrological microscope designed to study rocks and minerals.
A more common sliding x-y stage can however be attached to this one for easier study of other subjects.
A lot of the material seen on micscape will have been sourced via a camera attached to this 'scope'.
Comments and errors to The Editor
(c) www.microscopy-uk.net 1995-96 UK.
---
© Onview.net Ltd, Microscopy-UK, and all contributors 1995 onwards. All rights reserved. Main site is at www.microscopy-uk.org.uk with full mirror at www.microscopy-uk.net.