Nettle Flower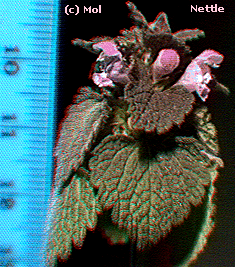 A nettle picked from my garden in England during Springtime. You just won't accept the beauty of this little plant until you see it close up in 3D. Visit the Fractal Imagery Gallery via Microscopy UK front screen to get a fantastic close-up look. The ruler on the left indicates size in millimeters.
This image was created by capture with a video camera. A left shot was taken then the camcorder was moved to the right a little for the second shot. The two images were combined using Double Vision software.
Comments and errors to The Editor
(c) www.microscopy-uk.net 1995-96 UK.
---
© Onview.net Ltd, Microscopy-UK, and all contributors 1995 onwards. All rights reserved. Main site is at www.microscopy-uk.org.uk with full mirror at www.microscopy-uk.net.