MICSCAPE: "Pioneering Microscopy on the Web!"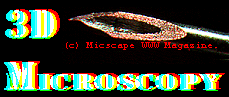 3D INSECT IMAGES

Hologram of Ant drinking honey


Hologram of Ant's Head


Hologram of Long-legged fly


3D Flea


3D Cockroach


3D Silverfish


Comments and errors to The Editor
(c) www.microscopy-uk.net 1995-96 UK.
---
© Onview.net Ltd, Microscopy-UK, and all contributors 1995 onwards. All rights reserved. Main site is at www.microscopy-uk.org.uk with full mirror at www.microscopy-uk.net.