Super Images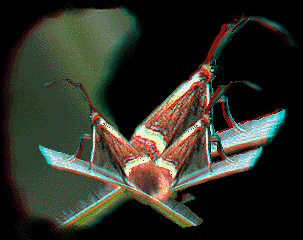 This is a moth, Nemophora degeerella to be precise, a member of the Incurvariidae or longhorn moth family. Sometimes known as fairy moths because of their dainty appearance and flight they are members of the group Microlepidoptera, meaning small moths.
The one shown is a male, which has the longest antennae of all British moths. Along with their prominent eyes, these antennae are believed to enable them to detect the females hiding in the vegetation of the damp woodlands they are found in. They fly in woodland clearings on sunny days in May and June, but tend to be most numerous towards dusk. The caterpillars live and pupate in a leafy case in the leaf litter.
Original mono-photo and text by Mike Samworth (UK)

This image was created from a single photograph. It was 'sampled' into a PC and converted into a hologram using Double Vision software. The effect of having the moth in at different levels into the picture was achieved by cutting, pasting, and producing varying degrees of hologram projections on the 'cut' parts prior to reassembling them into a final image.

Comments and errors to The Editor
(c) www.microscopy-uk.net 1995-96 UK.
---
© Onview.net Ltd, Microscopy-UK, and all contributors 1995 onwards. All rights reserved. Main site is at www.microscopy-uk.org.uk with full mirror at www.microscopy-uk.net.