Seen best with Netscape Navigator Browser.
LIVE ROTIFER BIRTH
An Amateur Microscopy movie
© Microscopy-UK 1997
Download a multimedia ZIPPED version!
---
Low Res Quicktime movie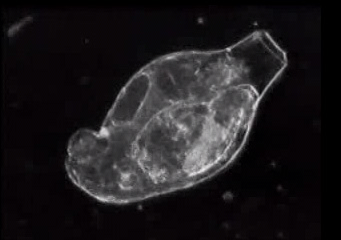 LOMO Biolam, 20x objective, Panasonic C-mount WV-CL350 security camera (430 line resolution). Recorded ca. 1985.
Right button click image to save to PC, then view video in PC's own player.
Edited video clip from DVD showing the live birth of a bdelloid rotifer, genus Rotaria
Showing mother before birth and mother and youngster after the birth.
Birth at ca. 2.5 minutes.
Above uses Xvid compression, 1.8 Mbytes. Codecs here if doesn't play on Windows / Linux PC.
For Windows / Mac with DivX codec, a video is here, but larger, 11 Mbytes. DivX Codecs are here.
This is a video sequence of an event that is rarely seen. A rotifer giving birth to live young! Most species of rotifer are egg layers where eggs are laid either outside or inside the body; these hatch into live young. However, some genus of rotifers give birth to live young. The video shows a rotifer of the order Bdelloidea, family Philodinidae and genus Rotaria. The birth occurred while the author was watching the rotifer on a slide under a cover slip! The mother seems to contract quite markedly during the birth before the single youngster is ejected from the posterior end. The youngster is fully formed and not much smaller than its mother. The mother was lethargic after birth, unlike the lively youngster. Rotifers of this species are typically up to 500um long.
The video sequence was filmed by David Walker, a keen amateur microscopist, (and the current editor of Micscape Magazine).



Go to TOP
Microscopy UK Front Page
Micscape Magazine
Article Library
Please comment to: Dave Walker
All content © www.microscopy-uk.net
and contributors - 1997
---

This content is one of Micscape Magazine's Amateur Movies. Please note that all content is copyright of Microscopy-UK and our contributors. You are welcome to share this article with friends and colleagues but no permission is granted for commercial use. All rights remain strictly with Microscopy-UK to protect the interests of our contributors. Our site is at http://www.microscopy-uk.net and you may wish to bookmark the page you're reading now to ensure you can come and visit us in the future.
DOWNLOAD A ZIPPED VERSION
You can DOWNLOAD a multimedia ZIPPED version of this page which includes a fully-working avi with synchronised sound. When unzipped, use your browser off-line and load the file called: WALKER1X.HTM

Microscopy-UK is a non-profit making group made up of people offering their time freely to promote further amateur study of our world though the use of microscopes in a non-professional environment. We have been established for about 18 months prior to the creation of this article. If you are interested in what we are doing, please contact us. We love to hear from folks around the world.
---
© Onview.net Ltd, Microscopy-UK, and all contributors 1995 onwards. All rights reserved. Main site is at www.microscopy-uk.org.uk with full mirror at www.microscopy-uk.net.