a simple compound microscope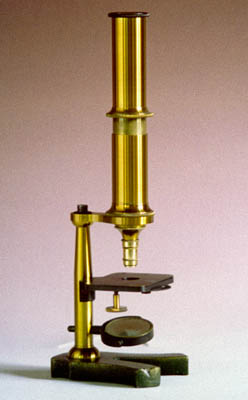 A famous producer of top quality microscopes was the firm of Powell and Lealand. Hugh Powell made very high power objectives, an apochromat immersion lens of NA 1,50 in 1896 for instance. Other producers were Ross and Smith and Beck, Nachet, Amici and many other famous names. Carl Zeiss Jena produced its first oil immersion objective in 1880, designed by Ernst Abbe, who was the founder of the optical theory of microscope lenses. Due to better mass fabrication techniques, microscope fabrication was concentrated in Germany after the beginning of the twentieth century.
Further developments followed; improvement of the microscope stand and more important even, the development of methods to increase the contrast. The Dutchman Zernike invented the phase contrast microscope in 1934.
Other contrast enhancing methods were developed, modulation contrast devised by Hoffman and Gross and differential interference contrast (DIC) , all with several variants. A well known DIC sytem was patented by Nomarsky in 1953. And fluorescence microscopy, in principle already seen by Köhler in 1904, has become a very valuable addition to light microscopy since about 1970.