A peep at a handful of slides from the second half of the 19th. century

By Paul James (uk)

Every microscopist has favourite slides, though probably cherished for different reasons. The slides I illustrate here are a small selection mounted between approximately 1850-1900 and in most cases their condition is quite extraordinary. Some have slight discolouration of the balsam, others appear as if recently made! Each slide has been scanned in a document scanner to show its general form, followed by images of its contents using a 'scope and digicam, together with comments.



1) " Diatoms...Various...arranged " A. C. Cole (mounted post 1867 )

This is probably the most frequently observed of all slides in my collection, and makes a good general test slide when comparing illumination techniques, resolution and flatness of field etc.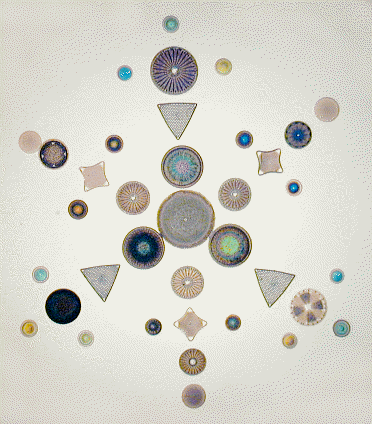 Various Diatoms. x60 In 'Snow Flake' form.

The substage diaphragm was reduced to

enhance diffraction colours.

2) "Strewn Diatoms" J.D. Möller 1844-1907 ( mounted post 1867)

This is my favourite slide of diatoms by far. Apart from the wide variety present

they are mounted perfectly within the medium and can be scrutinised in any

illumination form with ease.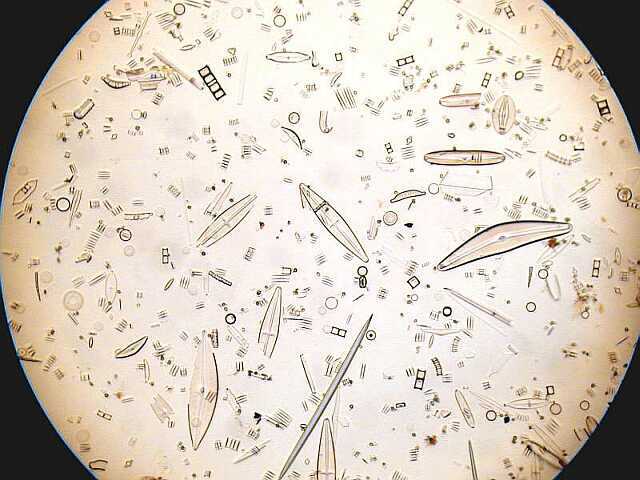 Möller slide. x7 Wild Achromat showing variation of species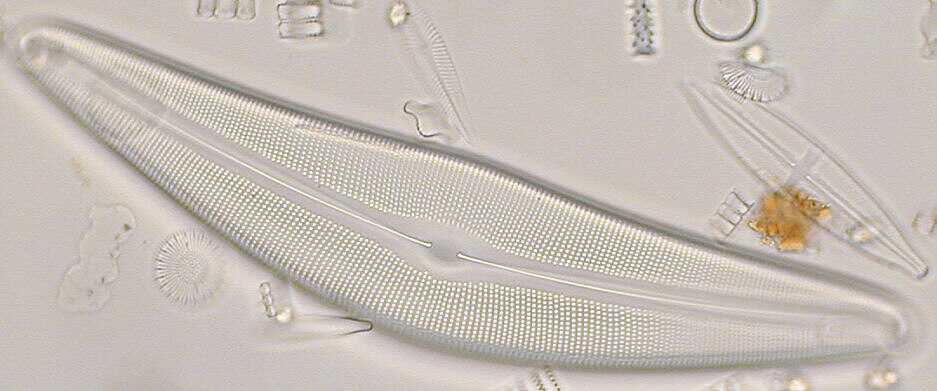 Cymbella species from Möller slide using x40 Carl Zeiss apochromat. Showing 'white dot' focus

and the very limited depth of focus using partially oblique illumination.

3) " Blow Fly" J. T. Norman (1814 - 1893 Mounted post 1843 )

Not an easy slide to illustrate here unfortunately, but nevertheless a well mounted if not

unusual specimen and in great shape too. The black paint may have been added after

the slide was originally prepared?

4) "Proboscis of Blowfly" C.M. Topping ( 1800-1874) mounted circa 1850

This paper covered slide is in excellent condition and is the best of a number of blow fly slides I have.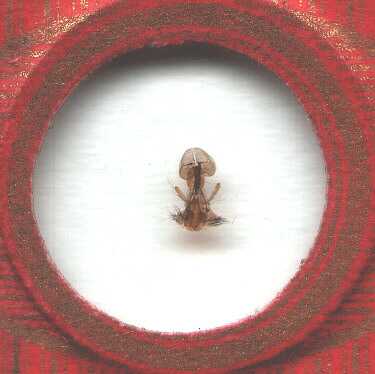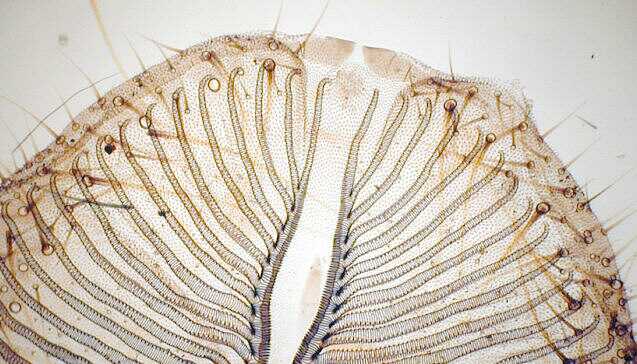 Blow fly's proboscis. Wild Achro x60. This specimen is perfectly flat with

very well preserved balsam considering its age, which is approximately 150 yrs old.

Using a Wild x7 achromat, x8 Spencer oculars in a Zeiss photomic 1 the imagery

of this specimen with mildly diffused lighting and lightly closed iris diaphgram,

is simply incredible right across the full field. This is high praise for the optics

and also the mounter, who had he been alive today would have been impressed too!

(The photo above fails miserably to convey the direct 'live' viewing quality.)

5) Test Slide of Pleurosigma formosum. J. T. Norman ( mounted post 1843 )

This slide is in excellent condition. Notice omission

concerning test objective focal length or power . This was not

an easy test for x40 objectives ( 1/6") of the day, but resolved

more easily by contemporary designs with coated optics.

Below.....Low power shot of strewn specimens.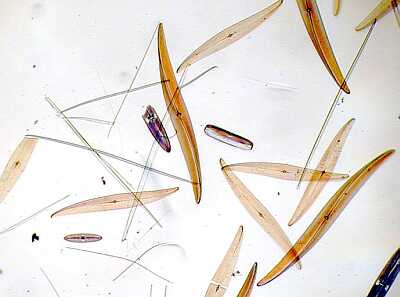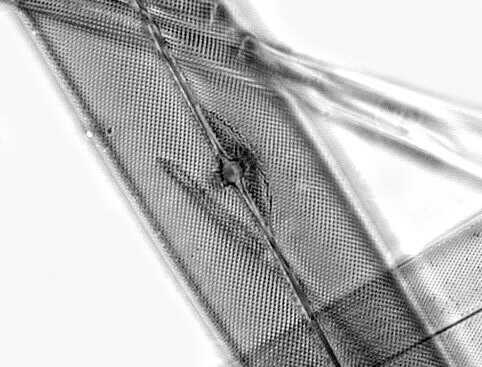 Pleurosigma formosum
(x800). x40 Wild achromat and x10 compensating ocular,
plus x 2 'Optivar'. Cropped but Unsharpened image.
Note finer dotting in adjacent specimen, and also optical
distortion through silica filament near top.
Grayscaled for clarity.
6) Boracic acid crystals for polariscope. E Wheeler (mounted between 1866-1884 )
This is one of a number of 'polariscope' paper wrapped slides from this mounter and others. Edmund Wheeler sold his business and slides to W. Watson and Sons in 1884.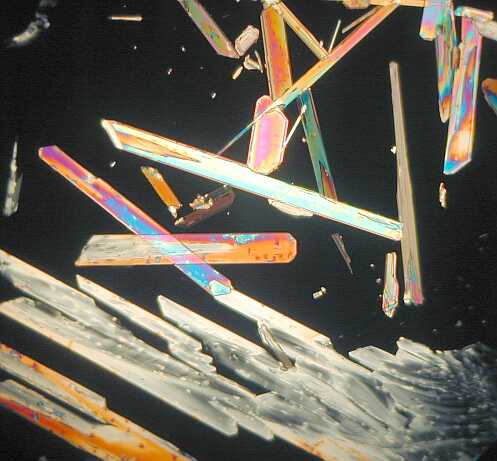 Boracic acid crystals x20 under crossed polar filters .
All photo's taken using a Nikon 800 in conjunction with Wild M20 and Zeiss Photomic1 microscopes
Slide portraits taken with a document scanner.
---
© Microscopy UK or their contributors.
Published in the April 2001 edition of Micscape Magazine.

Please report any Web problems or offer general comments to the Micscape Editor,
via the contact on current Micscape Index.
---
© Onview.net Ltd, Microscopy-UK, and all contributors 1995 onwards. All rights reserved. Main site is at www.microscopy-uk.org.uk with full mirror at www.microscopy-uk.net.