J. Swift & Son Ltd Model P Polarizing Microscope.
Serial number 30997.
Notes on restoration and a personal review.
By Ian Walker. UK.
* If anyone can provide further information regarding the Model P, objectives and accessories, especially Swift catalogues of the era it would be appreciated. Although a popular post war polarizing microscope there seems to be little in the way of information on the Internet and other sources.
I recently acquired a J. Swift & Son Ltd 'Model P' polarizing microscope on eBay complete with box and some of its original accessories. It has been well used and looks as if had been stored for some time and needed a thorough clean but overall was in good working condition. The 'Model P' was a success for J. Swift & Son Ltd and sold well internationally and together with their automatic point counter played a major role in keeping the company running in the 1950's (ref. 1).
Introduction.
Here are some interesting dates from J. Swift & Son microscopes' history leading up to the 'Model P' based on an extensive article (ref. 1) written by J. H. Basset who joined the company in 1949.
1853 Company founded by James Powell Swift, based in East London.
1884 Mansell James, son of James Powell, joins the company.
1881 Improvements to microscope design; replacement of the straight rack and pinion focusing to helical cut components and a new fine focus system.
1891 First petrological microscope introduced using fixed stage and revolving coupled polarizer-analyzer - a design by Allan B. Dick, further refined in later years to become the 'Model PD' stand.
1901 Captain Scott was supplied with Swift microscopes for use on the R.R.S. Discovery for the 1901-1904 expedition, named in the catalogue of the time as the 'Discovery' model.
1903 Mansell Powell John Swift, grandson of the founder joins the company.
1906 James Powell, founder of the company dies.
1942 Mansell Powell dies October 12th, aged 56.
1942 Mansell James dies a day later on October 13th from the shock of his son's death, aged 88.
1944 Premises at Tottenham Court Road, London badly damaged by a German V1 flying bomb.
1946 E. R. Watts & Son Ltd took over the running of the company mainly due to the association between the Watts and Swift families in earlier years.
1949 John H. Bassett joins the company from a background in electrical and electronic industries, microscopy was 'completely new' to him but the optical world created an 'interesting challenge'.
1953 John H. Bassett introduces the 'Model P' polarizing microscope with variants the 'Model S' [biological] and 'Model M' [metallurgical] all based on a common stand, the 'Model S' faces stiff competition but the 'Model P' does well.
1953 John H. Bassett introduces the automatic point counter.
1959 John H. Bassett proposes new designs to replace the 'Model P' but the directors felt it unwise to pursue further designs because of greater competition and did not take up the challenge, J. H. Bassett leaves the company.
1968 John. H. Bassett having been successful in running his own microscope business for some years being an agent to the major microscope manufacturers of the era purchased the company J. Swift & Son Ltd and here the story ends for the 'Model P' which had been phased out some time previously.
The J. Swift & Son Ltd 'Model P' Serial Number 30997.
* Note: there are several variations of the 'Model P' depending on its intended purpose, all images shown are after refurbishment unless otherwise stated, some work is still outstanding whilst this article is under preparation.
Having seen some other Swift microscopes on eBay and elsewhere I am puzzled by the serial numbers. What appears to be two much later 'Model P's' with slider compensators appear to have much earlier serial numbers, or did Swift restart serial numbers on each version of the 'Model P' that came out?
The black enamel was in good condition so a gentle clean with a damp cloth was all that was needed and a gentle buffing up with a dry cloth to bring the lustre back. The machined parts are not lacquered like earlier brass instruments some of which had very delicate and mostly irreplaceable finishes so a steel-aluminium cream cleaner was used made by HG International. Optics were left alone if possible but some external surfaces of the objectives had been attacked by fungus due to storing in a damp environment, confirmed by the minor chrome plated parts on the stand which had rusted to various degrees including the stage clips. The turned parts of some objectives were covered in grime, this was removed by rotating a dampened cotton bud round and round until clean. Each person has his or her own preferred method of dealing with these problems and I am not going to say the way I have tackled it is correct, but I am pleased with the results which hopefully remain sympathetic to the original finishes. An account of my work has now been put into the box, hopefully to remain there so when it becomes an antique in 50 years time somebody can see what has been done in the year 2004!
Whilst working on the microscope I was surprised to find how easy it was to remove all the screws for the parts I was working on and in general no specialist tools were required which you often need with other makers. The coarse focus, stage and condenser movements work well adjusting smoothly with little play, a good sign of the engineering after 40+ years. The fine focus which works on a lever movement principle is less successful on my sample and after inspection I decided to leave it alone but it has a sluggish, vague feel and the control seems over greased. I have used this type of fine focus before with the same result, in comparison to a Cooke Troughton & Simms M2000 of a similar vintage which had a truly excellent fine focus with a very light and precise action - one of the best I have come across, [the Swift possibly uses a similar principle - it may come down to a different implementation]. However, I was pleased to find that the condenser diaphragm had not been over greased and gone solid since I have had to repair these in the past [including on a Zeiss stand] and it's not a pleasant job. I don't think diaphragms should be greased at all but virtually every microscope I have come across seems to be suffering this problem.
The condenser has no markings so I am uncertain of its NA or type but it is in good condition showing little surface defects to the optics.
Summing up, after extensively using the Swift 'Model P' on various subjects and working on it for some time I would say it lacks the finesse and finish of similar Leitz polarizing microscopes of the same era (seen in publications) but it's a good basic microscope of the 1950's and has undoubtedly performed the task of quality petrological study in laboratories all over the world and I am pleased in having the opportunity to test one.
To see larger images together with details, click on the above images.
Objectives shown: 45mm [3x] NA 0.12, 12mm [14x] NA 0.5 and an unusually short 4mm [40x] NA 0.72; very respectable NAs even by today's standards, all come with centring mounts which work well. The 45mm [3x] objective was not part of the package, the 25mm [5x] NA 0.16, part of the original system was in the process of being checked and cleaned when I took this image and was missing its case. The lower power objectives have quite large front elements and could easily be checked and required cleaning due to contaminants and fungal infection from being stored in a damp environment. The 5x, 14x and 40x have rudimentary anti-reflection coatings but the 1.5x appears to have no coatings. The white lettering on objective cases has been re-applied.
Shortly after purchasing the microscope I purchased some more J. Swift & Son objectives of the same vintage: the 45mm [3x] shown above; a very long working distance 75mm [1.5x] NA0.08 which will work with this microscope due to the fact the stage can be racked right down as well as the main body racked to its upper limit; and two lenses marked just 100mm and 'telescope' both of which I do not think were designed for this microscope, all with original cases; and finally another spare 12mm [14x] objective.
Also shown are the original sensitive tint plate and quartz wedge, the diffused filter screws into the bottom of the polarizer for low power objectives plus nicely made wooden holder for cased objectives; one of the centring adjusters for the objective carriers is missing. One nice idea from Swift is that if you remove the diffused filter from its mount for screwing into the polarizer it fits perfectly into the swing-in filter tray allowing independent use of the polarizer and filter.
Objective Impressions.
There are no markings on the objectives to suggest whether any fluorite elements are used and their construction seems fairly simple, however the NA's are very reasonable.
1.5x NA 0.08. With the 10x eyepiece provides 15x magnification and an enormous working distance which gives excellent depth of field, impressions are sharp, clear images and worth further investigation.
3x NA 0.12. Reasonable flat field with good detail providing satisfying images with crossed-polars and crystals but less successful on large plant sections where the lack of plan characteristics starts to show.
5x NA 0.16. OK with the Swift cross-hair eyepiece with a narrower field of view but it is less useful for use with the digicam and Meiji eyepiece, however its high NA gives a crisp detailed image.
14x NA 0.5. An excellent objective giving very sharp and bright images.
40x NA 0.72. Marginally better resolution than a modern 40x NA 0.65 achromat, could be either the front element which shows some sign of abuse or the condenser.
Front and rear views, the left view shows the swing out polarizer and right, the damaged paint on the rotating stage but original stage clips. If anyone can suggest a suitable paint to refurbish the stage properly in keeping with the original finish I would be grateful since most paints I can think of won't take continuous movement from the stage clips or slides I suspect.
Underneath of the stage assembly during cleaning and nearly ready for new lubricant.
The rotating stage was a little stiff on receipt so all remains of the original lubricant was removed. It was difficult to know what this was since most of it had long 'dried out' but I used a light grade oil since there is a small circular depression in the assembly to accept what I think was an oil reservoir keeping the two plates constantly fed on rotation. The refurbished stage assembly works extremely well and is light to the touch with enough damping to prevent accidental movement. I think grease used here would have been too stiff and created excessive drag, a common problem with the Russian LOMO Biolam range.
Two views of the rotating pre-centred Bertrand lens and analyzer removed for visual checks, other versions used the now standard slider compensators with integral dust covers.
With the limb almost horizontal it is easy to work on the substage assembly for cleaning, here showing the pre-centred condenser removed plus condenser and stage controls, again the stage height control seems to be an option not seen on other units in publications I've seen to date.
The condenser with swing-out filter holder underneath, I cannot find any markings to indicate NA.
On the left the assembly for reflected light which also holds the objective, this includes a rotating polarizer and semi-mirrored control to direct the light from reflected to transmitted plus diaphragm and lens, on the right the main tube dismantled ready for cleaning.
Instead of the top lighting attachment there is a version with rotating turret which can hold three objectives, 'Model PN' I think.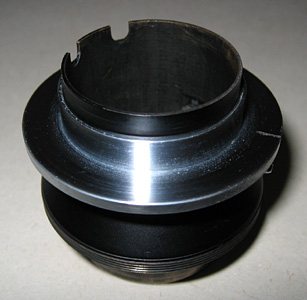 The removable holder for the 30mm eyepiece includes an accessory slot for additional compensators with the correct eyepiece fitted and integral slideable dust cover, again this is an option since some other 'Model P' microscopes I have seen don't have this fitted. I think this assembly accepts more sophisticated Wright eyepieces. Included with the microscope were two Swift 30mm eyepieces both with focusable cross-hairs that are not easily removed, unfortunately this causes a problem with taking images except where the image of cross-hairs may be desirable say in rock sections. I tried a 30mm eyepiece from a Meiji stereo microscope and after a small modification to get it parfocal with the Swift eyepieces, works remarkably well also having the advantage of a high eyepoint suitable for projecting an image onto the lens of my Canon Ixus 400 digicam. However this wide-field eyepiece pushes the capabilities of the Swift objectives too far having not been computed to run with them! This combination though has been used in the images shown later, together with another one of my home made mounts for the Canon. I have also used a 30mm Leitz eyepiece without cross-hairs of similar vintage to the Swift with good results.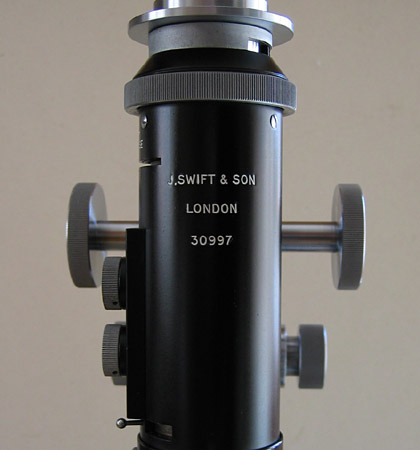 The original name and serial number had gone quite dull with some of the paint missing from the letters, the image shows the restored lettering.
Detail of polarizer markings after new paint applied to engraved markers.
Rotring paints and Prolene 2/0 [from the 101 series] brush by Pro Arte used in restoring markings, the paints are water based and colour fast but when dry are quite resilient to moisture.
The left image shows an internal shot of the restored box with microscope and accessories and right, the original Swift name plate and beautiful wood grain on the external face of the door. Unfortunately at some time in its life the door had been forced open creating some damage on the left panel probably because the design allows you to close the door with the key still inside! There was not much I could do about this, the rest of the box needed a good clean and some gentle wood restorer applied to bring the natural wood grain back to life. The felt pads needed some work but are now OK. Fragments of an original address label was inside but in very poor condition, part of it was saved, reinforced and made into a smaller label attached to the key as shown in the right image.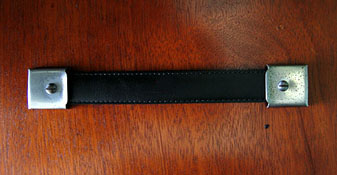 The outer section of the original handle was beyond repair but on the suggestion of my brother I cut a piece from an old well worn leather belt fed the steel reinforcer through the centre of the stitched leather and produced a handle hopefully in keeping with the box.
Home made accessories.
On the left, the LED light assembly replacing the mirror [the mirror can be easily put back on the release of two brass screws] and on the right, the Canon Ixus 400 digicam on its mount.
Early tests of the microscope and optics were carried out with a limited form of critical illumination via a converted desk light fitted with a 75 watt photo-enlarger lamp, this worked well enough but is bulky, gets very hot and has no diaphragm . I wanted the microscope to be more self contained so I investigated the possibility of LED illumination. Ideally I would like to use a high quality external Köhler lamp but smaller units have not been made commercially for some time from the 'big makers' and good ones are becoming rare on the second-hand market. [I have not needed one earlier since the microscopes I have previously owned have all had built-in illumination].
LED microscope illumination is not a new area, there have been several articles published and they are starting to be used in the commercial sector, especially on the cheaper 'scopes so I thought I would look into the practicalities of this type of microscope lighting. At the outset I wanted it to be an integrated part of the Swift, versatile and be in-keeping aesthetically so I have used the mirror mount as a starting point to the design. The advantage of this is being able to accurately centre the lamp in the X-Y plane and move with the microscope at all angles compared to just sitting it beneath the microscope with the microscope vertical. Also by using this mount I can introduce varying degrees of oblique illumination by moving the assembly from side to side, this has been tested and works extremely well and dispenses with other methods like a special condenser. Incidentally some early tests with replacing a Russian low voltage filament bulb with an LED in my brother's LOMO Köhler lamp assembly and making some simple modifications to the power supply suggest this could be an alternative to Köhler lamps with hard to find bulbs, but the type of LED is very important and the ones I had purchased were not really suitable. I would not recommend this route for anyone not familiar with electronics or electrical circuits.
Shown above, 4.8V [4 AAA NiMh] battery supply with adjustable voltage and mirror mount for LED housing consisting of an old modified Leitz 10x periplan eyepiece with weak diffuser (a disc cut from a translucent 35 mm film canister!) plus the Canon digicam adapter. The LED is quick release from its housing enabling the use of LEDs of different types or colours if required. Tests with a green one worked very well with diatoms and provides a much 'purer' colour than using tungsten lighting and colour filters. Again, using this method I can do tests with infrared emitters [similar external package as LEDs and black and white image capture using a video camera]. The LED lighting is sufficient for crossed-polar and dark-field work when used with the Canon camera, objectives 5x-40x can be used without any additional filters but the 3x requires the use of the swing-in Swift diffused filter. No colour correcting filters are required when using the white LED since the luminosity only changes with LEDs at different supply settings, the colour balance remains the same throughout their operating range unlike tungsten lamps. Note that the nominal working voltage at maximum brightness for the Nichia NSPL510S 5mm white LED used is 3.6V. Inside the supply unit there is a voltage dropping resistor calculated to drop the correct volts to the LED with freshly charged batteries at the LEDs maximum brightness. I am considering adding a voltage regulator and low battery volts indicator in the future. The LED gives very relaxed viewing in bright-field and there is no UV component to worry about in this range from Nichia. If you are interested in LED lighting you can read an article I am preparing for next month going into more detail on the above system.
Reference: 1) 'The history of James Swift & Son Ltd' by J H Bassett. Journal of the Quekett Microscopical Club, vol. 33 ( July-December 1977), pp. 210-221.
2) 'Crystals and the polarising microscope' by N H Hartshorne and A Stuart, 3rd edition, 1960, Edward Arnold (Publishers) Ltd, London.
Chapter V has a section entitled 'Typical polarising microscopes' which has an illustrated discussion of some Swift 'Model P' variants and accessories, pp. 197-201.
Some Images taken with a Meiji 10x eyepiece, J. Swift & Son objectives and microscope, Canon Ixus 400 digicam with home made adapter and LED light source.
A conoscopic view of a thick slice of muscovite seen as an interference pattern using the 40x objective and internal Bertrand lens.
Slide prepared by myself.
Two further interference patterns of muscovite cleaved from the thicker section above showing different interference colours, the second image rotated 45 degrees. Slide prepared by myself.
Parasite of pig using bright-field illumination showing the combination of white LED lighting and the Swift diffused filter work well at low magnifications. Unknown mounter. Note this image has considerably 'softened' from being resized from a larger image.
Moss Agate from Brazil under plane polarized light and Rheinberg illumination to show the original Swift eyepieces work well enough, the image shows some field curvature. The cross-hairs can be rotated by moving the eyepiece in its mount. A Watson & Sons slide.
Starfish [a very small one!] with crossed-polars and sensitive tint plate; pity about the internal hair in the preparation the effect of which couldn't easily be removed later in Photoshop. A Biosil slide.
The images to follow show what can be done with a single slide in this case crystals of Urea prepared by the late Eric Marson [NBS].
All crossed-polars.
All these images were taken with the Swift 3x objective.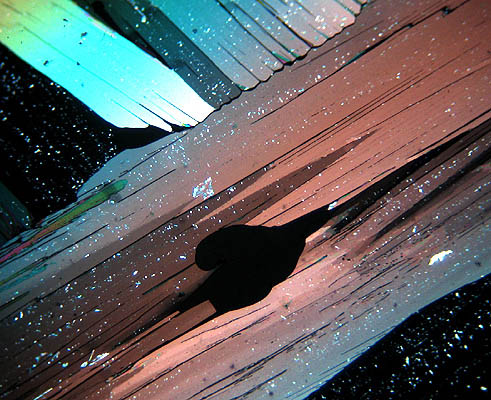 Is it wood or is it crystal....I like the 3-dimensional effect.
Reminds me of flowers opening in spring time....two images from the same area of the slide but stage and camera rotated.
My two favourites!
The End.
Ian Walker.
Note added May 2017. Please note that the author no longer has this microscope and unable to offer any more information on the microscope than is offered in the article.
Nor able to offer sources of manuals, accessories or spare parts.
---
© Microscopy UK or their contributors.
Published in the March 2004 edition of Micscape.
Please report any Web problems or offer general comments to the Micscape Editor.
Micscape is the on-line monthly magazine of the Microscopy UK web
site at Microscopy-UK
---
© Onview.net Ltd, Microscopy-UK, and all contributors 1995 onwards. All rights reserved. Main site is at www.microscopy-uk.org.uk with full mirror at www.microscopy-uk.net.