A Galaxy In Sand - an illustrated poem

by Christina Brodie, UK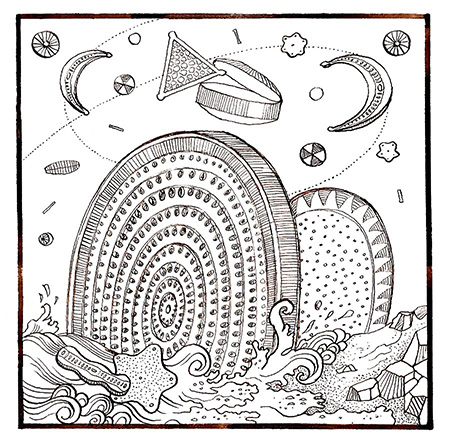 I
Diatom suns sway crescent moonís course;
Cushion star collides with miserís purse;
Triangleís ting forces pillbox doors,
A galaxy in sand;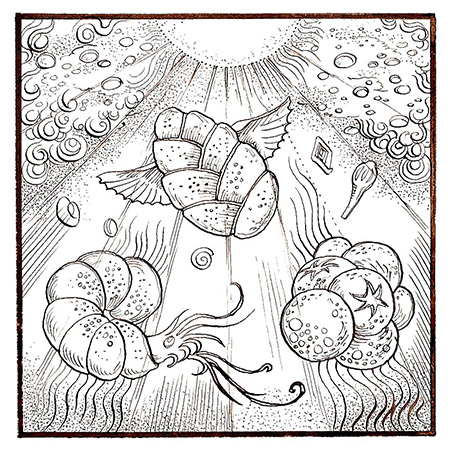 II
Foraminifera forage fast;
Archimedesí spirals, plaited loaves,
Antique amphorae and bubblerafts,
A galaxy in sand;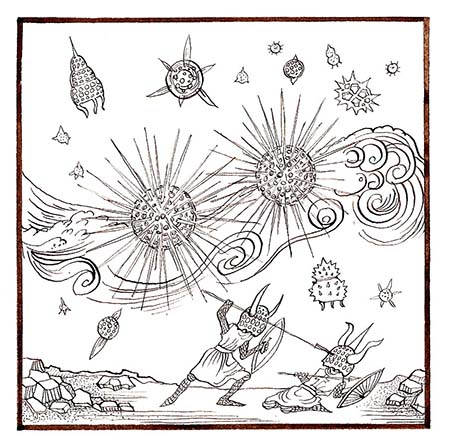 III
Radiolarians radical;
Spiked skeletons rise with soothing swell,
Horned Vikings Teuton Templars tumble,
A galaxy in sand;
Crescent moon turns ocean wheel makes sea to landÖ
A galaxy in sand.
© Christina Brodie 26th October 2008
Authorís note: Drawings are not scientifically accurate, in line with the essence of the poem!

The author, Christina Brodie, was previously a contributor to Micscape as a botanical illustrator. She is influenced by the poetry of Sylvia Plath,
Renaissance and medieval art, and all things mystical. Her art, music and contact details can be found at: www.queen-christina.com
Images © Christina Brodie 2008. All rights reserved.
---
© Christina Brodie 2008.
Published in the December 2008 edition of Micscape Magazine.
Please report any Web problems or offer general comments to the Micscape Editor.
Micscape is the on-line monthly magazine of the Microscopy UK web
site at Microscopy-UK.
---
© Onview.net Ltd, Microscopy-UK, and all contributors 1995 onwards. All rights reserved. Main site is at www.microscopy-uk.org.uk with full mirror at www.microscopy-uk.net.