Topical tip. Interchanging microscope maker's photo-adapters.

by David Walker, UK
In a November 2021 Micscape article I presented the case for tolerating vignetting in a digital camera if the total visual field from the microscope was captured. With the recent high megapixel count of consumer cameras, a crop may still provide sufficient pixels for an objective's full resolution. Many subjects also fit a circular field better than a rectangular crop.

The example used a Nikon Eclipse 800 stand which my brother Ian and I are slowly building up (shown left below with Sony NEX 5N APS sensor body with a 38mm to C-mount adaptor). Although the vignetting is acceptable for many subjects that essentially fill the visual field, a feature that is missed, present on our Zeiss Photomicroscope III, is an Optovar. Smaller subjects such as diatoms may not fill the field well without resorting to a possibly unwanted step up to a higher mag immersion objective. An Optovar can be useful in this case especially if the objectives are high NA examples of their mag.

Understanding the photo system options of the Nikon Eclipse 800-1000 range remains a tad baffling, for me at least, especially for consumer APS or full frame sensors; many pro' photo systems primarily support dedicated small sensor microscope cameras. The Nikon ergo head has a 38 mm ID photo port which seems fairly standard across many maker's systems. In the past I'd purchased Leica's adapter (#10446175 2.5x) for my S-series stereo to take a full frame DSLR body. As remarked in a previous article this was a very impractical solution—tall, cumbersome and vibration prone.

The Leica stereo photo adapter uses the same 38 mm port so out of interest I tried this adapter on the Eclipse 800 port as shown below using a Canon 600D APS sensor camera. This is the body I use on a Zeiss PMIII. A simple try it and see as was uncertain if the photo port of the Leica stereo used finite based projection optics as the Nikon Eclipse is infinity based.

A useful test subject for a photomicro' setup is a micrometer scale to show any non-planarity or aberrations. Planarity was very good for the 600D APS sensor with only slight chromatic aberration near the edges if pixel peep at 1:1. A similar amount of CA that tolerate on the PMIII as unseen at typical image sizes used. At the time of testing I briefly owned a used Canon 5D Mk II body with full frame 35 mm sensor but that gave marked CA and softer towards the edges with vignetting at the corners, so unsuited.

Although the 600D has a cropping effect, capturing ca. 60% of the max. that can be expected for a 35 mm format, this as remarked above was potentially useful if seeking a little extra mag in the absence of an Optovar on the Nikon. (The crop of course being a modest digital zoom rather than the optical action of the Optovar). The Leica adapter has a limited travel adjustment to set parfocal on a stereo. When set optimally on the Nikon, a low mag 2.5X objective required a quarter coarse focus turn and a 10X a fine focus turn to be parfocal with visual. This was not critical as use Live View on a PC for focussing and to exploit vibrationless exposures with the all electronic shutter in this mode.

So the Leica adapter will have a useful role on the Nikon Eclipse and avoid purchasing often quite expensive and hard to source photo adapters.

The ergo head with 38 mm ID lensless port on Nikon Eclipse 800.
Left - Sony NEX 5N (APS sensor) attached using a C-mount adapter provides vignetted full visual field when required.
Right - Leica adapter gives vignette free image on a Canon 600D (APS sensor) with a useful Optovar crop factor when required. It is unsuited for a full frame sensor.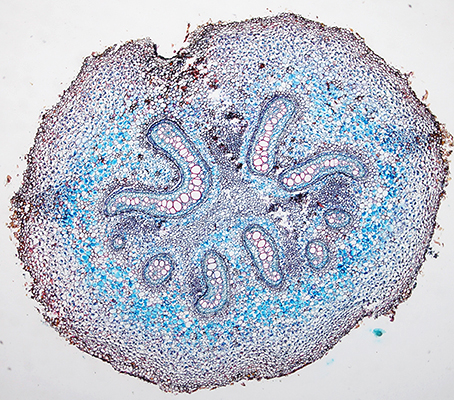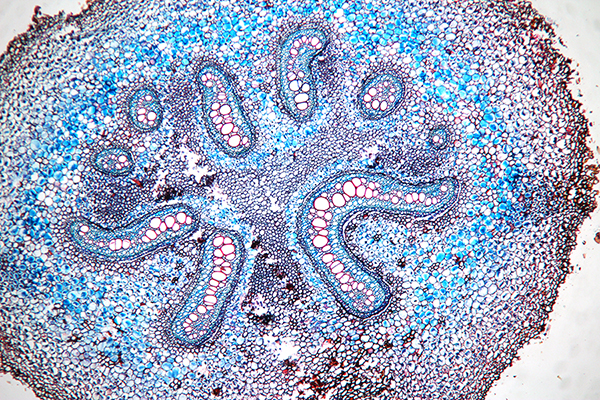 Brake fern, Pteridium, T/S rhizome (Biosil slide). Nikon 2/0.10 objective.
Left. The Sony setup allows a full capture of the section, cropped from full visual field.
Right, the Canon setup with Leica adaptor provides a crop / Optovar type option, particularly useful for e.g. diatoms at higher mag that do not fill the field.
---
© Microscopy UK or their contributors.
Published in the January 2022 edition of Micscape.
Please report any Web problems or offer general comments to the Micscape Editor .
Micscape is the on-line monthly magazine of the Microscopy UK web site at Microscopy-UK
---
© Onview.net Ltd, Microscopy-UK, and all contributors 1995 onwards. All rights reserved.
Main site is at www.microscopy-uk.org.uk with full mirror at www.microscopy-uk.net .