Micscape Video Gallery
A new series for 1999
Beating cilia of a protozoan, video taken by Edward Cowen, UK
(Text introduction by Dave Walker)
Video in lower quality 'animated gif' format.
Click here for 'avi' version if your computer supports 'avi'.
With the steady drop in prices of video cameras, video microscopy has become increasingly affordable to the amateur. A domestic camcorder (with lens) or security style video camera (without lens) can both be successfully used on even a simple student microscope to get video microscopy sequences. We are keen to share readers video clips as they can give a flavour of the joys of studying live organisms rather than using prepared slides.
To kick off the series we show the beating cilia of a protozoan using high power phase contrast. The video tape was sent by Edward Cowen, UK. Keeping a live protozoan still at this magnification (100x, NA1.3 oil immersion objective) is challenging so Edward has done well to capture this sequence. The web video clip has to be compressed to keep the file small so losses cf. the original video are inevitable.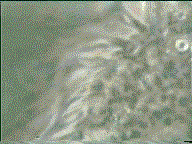 Animated gif version with limited 256 colour palette.
Comments to Edward Cowen welcomed.
Offers of video clips are welcomed, contact Editor below for details.
Please note that the videos must be your own and that you are permitting us to publish sequences here. The copyright of any material published remains with the contributor.
---
© Microscopy UK or their contributors.
Published in January 1999 Micscape Magazine.
Please report any Web problems or offer general comments to the Micscape Editor,
via the contact on current Micscape Index.
Micscape is the on-line monthly magazine of the Microscopy UK web
site at Microscopy-UK
---
© Onview.net Ltd, Microscopy-UK, and all contributors 1995 onwards. All rights reserved. Main site is at www.microscopy-uk.org.uk with full mirror at www.microscopy-uk.net.