A Tale Of Three Digicams.
By Ian Walker. UK.
As a spring break from microscopy this month I have collected some of my archived pictures not seen before
and some new ones taken in the last few weeks with the Canon Ixus 400.
Introduction.
I have been fortunate in having owned three well known digital cameras of different design and vintages, the Nikon Coolpix 4500, Fuji S2 digital SLR and the Canon Ixus 400. The Nikon to this day has great versatility when it comes to macro or general close-up work due to its swivel body but I am surprised Nikon did not take the design one stage further with a 5 or 6 megapixel CCD, improve the speed of saving images and simplify the menu structure, but maybe the small lens format was at the limit of its resolution. The Fuji S2 is probably one of the most successful of the larger digital SLRs and is particularly good at low light images because of the excellent CCD. Many times I used it at 400 ASA and although noise was present it was well controlled. The Canon Ixus 400 [now replaced in the Canon range by the Ixus 500] is a take anywhere fully automatic point and shoot camera with some manual control if you wish.
The Fuji S2.
I have enjoyed using all three cameras extensively in the field but eventually the sheer size and weight of carrying a back pack with two or three lenses, filters, accessories plus camera body and spare batteries took its toll and I sold the Fuji S2. I am an opportunist photographer when I am walking or cycling and when I bought the S2 I convinced myself the extra quality would outweigh the disadvantages of bulk and weight.....wrong!! if you take the camera about in your car and go for short walks fair enough but if you are walking for any length of time it becomes very evident you have a few kilos sitting on your back. Eventually the S2 was being left at home more and more and consequently I missed several good photographic outings.
It's no good having one of the best digital SLRs at the time but sits at home in its box. It's interesting to note that with all the lenses and accessories it was not much more versatile than the smallest of my cameras, the Canon, in terms of zoom range [especially at the wide angle end] or for close-up work. By the far the greatest asset of the S2 is the CCD which is one of the best I have come across in the very smooth images even at high ASA ratings and its professional layout of controls and simple menu system. However, one of the major problems I had was dust on the CCD due to changing lenses in the field - I haven't seen much comment about this on the Internet but trying to clean CCDs yourself is a last resort and I ended up editing each picture to remove dust specks which was very time consuming and sometimes impossible.
The Nikon Coolpix 4500 and Canon Ixus 400.
The opportunity recently came about to re-acquaint myself with the Nikon 4500 but the 'magic' had gone and I was reminded by its now slow operation compared to more up-to-date designs and my dislike of its menu system. The Canon is my current camera and although it has its faults it's my favourite since I don't even know I am carrying it most of the time. It has limited menus, fast in operation and takes well balanced landscape shots and is adequate at macro even though I have to take most pictures 'blind' in those difficult low level positions. It also makes a good basis for a microscope camera if you don't mind a bit of DIY to connect it to the microscope.
With all three cameras one of my favourite modes is B&W, many rather dull or uninteresting landscapes especially in the spring atmospheric haze can look much more striking in B&W - also not forgetting close-up work as well which can look equally attractive as colour. All the images below were with the cameras set to B&W or sepia, not colour and post edited in Photoshop. I like the 'grain' that the old B&W fast films produced, in some of the images this has been artificially added but mainly in the case of the Nikon I set a higher ASA rating to achieve the same effect. It is also interesting to look at the range of tonalities achieved even though they are all based on B&W or sepia. The Fuji S2 has a low noise sensor so in this case I have taken advantage of this for a smoother look. Due to resizing and having to use high jpeg compression to keep file sizes down some of the images have suffered.
Fuji S2 with Nikon 28-105mm f3.5 AF-D lens.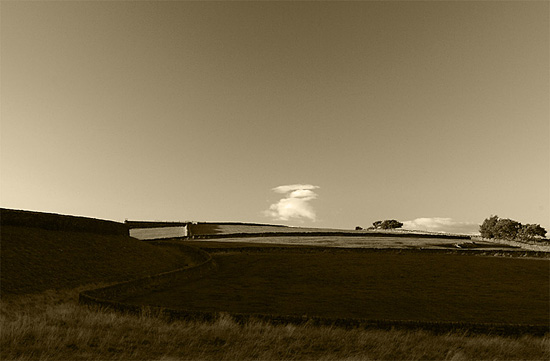 Click on image for a larger version.
Dry stone walls and simple cloud formations can provide a pleasing picture.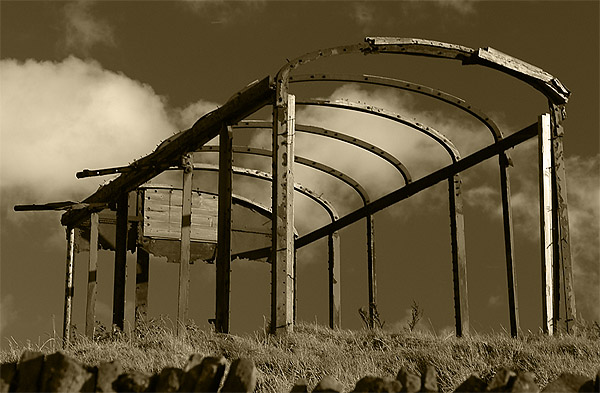 Click on image for a larger version.
Skeletal railway carriage, Fuji S2 with circular polarizing filter.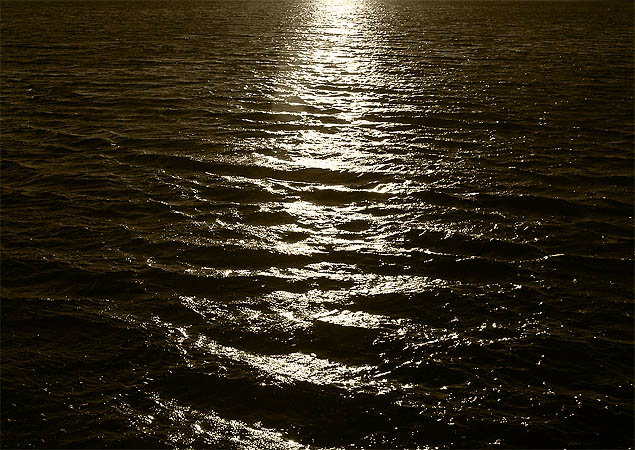 'Reflections'.... I just like the simplicity! Fuji S2 with circular polarizing filter.
Nikon Coolpix 4500.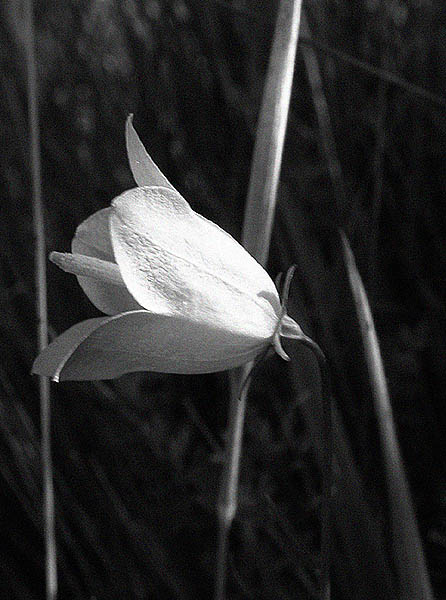 Harebell, try framing this low level shot with a fixed LCD design... it's not easy.
Nikon in macro mode with circular polarizer and red filter.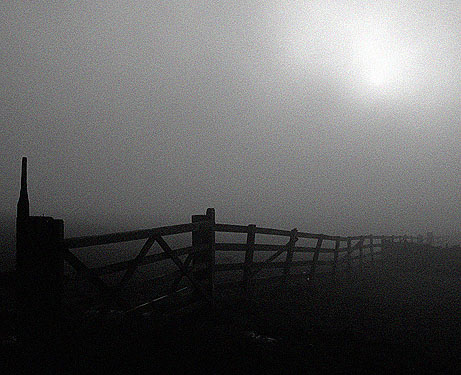 Fields in the fog.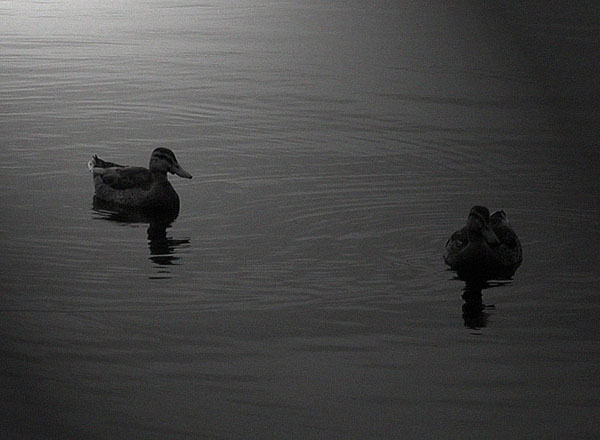 Two ducks, with post editing of 4% noise added in Photoshop to give a 'fast film look' of the old days.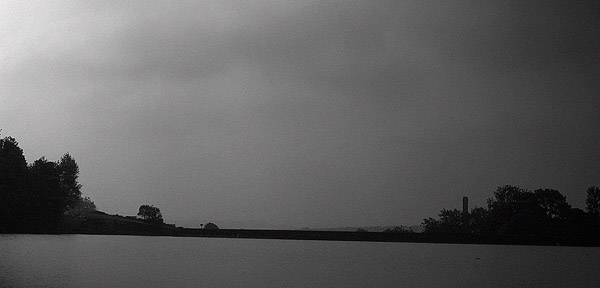 Click on image for a larger version.
Local reservoir, Nikon with circular polarizer and red filter - a strange optical effect here of a 'sloping' reservoir is created
because the reservoir walls are curving in towards us on the right, you can see that the chimney and trees are vertical.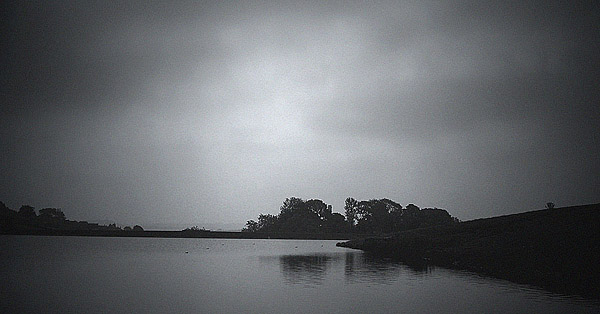 Click on image for a larger version.
Local reservoir, Nikon with circular polarizer and red filter.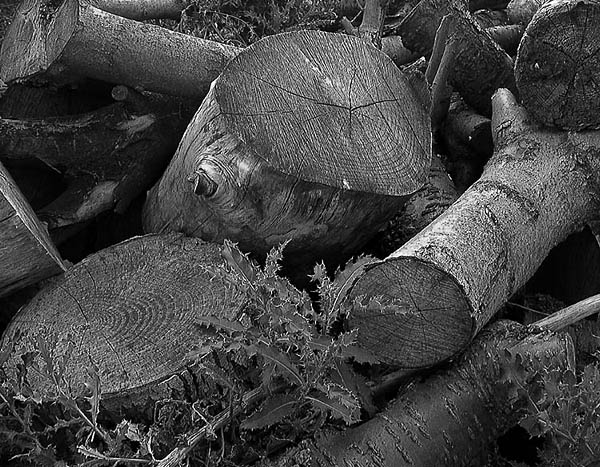 Logs, Nikon with circular polarizer and red filter which greatly increases contrast.
Some landscape images with the Canon Ixus 400.
The Canon has a simple lens system, however it can provide detailed landscape images; it's excellent if you are cycling or walking since it can fit into almost any pocket. All these shots were taken whilst using my bike to get around the small lanes and tracks of the surrounding countryside in West Yorkshire.
Many times you will read in digital camera forums and magazines......do not take images using the camera in B&W mode but use colour and then photo edit in Photoshop to change your captured image into B&W...... I do not agree since my LCD is showing me the image of the hills and clouds in B&W giving me much greater feedback to the contrast and the mist or cloud effects, most of the images here when switched back to colour mode on the camera at the time of shooting seem to have no 'feeling' or charm and most likely I would not have taken them.

Cottages with Yorkshire hills in the distance, Canon in B&W mode.

Lonely hills, Canon in B&W mode.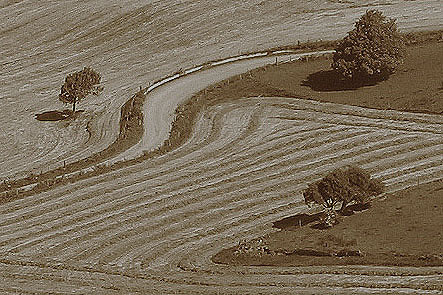 A late spring hay crop, May 2004, Canon in Sepia mode, desaturated in Photoshop.
In the following Canon images click on the image to see a larger version.
Using Photoshop Elements hue/saturation control you can create a slightly different
mood or effect even though the Canon was used in the Sepia mode throughout.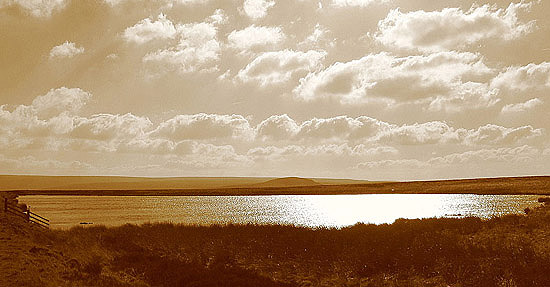 Isolated reservoir in West Yorkshire.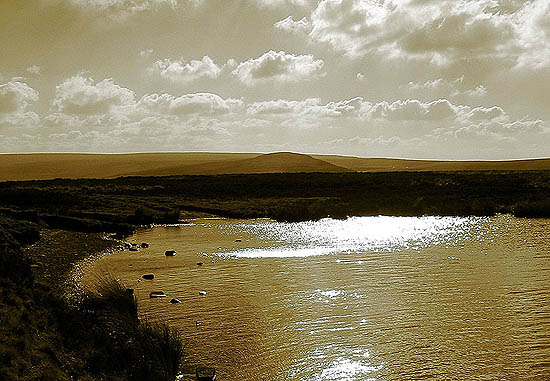 Isolated reservoir in West Yorkshire.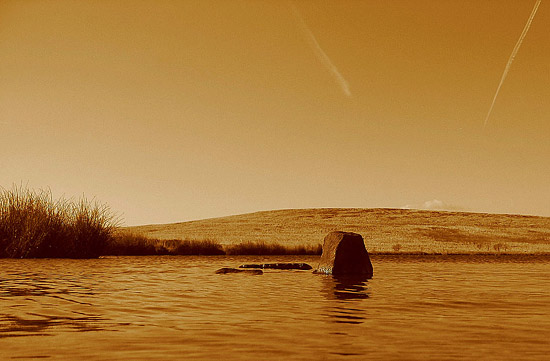 Isolated reservoir in West Yorkshire.
...and a finally a macro shot from the Canon...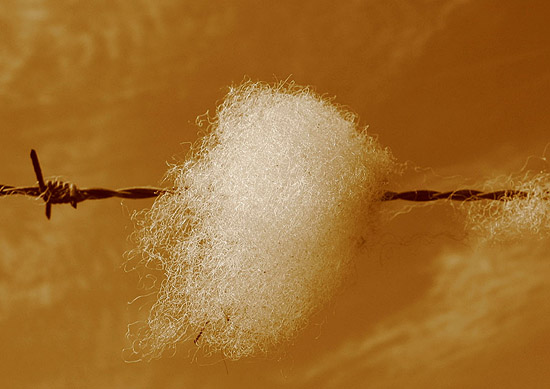 Wool caught on a barbed wire fence seen against high cloud, May 2004.
the end.
Comments to the author, Ian Walker, are welcomed.
---
© Microscopy UK or their contributors.
Published in the June 2004 edition of Micscape.
Please report any Web problems or offer general comments to the Micscape Editor.
Micscape is the on-line monthly magazine of the Microscopy UK web
site at Microscopy-UK
---
© Onview.net Ltd, Microscopy-UK, and all contributors 1995 onwards. All rights reserved. Main site is at www.microscopy-uk.org.uk with full mirror at www.microscopy-uk.net .