Height Measurements under the Compound Microscope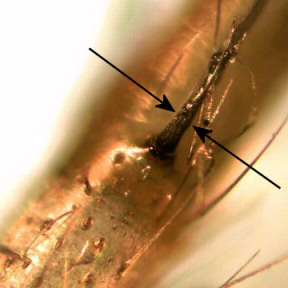 Hair on Spider Leg (Objective 10x)
Gregor T. Overney, San Jose, California, USA
Introduction
The compound microscope is a precision tool for measuring the height (or thickness) of small objects. Unfortunately, it is not common knowledge what equations have to be used to ensure the most accurate measurements. With this paper, I give a short introduction to improving the accuracy of vertical measurements under the compound microscope. The study is based on G. W. White's paper published in 1970 [1].
This article is in Adobe Acrobat® 'pdf' format. Right mouse click the link below to save to your PC, where it can be opened and read in Acrobat Reader®. This software is freely downloadable from Adobe's web site if required.
'Height Measurements under the Compound Microscope'
Case sensitive password - Micscape
by Gregor Overney
(pdf format, size 203 kbytes)
References
[

1

]

G. W. White,

Improving the accuracy of vertical measurements under the microscope

, The Microscope,

18

(1970), 51-59.
---
Comments to the author, Gregor Overney, are welcomed.
---
---
© Gregor Overney
Published in the June 2005 edition of Micscape Magazine.
Please report any Web problems or offer general comments to the Micscape Editor,
via the contact on current Micscape Index.
Micscape is the on-line monthly magazine of the Microscopy UK web
site at http://www.microscopy-uk.org.uk.