A useful cover to decrease evaporation: If the internal diameter of a glued ring is less than that of a coverslip, (or for an ordinary slide without a ring), you can make a special cover with a piece of PVC or Plexiglas like that shown below. Drill a hole in the piece around 16 mm diameter for example, and with a file make a notch on the underside of a size appropriate to the slide width (26 mm) and on the top glue an 18 mm coverslip. This cover protects a subject from drying but also avoids dust or other particles depositing themselves on your precious specimen and you can always view it through the coverslip with a low power objective. (I use it mainly when leaving subjects for some hours in fixative or glycerine). It's convenient too, to allow a slide you're studying to be left one hour or two on the stage when you are taking a meal!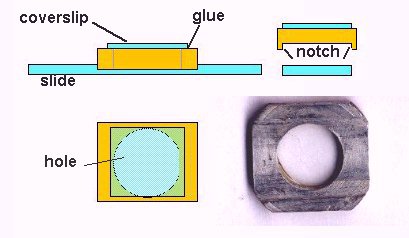 Well Plate: It's a variant of a Petri dish. Such glass dishes are very expensive and plastic dishes are easily scratched, but you can make a good approximation of their features by using a large ring (Plexiglas or PVC ) glued on a 40 x 40 x 1 mm thick glass plate used for professional mounts of 35 mm slide film. Here I have used a Plexiglas ring machined with a lathe. Rub down the corners and edges of the plate with low grade sandpaper to avoid finger injuries!



Note: In cellular cultivation, researchers use multi-well plates with 4, 6, 12 or 24 wells in a plastic box, (right hand picture). They are useful if you have an inverted microscope, otherwise the wells are too deep to use an objective on a compound microscope (except maybe 2 to 2,5 times objectives).