Micscape Image of the Month
The protozoan Paramecium by phase contrast
by James Evarts, US
(The 91kB image will take a minute or so to download but worth it!)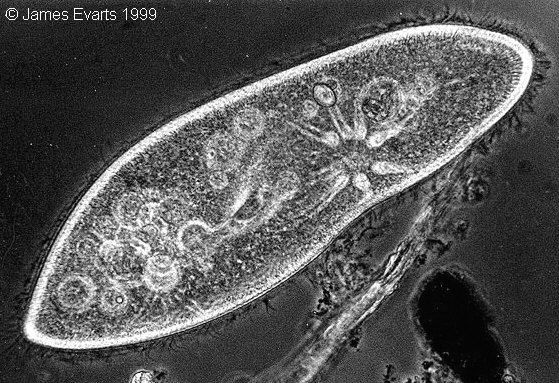 This magnificent image of Paramecium caudatum shows many of the protozoan's cellular structures. The image was taken by James Evarts.
Jim writes:
The photomicrograph was taken using my regular setup which includes a Leitz Ortholux microscope, 16x phase contrast objective,10x ocular, and electronic flash unit with a dark green filter attached. I developed the film (Tmax 100ASA) in my home darkroom and used RC paper for the print that I scanned to send by Email.The length of the living Paramecium was approximately 200 microns.
The flash unit was a Nikon SB-E mounted on a machined metal block that James prepared in his own workshop. The flash unit is on a swivel mount with pin stop to ensure the flash unit is perfectly centred under the microscope condenser for photography, but can be easily swung out of the way for visual work. (The unit was discussed and illustrated in the magazine Industrial Photography, 1991, October, volume 40, no.10, p.18 and p.40).
Comments to James Evarts welcomed.
Click here to read a Micscape article by Mike Morgan and Mike Samworth on the Paramecium which describes many of the features visible in this image.
---
© Microscopy UK or their contributors.
Published in March 1999 Micscape Magazine.

Please report any Web problems or offer general comments to the Micscape Editor,
via the contact on current Micscape Index.

Micscape is the on-line monthly magazine of the Microscopy UK web
site at Microscopy-UK

WIDTH=1
---
© Onview.net Ltd, Microscopy-UK, and all contributors 1995 onwards. All rights reserved. Main site is at www.microscopy-uk.org.uk with full mirror at www.microscopy-uk.net.