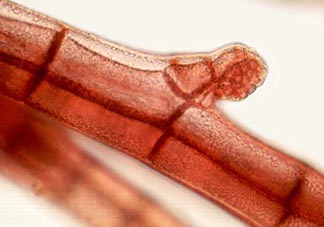 cystocarp beginning to form (see below for explanation)
Red algae are specialized plants with peculiar properties and as a consequence they are studied by specialists. And specialists use a professional language for the description of red algae, not always easy for the amateur. The amateur behind the microscope who wants to study red algae must take some trouble to learn these terms. It pays, because red algae are exquisite plants, often with a complex structure and a life history with phases that are easy to see without all sort of technical problems.

The genus that we will treat here is easy to find; the photographs are from small plants, collected in spring at low tide from brown algae (Fucus species) in the Oosterschelde. Polysiphonia is to be found everywhere along the North Sea coast, on rocks, blocks of concrete, jetties and brown algae.

There are 4000 known species of red algae, often present in tropical marine waters; in fresh water we will find only a few species.
Their colour is due to the red pigment phycobilin, masking the green colour of chlorophyll. This red pigment is very well suited to absorb the green and blue-green light in somewhat deeper sea water, where we find many of the red algae. Red algae are tough customers. Fragments of the plants, after surviving a winter or buried under sand can grow again into healthy plants if circumstances become better. Red algae are often attached to stones or other plants. The genus Polysiphonia is easily to recognise with a loupe or with the microscope. A "branch" consists of an axis of elongated cells, the central axis. Every cell of this axis is surrounded by a number of cells (ranging from 4-24) with the same length, the periaxial cells. The plants have a segmented appearance. The "branches" often have long hairs (trichoblasts) at the top, which can later on disappear. In the Netherlands we can find about 10, in the UK more than 20 species. Polysiphonia violaceae is very common; we always find it in small pools on other algae. Polysiphonia nigrescens is easily seen, also in winter, on stones at low tide.