A CIRCA 1941 SPENCER MICROSCOPE
by David B. Richman,
Mesilla Park, New Mexico, USA
Through the generosity of a retired "amateur" diatomist I recently acquired a circa 1941 Spencer binocular compound microscope made in Buffalo, New York (as noted on the barrel). The microscope at one time belonged to another amateur diatomist, John L. Stone, who outfitted it with two apochromatic objectives in addition to the normal ones and two extra sets of oculars, with a measuring reticle in one ocular of each set. The apochromats are 44X (NA 0.96, dry, with collar) and 95X (NA 1.30) and the normal objectives are 10X (NA 0.2), 44X (NA 0.66) and 95X (NA 1.25). The ocular sets are 10X (without reticle), 15X and 16X respectively. All were kept in a mahogany carrying case! Jim Solliday believes that the instrument, serial number 170850, was produced in December of 1941, thus making it nearly a year older than I am.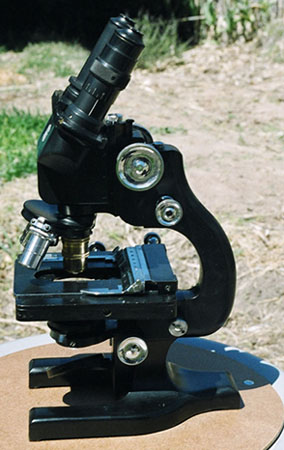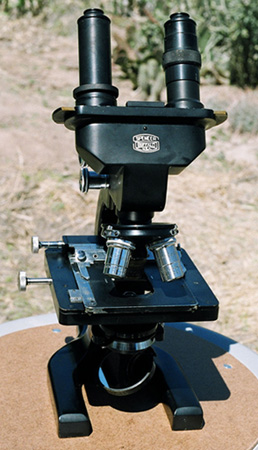 Above: Circa 1941 Spencer binocular compound microscope.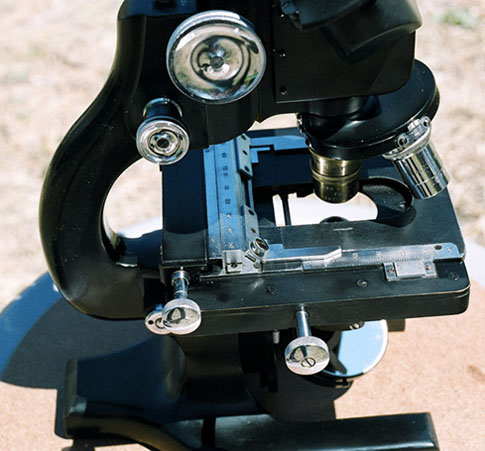 Close up of mechanical stage.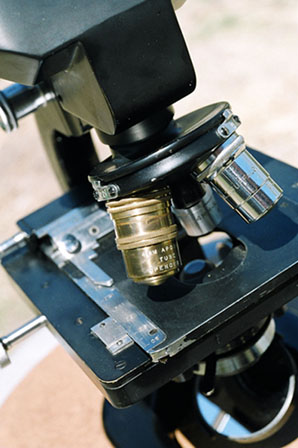 Close up of Spencer microscope
with apochromatic 44X objective featured.

The microscope has a condenser and mirror and a very smooth operating mechanical stage. The appearance of this scope is classic and I liked it from my first look at it. When I was offered it as a gift I had no second thoughts!
I had the microscope cleaned by a professional (it had not been used since Stone died) and was told that the stand was solid steel (I can believe that—it is very heavy) and other than steel the only other component of the microscope is glass. After some examination of objects at 100X I finally got nerve to try the 44X power normal objective and then the 44X apochromat. The clearance is so close for the latter and there are no stops so one can easily break a slide or scratch the lens! The apochromat is so clear that it also easily took the 16X oculars to produce an astonishingly clear 700X! I tested the lenses on slides made by various diatomists—Moller Company, Firth, Stone and Robert McLaughlin—and found the optics to be excellent. I even photographed a diatom on one of these slides at 440X (apochromatic objective) with my Nikon HAND HELD and got the photo below.
The Spencer will now be my standard for looking at prepared diatom slides. I will continue to use my Parco/Meiji phase contrast trinocular compound microscope for live material because the 20X objective works well for that and the 40X also has more clearance than either the 44X normal or apochromatic objectives on the Spencer.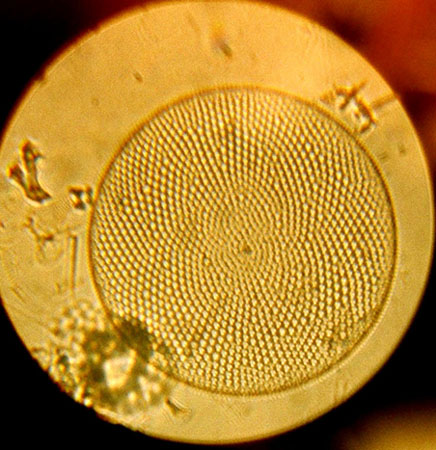 Centric diatom from Fernandina, Florida, at 440X with apochromatic objective taken with hand held Nikon FM2n with a 55 mm Micro-NIKKOR lens (projection from eyepiece with ASA 200 Agfa color print film).
I want to thank Robert McLaughlin for his great generosity in giving me this instrument! The slide of the diatom was also prepared by him. Jim Solliday, an amateur diatomist in California, was kind enough to provide me with the probable manufacture date.
Comments to the author, David Richman, are welcomed.
All photos taken by the author.
---

© Microscopy UK or their contributors.

Published in May 2005 Micscape Magazine.

Please report any Web problems or offer general comments to the Micscape Editor.

Micscape is the on-line monthly magazine of the Microscopy UK web site at Microscopy-UK.

---

© Onview.net Ltd, Microscopy-UK, and all contributors 1995 onwards. All rights reserved. Main site is at www.microscopy-uk.org.uk with full mirror at www.microscopy-uk.net .