Images of landshells
by Helmut Nisters, Innsbruck, Austria
In this gallery some well known species of our major families of landshells are presented, and these complement the species illustrated in previous articles. It is hoped they show the marvellous variety of landshells that can be found. Their preferred habitats and collecting methods were described in these previous articles.
Previous Micscape articles by Helmut Nisters can be found by typing the author's surname in the Library Search engine; link below.
(The size given is the length or diameter of a typical specimen.)

Family: Clausiliidae

Cochlodina laminata laminata
15.5mm


Cochlodina comensis comensis
11.5mm


Pseudofusulus varians
9.5mm


Macrogastra ventricosa
16.5mm


Macrogastra attenuata
15mm


Macrogastra densestriata gredleri
14.5mm


Macrogastra plicatula
12mm


Clausilia rugosa parvula
8.5mm


Neostyriaca corynodes corynodes
9mm
Family: Hygromiidae

Trichia villosa
10.5mm


Urticicola umbrosus
12.5mm


Monachoides incarnatus
14.5mm


Euomphalia strigella
14.5mm


Ciliella ciliata
8.5mm
Family: Helicidae

Arianta arbustorum arbustorum
19mm


Chilostoma achates rhaeticum
24.5mm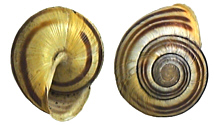 Cepaea hortensis hortensis
19.5mm
Appendix
Helmut Nisters contact details (work and home).
Natural History Department of the Tiroler Landesmuseum Ferdinandeum Innsbruck,
Malacological Collection,
Feldstr. 11a,
A-6020 Innsbruck, Austria, Europe.
Phone: 0043 512 58 72 86 37.
Helmut Nisters
Franz-Fischer-Str. 46
A-6020 Innsbruck, Austria, Europe
Phone and Fax: 0043 512 57 32 14
E-mail: www.helix@ibk.netwing.at
URL: www.netwing.at/nisters/
Digital image capture details: Images taken by David Walker of shells supplied and identified by Helmut Nisters. Shell images taken with Panasonic CL350 video camera with 50mm Nikon SLR lens and extension tubes. Digital video stills captured by Snappy 2.0, image processing with Picture Publisher v7.0.



---
© Microscopy UK or their contributors.
Published in the October 1999 edition of Micscape Magazine.

URL: hnshell4

Please report any Web problems or offer general comments to the Micscape Editor,
via the contact on current Micscape Index.

Micscape is the on-line monthly magazine of the Microscopy UK web
site at Microscopy-UK.
---
© Onview.net Ltd, Microscopy-UK, and all contributors 1995 onwards. All rights reserved. Main site is at www.microscopy-uk.org.uk with full mirror at www.microscopy-uk.net.