Commercial Questions
Me: Where can your book / books are available?
Irina: My book can only be purchased by contacting me personally. This is author's edition. There is no mass circulation. The book is made each time for a specific customer, with my autograph and it costs $100.00.
Me: Is the text in your book / books English or Russian?
Irina: While only in Russian, the book has more pictures than text and is hopefully enjoyable for that reason to people of all languages.
Me: Where can people purchase your photographs?
Irina: My photos are sold on here. The cheapest price for a photograph is : 8.419 British Pound Sterling (500 Rubles).
Me: What is your book / books called?
Irina: The Amazing World
Ant ballet by Irina.
(c) All rights reserved.
Photo workers Questions
Me: What made you interested in photographing ants and insects?
Irina: Their world is a fairy tale! This tale, magic! The world of insects honest, kind, much better world than of people! In their world, times passes even faster!
Me: How much time do you spend photographing the Macro world??
Irina: I shoot every day. From 2 hours to 8 hours a day.

Me: Have you tried macro video-recording insects?
Irina: Yes, but do not want to show yet. I'm still just learning.

Me: Are you able to photograph any insects during winter?
Irina: It's not viable to photograph insects in winter here. Instead, I buy mold, also an Aquarium and soap. Here are some of the pictures I take: http://kozorog.ru/dd/17/ , http://www.kozorog.ru/dd/8/ , http://kozorog.ru/dd/fantazii/

Me: Are you self-taught?
Irina: My husband taught me. He is a photographer.



Rainbow crab (above). Ant Patrol (right).
Images © Irina Kozorog (Russia)
All rights reserved.


Personal questions

Me: Your husband is a photographer? What does he like to photograph?

Irina: Andrei photographer reportazhnik http://www.kozorog.tv/
He mostly loves to shoot panoramas http://www.kozorog.tv/panoramic/
Me: Have you been to any countries outside of Russia?

Irina: No, I'm afraid to fly.
Me: Do you have children?

Irina: I have three children.
Me: What do they think of your work?

Irina: They are indifferent to the pictures, though they seem to look my work with pleasure.
Me: Have you ever been stung by a wasp when photographing them?

Irina: Yes, three times, I am guilty. I can tell you more, if you wish.

Advice to others wanting to become Macrophotographers
Me: What advise would you give to young people who want to take macro photos?
Irina: The main thing is to shoot for yourself! Not for magazines and newspapers, not for sale but for yourself! Then do it! And, be aware of their models, good to know. And pay for the work. For example, ants are very fond of honey, butterflies - orange juice, etc.
---
Image is © Irina Kozorog (Ирина Козорог)
All rights reserved.


Some questions and answers did not make it through the google translator in any understandable way. I visited her blog and her web site and found out much more. From her sites:
I am 37 years old. Three children and husband - a professional photographer . Son born in 1997 and daughter-2004 and 2012 :)
I'm interested in photography since 2011. First, a macro photograph. I like to dive into the world of insects in the world, hidden from us, a world that we do not see, we do not notice, but in which they too have their laws, their troubles and their joys. Sometimes I think their existence and behaviour is much more reasonable, and more honest than our world of people.
I do not set myself crusading goals by photographing insects such as: talk about the importance of conserving species, etc. In my opinion, it is too global a problem. I simply convey the beauty of wildlife, and the insect world. I do not chase for technicality in the macro - do not set a goal to show retina of a dragonfly, for example. I am interested in the story itself, and in the pursuit of capturing the macro plot, so to say.
But it turned out that the process of shooting interests me more than the outcome. Watching the ants, I "fall out of time." For me, an hour passes, and is 5-6 hours in real time. And these observations, I still find more interesting the next time I shoot.
In other words, it is a hobby. A hobby that brings me pleasure. And all the "bonuses" that this hobby can theoretically bring, such as money, prizes in contests, fame, etc., is all secondary. I do what I like and as much as I like.
Frequently asked questions:
What equipment is used:?
Pentax K10D, K5, for macro - often lens SMC PENTAX-DFA MACRO 1:2.8 100mm WR and Olympus OM-D E-M1 lens M.Zuiko Digital ED 60 mm 1:2.8 Macro
Are the insects alive when you photograph them?
Yes. All the insects are alive. They are not frozen, nor glued. After shooting, they feel good, as they get various goodies (to compensate for the time taken away).
Do you sell your pictures?
Yes, sometimes I sell pictures for interior or for printing. For these questions, please call 8 (925) 744-78-41 or email 7447841@gmail.com
Irina's achievements
Member of the Russian Union of Photographers
Winner of the contest "Golden Turtle 2013"
Finalist Wildlife Russia 2012
The winner of the competition of the best photos Russia in 2012 (Best of Russia)

Irina Kozorog (Ирина Козорог)
Contact details.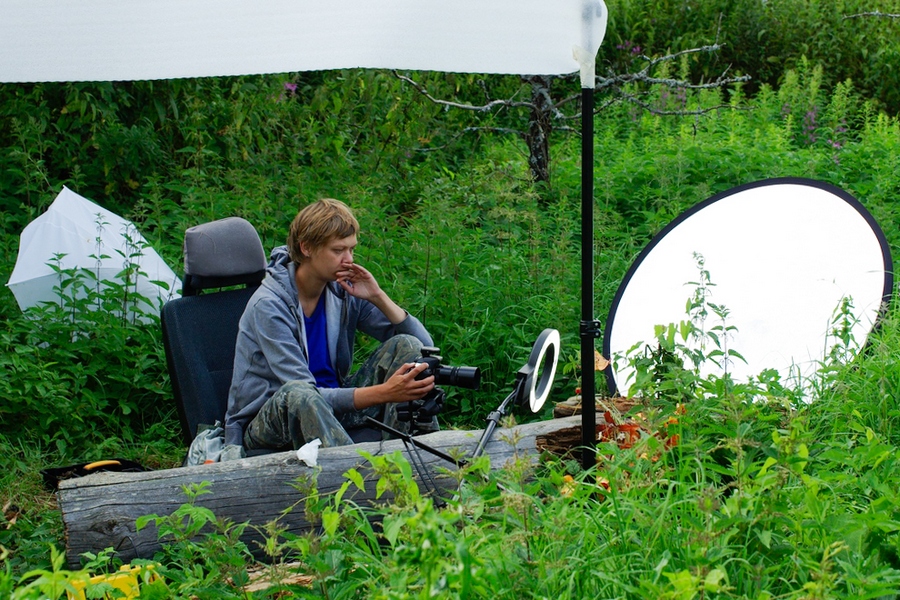 Her email: 7447841@gmail.com

Irina's Work converted to 3d stereo cards.


Many thanks to Irina for permission to publish some of her work here.
We have now published a book of her work. We like to help:)
See book trailer?
View book on Amazon?