Gardens on dry land and the external world outside our homes are dominated by plants, but many plants are really microscopic in size and almost invisible. Most Microscopic plants both on dry land and in water are called Algae.

Lots of different microscopic animals live on dry land but they all need water, and you really need a microscope instead of a macro lens or magnifier to see them in detail.

Far more living microscopic forms live in water - any water... ponds, oceans, rivers, bird baths, rain gutters, manhole covers., puddles...

But you can explore all of these water living forms in the topic: Microscopic Water Life.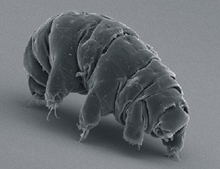 Amoeba, slime molds, bacteria, fungus, water bears, plant roots, spores, lichens, algae, mosses...

Are there other forms waiting to be discovered?

Many living things at a microscopic scale exist and we have just not identified them.

Hardly anyone is looking for them!