The oceans are huge and contain the most diverse forms of life, including microscopic and macro forms. Much of the life in the oceans at all scales of size is little understood and probably thousands of new forms are waiting to be discovered.

A trip to the beach and a sample of water taken from the ocean edge of between rock pools will reveal a host of interesting forms. Collecting a small piece of seaweed and putting it into a jar with some sea water allows you to explore the same at home.

Of course Microscopical life will exist at different depths in the ocean and on different shores and locality. But there is plenty for the hobbyist microscopist to find and study. You might even find a brand new life form and have it named after you.

Many of the slightly larger forms of ocean life are great for Macro work with a hand lens or low power stereo microscope.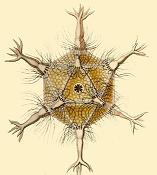 Phytoplankton like cynobacteria, red algae, green algae, brown algae; zooplankton, diatoms, - (dinoflagellates, zooflagellates, foraminiferans, and radiolarians, cnidarians, ctenophores, chaetognaths, molluscs, arthropods, urochordates, and annelids)... and many more.

Many larger animals begin their life as zooplankton before they become large enough to take their familiar forms. Two examples are fish larvae and sea stars (also called starfish).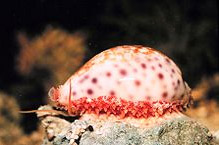 CAN YOU GUESS WHICH ONES ARE SHOWN HERE?
Click on any link above
to learn more
HOVER YOUR MOUSE OVER AN iIMAGE TO FIND OUT.