MICSCAPE IMAGE OF THE MONTH - May 1997

Fish tail photographed by Heiti Paves, Estonia
Differential interference contrast image of a Ruffe (Acerina acerina)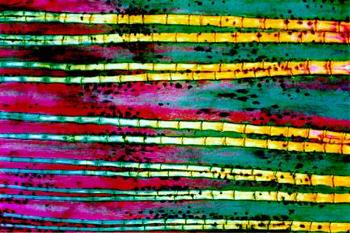 © Heiti Paves 1997


This is a beautiful differential interference contrast image of the tail of a Ruffe (Acerina acerina). The articulated rays supporting the fin are clearly seen in a striking yellow.
Ruffe (genus Acerina now Gymnocephalus?) are part of the family Percidae. Members of this family include the perch and are mainly freshwater temperate species. A drawing of a typical Ruffe (Acerina cernua) from a textbook is shown below.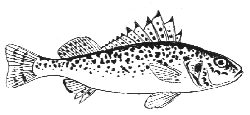 Image submitted by Heiti Paves
Laboratory of Molecular Genetics
Institute of Chemical Physics and Biophysics
Akadeemia tee 23, EE0026 Tallinn, Estonia

Editor's note: We thank Heiti for submitting this beautiful image. Notes and drawing supplied by Dave Walker.
---
© Microscopy UK or their contributors.
Please report any Web problems or offer general comments to the Micscape Editor,
via the contact on current Micscape Index.

Micscape is the on-line monthly magazine of the Microscopy UK web
site at Microscopy-UK

WIDTH=1
---
© Onview.net Ltd, Microscopy-UK, and all contributors 1995 onwards. All rights reserved. Main site is at www.microscopy-uk.org.uk with full mirror at www.microscopy-uk.net.