An update on the swan mussel article
by Mike Samworth
The glochidium larva of a swan mussel under crossed polars.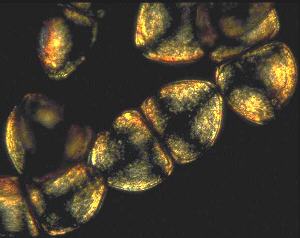 For those who read my article in March on the swan mussel larvae, I can now update you. I found that the young larvae looked nice under crossed polars, and took some photographs. The photomicrograph above is the result.
Editor's note: Also see Mike's June 1997 article on using cross polarised light in microscopy.
---
© Microscopy UK or their contributors.
Please report any Web problems or offer general comments to the Micscape Editor,
via the contact on current Micscape Index.

Micscape is the on-line monthly magazine of the Microscopy UK web
site at Microscopy-UK

WIDTH=1
---
© Onview.net Ltd, Microscopy-UK, and all contributors 1995 onwards. All rights reserved. Main site is at www.microscopy-uk.org.uk with full mirror at www.microscopy-uk.net.