'A Microscope for the Pocket'
- or what you can find in old books
compiled by Dave Walker
One of the delights of buying old microscopy books is the interesting bits of paper sometimes found folded in the leaves.
I purchased the classic book 'The Microscope' by Conrad Beck (published in 1921) sometime ago and found the following A5 sized advert folded inside entitled 'Microscope for the Pocket' describing the 'Beck Baby London'. The pocket microscope by R. & J. Beck of London looks a simple design but very practical. I believe the advert and price list is dated about 1924. I note the microscope was priced about four to five pounds. I can't judge whether this is expensive although I note the modest sized book itself was priced two shillings and sixpence (one eighth of a pound) in 1924 .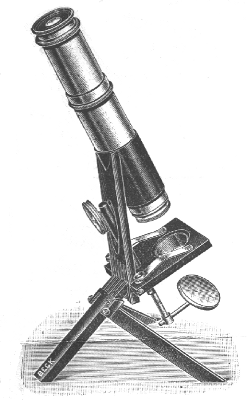 'The "Baby London" is a complete and efficient microscope folding away into a small case which will slip into a coat pocket, but when extended for use the instrument is capable of work with high powers and possesses the necessary adjustments for such work. The case in which it is carried measures 5.25 x 2.5 x 2 ins. It has a sliding coarse adjustment and an extending drawtube giving a tube length of 160 mm. The low power lenses can be used with the drawtube closed, giving lower magnifying powers. Its fine adjustment is sufficiently perfect to enable a 1/12 in. oil immersion object glass to be focussed. The thread into which the object glasses screw is the standard R.M.S. thread to which all object glasses are made. The eyepieces are the standard .917 in. diameter, thus all kinds and makes of standard object glasses and eyepieces can be used: The 2/3 in. object glass (No. 3231B.) is mounted so that the microscope will pack into its case when it is in position. An Abbe condenser and iris diaphragm with patch stops and a complete line of apparatus can be added, making the instrument thoroughly serviceable for naturalists, travellers and medical use. The mirrors concave and is provided with all adjustments. A flat mirror can be supplied for use with the substage condenser.'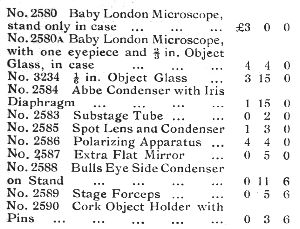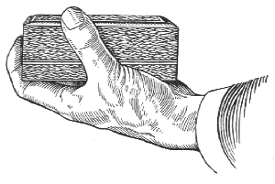 Comments to the compiler Comments to the author sent via our contacts page quoting page url plus : ('dwalker','')">Dave Walker welcomed.
---
© Microscopy UK or their contributors.
Please report any Web problems or offer general comments to the Micscape Editor,
via the contact on current Micscape Index.

Micscape is the on-line monthly magazine of the Microscopy UK web
site at Microscopy-UK

WIDTH=1
---
© Onview.net Ltd, Microscopy-UK, and all contributors 1995 onwards. All rights reserved. Main site is at www.microscopy-uk.org.uk with full mirror at www.microscopy-uk.net.