Slides for use with crossed polars
by Mike Samworth
My previous articles, together with those by Dave Walker, have hopefully given you something different to try under your microscope. However, as one who often reads other people's work and then never follows this up, I know how easy it is to forget. As such, I have put together sets of prepared slides for use with crossed polars. There are three slides in each set;
Scutiform scales of sea-buckthorn
Vitamin C crystals
Sulphur melt
All are permanent slides, ringed and fully labelled. I can send you them for £2 of postage stamps all inclusive. Examples of two of the subjects are shown below;
I can also now send out high quality discs of polarising material with the set of three slides if desired. The discs are two inches in diameter, made of 1mm thick optical resin. Please add an extra £1-50 to the cost of the slides if you would like a pair.
Two subjects between crossed polars by Mike Samworth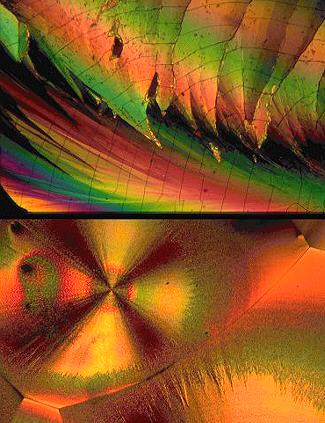 Anyone who wishes to obtain these slides should e-mail me first at the address given below.
---
© Microscopy UK or their contributors.
Please report any Web problems or offer general comments to the Micscape Editor,
via the contact on current Micscape Index.

Micscape is the on-line monthly magazine of the Microscopy UK web
site at Microscopy-UK

WIDTH=1
---
© Onview.net Ltd, Microscopy-UK, and all contributors 1995 onwards. All rights reserved. Main site is at www.microscopy-uk.org.uk with full mirror at www.microscopy-uk.net.