Image of the Month
Zygospore of the desmid Staurodesmus
by Mike Dingley, Australia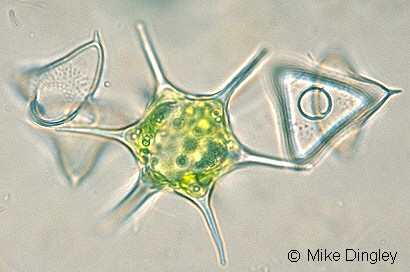 This is a picture of two desmids (Staurodesmus sp.) which have come together to produce a zygospore. A zygospore is formed after sexually reproducing (conjugation) and changes into new desmids when conditions are favourable. The two empty cells (each one has two semi-cells) can be seen to the left and right of the zygospore. The picture was taken on a Nikon Optiphot 2 microscope using a Nikon UFX-DX camera, Fujichrome 50 film, 40X plan apo objective, 5X photoeyepiece and with an intermediate drawing tube giving a magnification of 1.25X. The image was transferred to a Kodak CD.
Comments to the author sent via our contacts page quoting page url plus : ('mdingley','')">Mike Dingley
---
© Microscopy UK or their contributors.
Please report any Web problems or offer general comments to the Micscape Editor,
via the contact on current Micscape Index.

Micscape is the on-line monthly magazine of the Microscopy UK web
site at Microscopy-UK

WIDTH=1
---
© Onview.net Ltd, Microscopy-UK, and all contributors 1995 onwards. All rights reserved. Main site is at www.microscopy-uk.org.uk with full mirror at www.microscopy-uk.net.