MICSCAPE IMAGE OF THE MONTH
Garden Spider Jaws Between Crossed Polars
by Wim van Egmond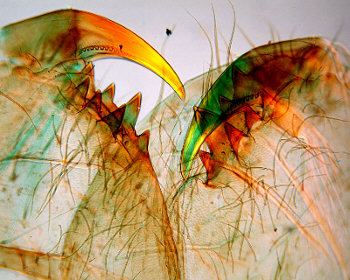 For this picture I used a prepared slide of a spider. I used crossed polars (one polaroid filter on the ocular and the other in the condenser's filterholder) and a piece of plastic as well as a piece of mica to create the strange colour effect. I did not choose for using only bright colours. I rotated the filters until I had a grey background and both jaws where brightly coloured. Because of the grey the other colours become stronger. It is a little secret that always works. Running through the jaws you can see the channel that leads poison to the tip.
The picture was done for a photofestival in the Netherlands (Naarden 1997) and printed to 4 to 6 metres. This one and another of my photomicrographs were combined with pictures from the Hubble Space Telescope. Not the worst company you could have.
More about using crossed polaroid filters you can read in the following articles by Mike Samworth and Dave Walker
Comments to the author sent via our contacts page quoting page url plus : ('wegmond','')">© Wim van Egmond
---
© Microscopy UK or their contributors.
Please report any Web problems or offer general comments to the Micscape Editor,
via the contact on current Micscape Index.

Micscape is the on-line monthly magazine of the Microscopy UK web
site at Microscopy-UK

WIDTH=1
---
© Onview.net Ltd, Microscopy-UK, and all contributors 1995 onwards. All rights reserved. Main site is at www.microscopy-uk.org.uk with full mirror at www.microscopy-uk.net.