this page should be viewed with red and blue 3D glasses.
| | | | |
| --- | --- | --- | --- |
| | Hydra | | The stinging dancer |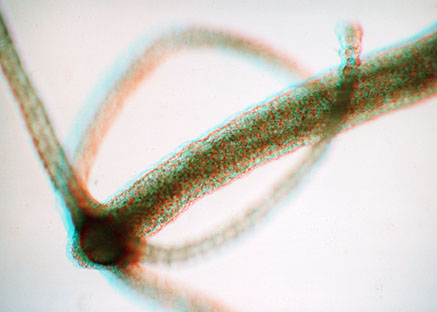 In almost every freshwater pond you can find this polyp attached to a substrate waiting for prey to come near it's deadly tentacles. Hydra is larger than one millimetre (my apologies) but it has many interesting aspects for viewing under the microscope. Like it's cousin the jellyfish, Hydra has so-called nematocysts, stinging harpoons, to paralyse it's prey. It can swallow a water flea as a whole. Many weird experiments have been conducted on the creature. It has for example been turned inside-out through it's own mouth-opening.

More can be read in the Micscape article: Hydra
THE INSTITUTE FOR THE PROMOTION OF THE LESS THAN ONE MILLIMETRE


Comments to the author Comments to the author sent via our contacts page quoting page url plus : ('wegmond','')">Wim van Egmond are welcomed.
---
All Material Copyright: © Wim van Egmond
Please report any Web problems or offer general comments to the Micscape Editor,
via the contact on current Micscape Index.

Micscape is the on-line monthly magazine of the Microscopy UK web
site at Microscopy-UK

WIDTH=1
---
© Onview.net Ltd, Microscopy-UK, and all contributors 1995 onwards. All rights reserved. Main site is at www.microscopy-uk.org.uk with full mirror at www.microscopy-uk.net.