Optical and SEM examination of some species
of the desmid genus Euastrum.
William Ells
Coniferae, Walnut Tree Lane, Loose, Maidstone, Kent. ME15 9RG. UK.

SUMMARY:- In some species of the desmid genus Euastrum there can be seen on each semi-cell a depression (on some species two) with a (comparatively) large central pore. These can just be seen with the optical microscope and can be seen in depth, literally, with the scanning electron microscope.
INTRODUCTION:- During an ongoing investigation into the structure of the costae on certain species of the desmid genus Closterium, Andrew Syred also produced SEM photomicrographs of other genera of desmids from my sample, these showed details of the surface of the cell walls not visible with the optical microscope.
THE SPECIMENS:-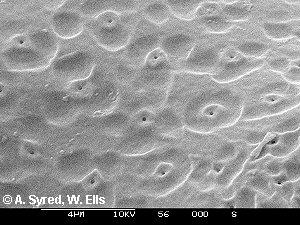 Fig. 1 shows a SEM photomicrograph of the cell surface of Euastrum oblongum (Greville) Ralfs 1848 on which can be seen very shallow scrobiculations (depressions) and very fine pores.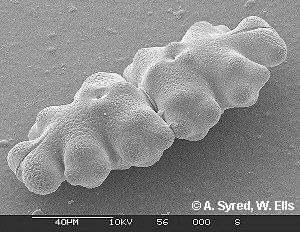 Fig.2. shows another SEM photomicrograph of a complete cell of E.oblongum. In a description of the species by W.& G.S.West (1905) they state:-
'...... semicells with a protuberance within each of the lateral lobes, with one at the base immediately above the isthmus, and with two smaller ones in the centre (often with a large scrobiculation between them).'
Note; the brackets are in the West's quotation.

In a further reference:- '...... between and slightly below these central protuberances a large scrobiculation is frequently present; this form has been named " forma scrobiculata Nordst."...... '
Note; in the West's figure for the type a large pore is shown in the centre of each semi-cell, but none in the varieties.
Prescott et al. (1977) referring to E.oblongum state:- '.....face of semicell with a supraisthmal protuberance near the mid region of the semicell, with a central mucilage pore.'
Note; although the pore is mentioned there is no reference to specimens with a large scrobiculation. The forma scrobiculata is listed as a rejected taxon.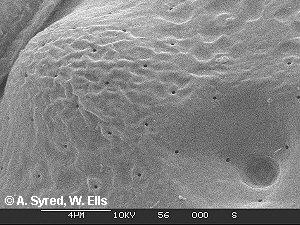 Fig.3. A SEM photo' of the scrobiculation, note the fine pores within this depression and that the large pore appears to be a 'blind' hole, maybe choked with mucilage.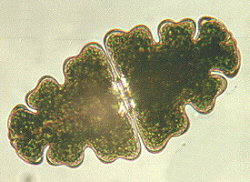 Fig.4. A living specimen as seen under an optical microscope, with this microscope it is usually only possible to see the protuberances and depressions on the surface of a specimen devoid of chloroplast. See Fig.6.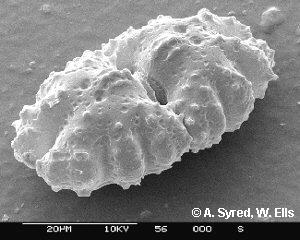 Fig 5. Euastrum bidentatum var. oculatum (Istvanffi) Krieg 1937 a well named variety with two large scrobiculations and pores in each semi-cell that resemble eyes.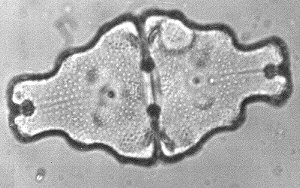 Fig.6. Optical microscope photo' of an empty cell of E.humerosum Ralfs 1838 with a large scrobiculation and pore in each semi- cell, walls are covered with punctae.





For measurements see scale bar on each of the SEM micrographs.

CONCLUSIONS :- It is obvious that the scanning electron microscope can reveal the surface structure of some desmids that is beyond the resolving power of the optical microscope and confirm features about which past workers have been in doubt. There also appears to be a good case for reinstating the Euastrum oblongum forma strobiculata Nordst. and adding it to the list of British species.
Acknowledgements:- The author is most grateful to Andrew Syred for providing the SEM photo's. Thanks also to Alan Joyce for samples from Sutherland and Anne & Alastair Bruce for samples from Rannoch Moor, Scotland.
References:- Prescott G.W., Croasdale Hannah T., Vinyard W.C. 1982. A Synopsis of North American Desmids. part II. pp. 22 & 84. University of Nebraska Press.
West W.&.G.S. 1905. A Monograph of the British Desmidiaceae Vol II. pp.13 & 14. Ray Society, London.
Editor's note: Comments and feedback via email to Comments to the author sent via our contacts page quoting page url plus : ('wells','')">Bill Ells are welcomed.
---
First published in Micscape Magazine, January 1998 ( ISSN 1365 - 070x )
Article at http://www.microscopy-uk.net/mag/art98/semdes.html
© Microscopy UK or their contributors.
Please report any Web problems or offer general comments to the Micscape Editor,
via the contact on current Micscape Index.

Micscape is the on-line monthly magazine of the Microscopy UK web
site at Microscopy-UK

WIDTH=1
---
© Onview.net Ltd, Microscopy-UK, and all contributors 1995 onwards. All rights reserved. Main site is at www.microscopy-uk.org.uk with full mirror at www.microscopy-uk.net.