!- was a call to change title function. Removed -->
The North-South Divide
A Light Hearted View of "Life on a Roof"
By Paul James (uk)
Quite a few of my friends live on my roof, and since they are rather civilised and make no noise I let them stay there. Though the south facing elevation is almost devoid of any primitive life, the north facing side teems with an abundance of mosses and lichens:-
The distinction between these two elevations could not be more obvious, and the reason for this difference is probably due to the effects of the sun, especially in summer, when the roof's temperature is considerable and its moisture reserves are almost zero. The drying effects of the prevailing SW wind must have a bearing too.

The concrete roof tiles are made from tiny pebble aggregate and sand, which seems to suit the inhabitants living up there. I have not disturbed the 'tenants' in the 24 years we've lived here, so I suspect the lineage goes back to at least those times. The air purity is good here and allows at least these species to proliferate within the boundaries of temperature and moisture variations :-
Here's a typical example of about 1 square metre of roof space
---
The following images are a random selection of more detailed views.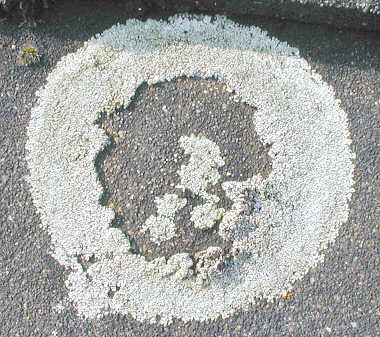 Lichen of about 70 mm diameter ( x 1.5 )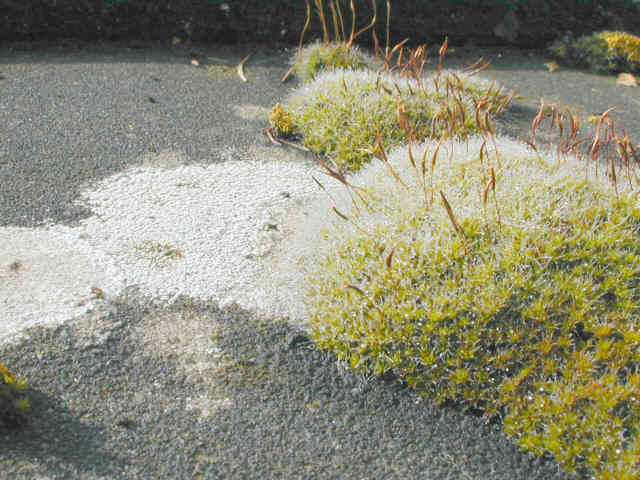 Fine dew drops on moss's surface ( x 1 )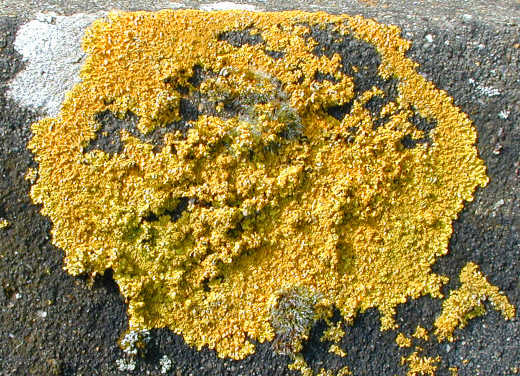 Well established lichen of about 130 mm diameter ( x 1 )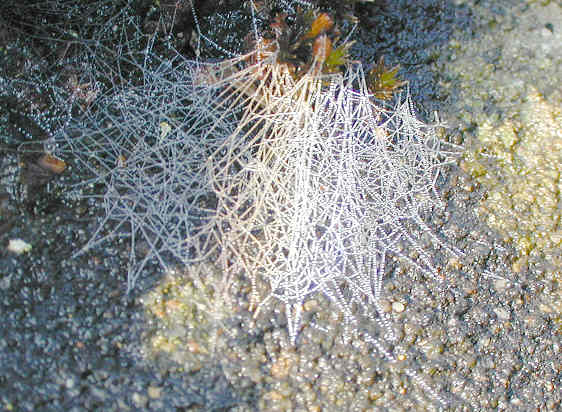 This complex spiders web built against some moss is only about 20 mm across.

Each strand is littered with tiny dew drops. ( x 7 )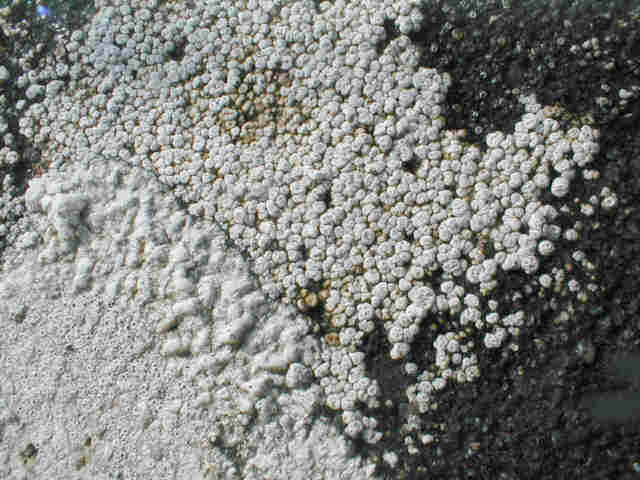 I'm not sure whether these two patches of lichen are related? ( x 5 )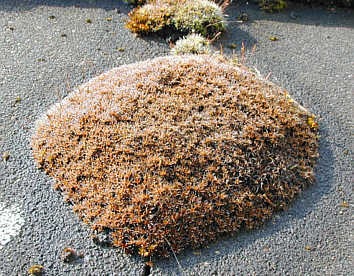 Note moisture gradient beside moss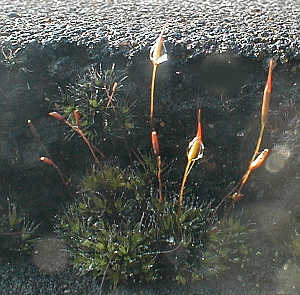 Moisture hanging in drops on the

sporogonia of this moss surviving in the

shade of a tile's lower edge

( x 5 )
The summer affects the lives of these inhabitants in quite a dramatic way, particularly the mosses, which dry up. The survival of the colony depends very much on the presence of moisture, particularly in spring, presumably because of the spore formation? In a hot summer (uk?) the clumps of moss all but disappear. Despite this, life continues up on my roof, and whilst some local individuals look upon this array of colourful diversity with pristine mosses and lichen 'pictures' with contempt, I'm quite happy to have a natural roof garden for free!
---
---
© Microscopy UK or their contributors.
Published in the April 2002 edition of Micscape Magazine.

Please report any Web problems or offer general comments to the Micscape Editor,
via the contact on current Micscape Index.

Micscape is the on-line monthly magazine of the Microscopy UK web
site at Microscopy-UK


---
© Onview.net Ltd, Microscopy-UK, and all contributors 1995 onwards. All rights reserved. Main site is at www.microscopy-uk.org.uk with full mirror at www.microscopy-uk.net.