by Rudolf Baumueller, USA
I am glad to have bought this microscope because it is so versatile and has really good optics. In the USA it is sold as SF – 100B (Binocular Stereo Microscope); the SF – 100T is the same with an additional, SF-FA photomicrography attachment that is placed between the binocular head and the stereo body. This works by using a pair of prisms that can be moved into the optical path and so 90% of the light is directed to the phototube, or in the other position all the light goes to the binocular head. While taking photos, I can still look through the eyepieces and I did not notice very much at all, that I only get 10% of the light.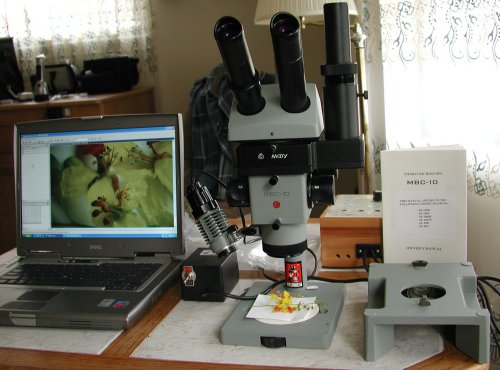 The eyepieces are of the same kind as my telescope uses, with 1.25 inch diameter, and that is very nice, because I have a Williams Optical DCL 43/37 digital camera adapter, that slips right into the photo tube and gives me full size pictures with no vignetting on my Olympus 3040Z camera. The next project is to try out my Minolta HI7 with 5 megapixels, and a 49mm lens diameter.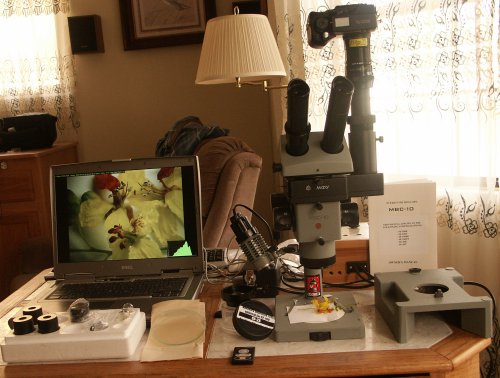 It is possible to change magnification in 5 steps from 4.65 X to 100.8 X and with the additional SF-2X lens the magnification will be doubled. This is a lot more than most stereo microscopes offer, since they usually only have 2 sets of objectives installed.
Resolution is the most important aspect of the whole thing, and this microscope excels here with wonderfully clear images. I have had it for less than one week and am not experienced in any way, but am happy with the photos that I took.
The base comes in two pieces; the lower one has a port for the lamp in the back and a nice big mirror, which can be controlled with a wheel in the rear of the base. The top base carries the 14.5 inch column and a 100 mm stage plate that is white on one side and black on the other made of steel also a transparent glass plate is included. The 2 stage clips have 4 positions where they can be set up, plus there is a threaded hole in the center of these positions where one can screw anything on to.
The Lomo MBC – 10 is made of all metal parts, there is only plastic used for the buttons and a little for the lamp. This makes for a sturdy piece of equipment that will last a long time and not change dimensions, which is of some importance in a precision tool.
I have read on the internet about the light that comes with this stereo microscope, and I agree, that it could be improved. The light holder is on the main lens housing, which is not very convenient when the whole assembly moves up and down while focusing, and the light gets misaligned all the time. The filament makes a lot of parallel lines across the lighted area which might make for an uneven picture. I have plans to convert this to LED light and making a different holder that is not attached to the microscope at all. A model with fiber optics ring light is also available. I think the light source is not included but available. (Editor's note: an LED lamp conversion for this microscope by Robert Pavlis is here.)
I still have to explore this microscope a lot more and surely I am no expert on these matters, but I like it very much.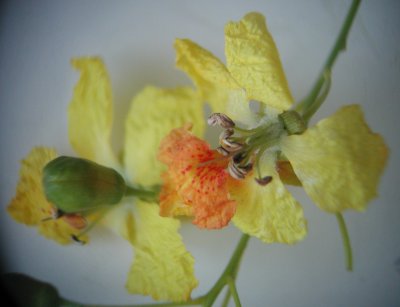 Objective: 0.6 x; camera: Olympus 3040Z; adapter: Williams Optical 43/37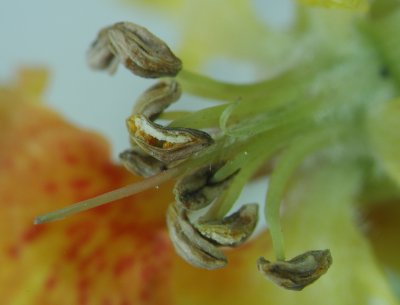 Same setup with 2X objective.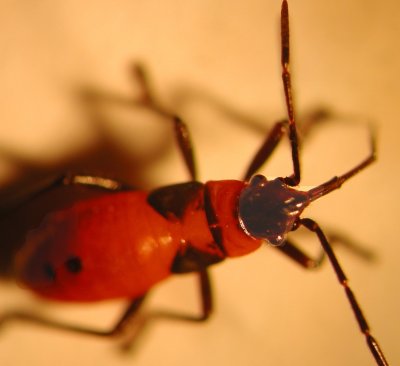 I think with a ring light this picture above would be a much better photo. This bug was moving around a lot, until I gave him some maple syrup, and he liked that enough to stop to get his picture taken. In Paint Shop Pro I fixed his back slightly, and copied the left antenna from another photo over the one that was out of focus.
All comments to the author Rudolf Baumueller are welcomed.
Microscopy UK Front Page
Micscape Magazine
Article Library
---
© Microscopy UK or their contributors.
Published in the April 2006 edition of Micscape Magazine.
Please report any Web problems or offer general comments to the Micscape Editor.
Micscape is the on-line monthly magazine of the Microscopy UK website at Microscopy-UK
---
© Onview.net Ltd, Microscopy-UK, and all contributors 1995 onwards. All rights reserved. Main site is at
www.microscopy-uk.org.uk
with full mirror at
www.microscopy-uk.net
.