Micscape Image Gallery

The desmid Micrasterias truncata var. bahusiensis
Image by Gian Martello, Italy with additional comments by Bill Ells, UK
Editor's note: one aim of this website is that it encourage amateurs worldwide to contact each other and share interests. Gian Martello in Italy recently sent us the attractive desmid image shown below and asked if any of our contributors could confirm the identification. We were pleased to put him in contact with Bill Ells, a UK desmid enthusiast and regular Micscape contributor.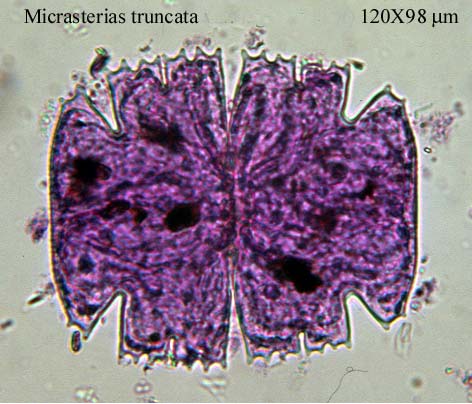 Bill Ells writes to Gian:
It is nice to hear from another desmid enthusiast. Thank you for a very good detailed photo' of Micrasterias truncata. As I expect you know there have been many varieties and species listed, according to Prescott et al. in 'A Synopsis of North American Desmids'. Krieger in 1939 listed 17 varieties and at least 6 more have been added since. A 'Check-List of Desmids of the British Isles' by Brook & Williamson list only 4. There are 5 varieties shown in 'Die Desmidiaceen Mitteleuropas' by Jiri Ruzicka. I am attaching a scan of some drawings from the Ruzicka book. I think you will agree your specimen is Micrasterias truncata var. bahusiensis Wittr. 1869. figs. 1-6.
Gian Martello writes:
Your magazine is a powerful tool for nature amateurs. In Italy there is nothing like your association. It's nice to exchange ideas, images and information with foreign enthusiasts; it's helpful for our cultural growth.
The specimen, which I sent to you the photo', was picked from one of seven little alpine lakes, placed into a glacial basin in the mountainous group called "Lagorai", on the southern side of eastern Italian pre-alps, at approximately 1700 metres above sea level. The vegetative period into these lakes is short: 4-5 months per year. I've measured some physical and chemical parameters of the water: pH = 6.64; temp.= 27.4°C; conductivity =45.9 mS/cm.

Acknowledgements: thank you to Comments to the author sent via our contacts page quoting page url plus : ('wells','')">Bill Ells and Gian Martello for sharing their contributions.
The on-line library has a wide variety of material on desmids and their study; type in 'desmids' in the Library Search engine (link below).
Please contact the Editor (link below) if you would like to share an image you have taken, or if one of the Micscape contributors may be able to help with an identification.
---
© Microscopy UK or their contributors.
Published in the April 1999 edition of Micscape Magazine.
Please report any Web problems or offer general comments to the Micscape Editor,
via the contact on current Micscape Index.
Micscape is the on-line monthly magazine of the Microscopy UK web
site at Microscopy-UK
---
© Onview.net Ltd, Microscopy-UK, and all contributors 1995 onwards. All rights reserved. Main site is at www.microscopy-uk.org.uk with full mirror at www.microscopy-uk.net.