A Monastery Pond
by Howard Webb (St. Louis, MO, USA)
Images are clickable to view larger version.
Introduction
About twice a year my family and I visit an Eastern Orthodox monastery in Michigan. While there, I regularly check their pond for daphnia and other organisms. Two years ago their pond was rebuilt, and last year it was stocked with bass, bluegill and catfish. The daphnia population quickly recovered from the rebuild, though the restocking makes it hard to tell if the current daphnia population is a result of old resting eggs hatching out, or new daphnia imported in the water with the fish.
The pond (actually two ponds connected by a small channel) is filled from the run-off of the surrounding woods, there is no stream or spring as a water source. This has two effects, creating the dynamics of the pond, and isolating the population. The pond is full of water in the spring after the snow melt, and drops later in the summer (especially when there has been little rain).
This pond has been a good opportunity to track population changes over time. As expected, the species diversity has stayed relatively stable, but the quantity of the different species has varied by season. In early spring there is a population boom, which declines in late spring after the fish have spawned and the young fry are feeding heavily on daphnia. The population also drops as the water warms through the summer season.
Observations
This year, the first visit was in May and the last visit was in September. In May, the daphnia population was so robust that they appeared as small clouds near the surface. Several other organisms were also abundant. Dipping a cup deeper into the aquatic foliage produced quantities of stentors. This pond is one of the few locations where I reliably find volvox.
Returning in September (5th), the water level was a foot or two lower, and there were no visible daphnia. Though far fewer in numbers, the same species were present.
Images
The Pond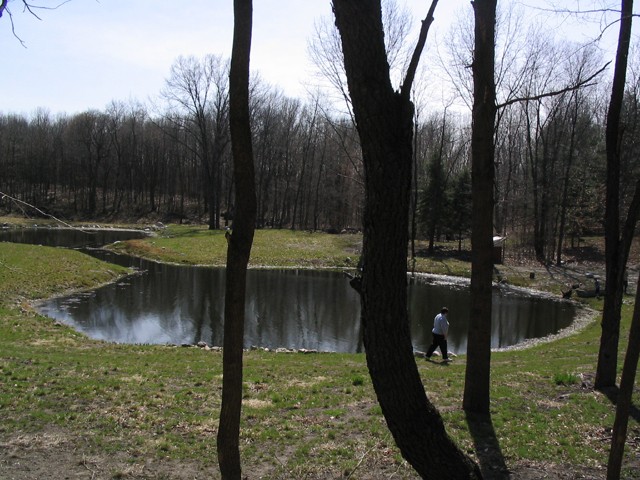 The Pond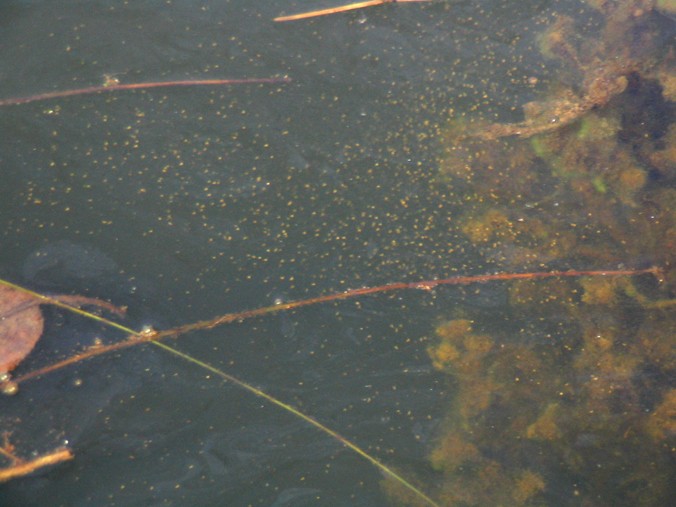 Pond, the yellow 'dust' particles are individual daphnia
Stentors
The stentors are individual organisms, though they tend to cluster together. After being collected, the water had a green tinge from all the individuals, though after sitting for several hours, they collected at the surface as a single colony.

Stentors (gathered at meniscus)
close-up with camera and hand lens
110K file
Daphnia rosae

There were several daphnia species, the most predominant was Daphnia rosae.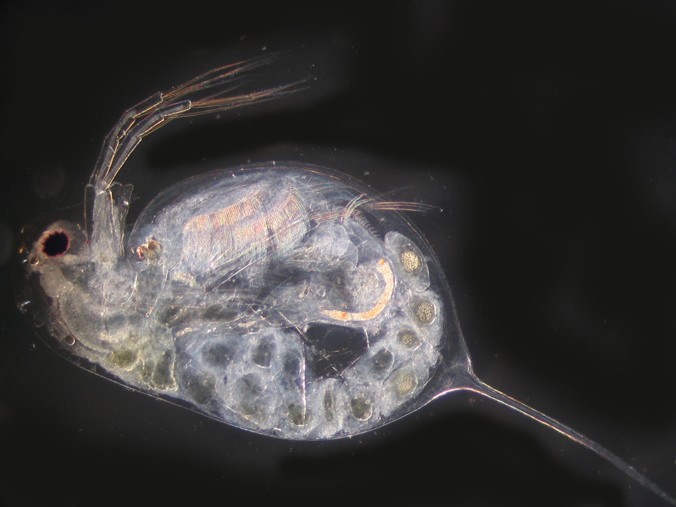 Daphnia rosae
40x, dark field
less than 50K file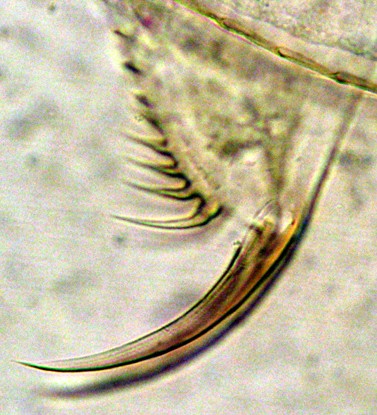 Daphnia rosae claw, detail
400x, dark field
less than 50K file

Copepod

Copepod
100x dark field
110K file

Juvenile copepod
100x dark field
406K file
Other Cladocera
Ceriodaphnia (top)
40x bright field
110K file

Chydorus
100x, dark field
less than 50K file
Volvox


Volvox
100x, dark field
less than 50K file

Volvox
100x, dark field
less than 50K file
Technical Details
It has been three months since the slides were made, on site at the monastery. While relatively short term (relative to how long slides are often kept), it has provided the opportunity to observe how well PVA-G mountant holds up. So far, the slides show little change from when they were made. There is no deterioration of the speciments, and no noticeable change of colors. The only evident distortions (due to osmotic pressure) are to the volvox and stentors, and this was evident within a day or two of when the slides were created. Unlike when I used jellied glycerin, I do not seal the edges of the coverslip, yet there is no indication of drying out or shrinkage of the mountant. Though the slides are kept in boxes, there was a haze or film on them when I went to take these photographs. I suspect this may be caused by some evaporation and condensation as the slides 'set up'. This is not a significant problem, as the film easily cleaned off of the slides. I am glad that I gave PVA-G a try, and will continue to use it as my primary mountant.
An alternatively PVA mountant formula has also been suggested, which contains lactic acid. I have yet to try it, though do have one suggestion. If you have difficulty finding lactic acid, try a wine and beer making supply shop. Lactic acid is used by these folks to adjust ph, and you can get several ounces for only a few dollars (USD). This is a much easier source for small quantities than a chemical or scientific supply company.
Environmental Conditions:
Water temperature: Warm
Depth: collected near the shore, at less than a meter
Secci visibility: moderate
Location: lat: 42.26767, long: -84.49290
Microscope: Bauch & Lomb monocular, 10x ocular, 4x, 10x and 40x objectives.
Camera: Canon A70
Software: Photoshop Elements
References
An Image-Based Key To The Zooplankton Of The Northeast (USA)
Comments to the author Comments to the author sent via our contacts page quoting page url plus : ('hwebb','')">Howard Webb are welcomed.

---
© Microscopy UK or their contributors.
Published in the December 2005 edition of Micscape Magazine.
Please report any Web problems or offer general comments to the Micscape Editor,
via the contact on current Micscape Index.
Micscape is the on-line monthly magazine of the Microscopy UK web
site at http://www.microscopy-uk.org.uk/