Spike's Gallery 3
A Selection of Images of Arthropods
By Spike Walker, UK.
Editor's note: Spike Walker, a well known and award winning British photomicrographer, has kindly suggested that Micscape can share a selection of images from his extensive portfolio.
The image selection from the CD supplied, resizing and captions (based on Spike's image names and email notes) was by David Walker, web page style by Ian Walker as used in Spike's Gallery 1 and Gallery 2.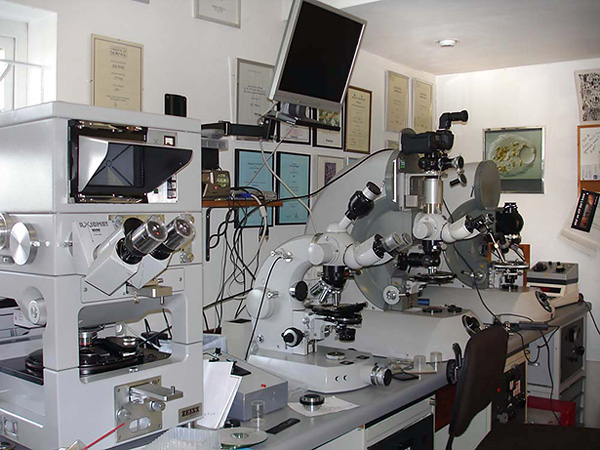 'The main microscope bench in Spike's playpen' showing an impressive Zeiss line-up: an Axiomat, Photomicroscope III and two Ultraphots.
The 'HFW ' measurement below for a subject is the 'horizontal field width'.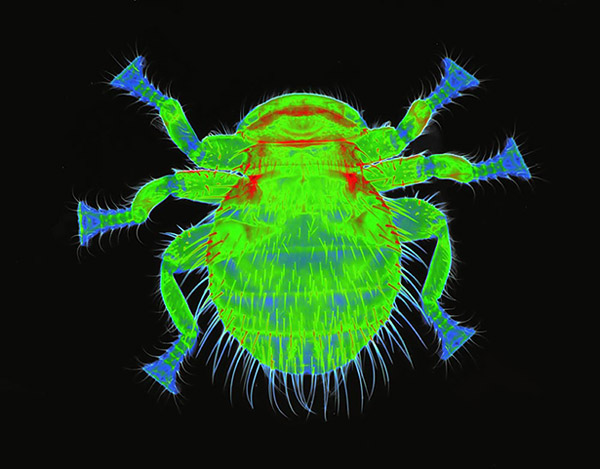 Bee louse, Broula caeca. Brightfield, colour invert in Photoshop. HFW = 3 mm.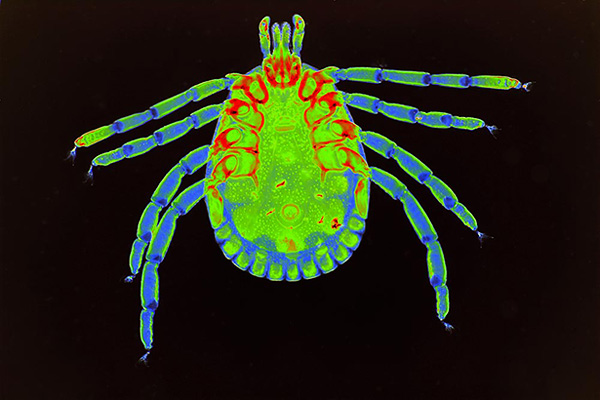 Lone star tick, Amblyomma americanum. Brightfield, colour invert in Photoshop. HFW = 9 mm.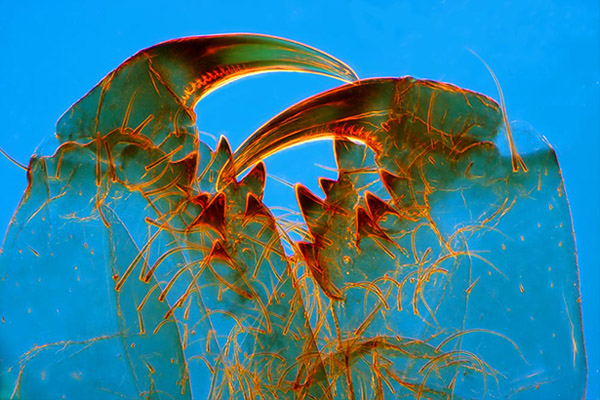 Spider mandibles. Rheinberg blue / red, commercially cut from Cokin 'bicolour polarizer'. 'Photoshop modified.'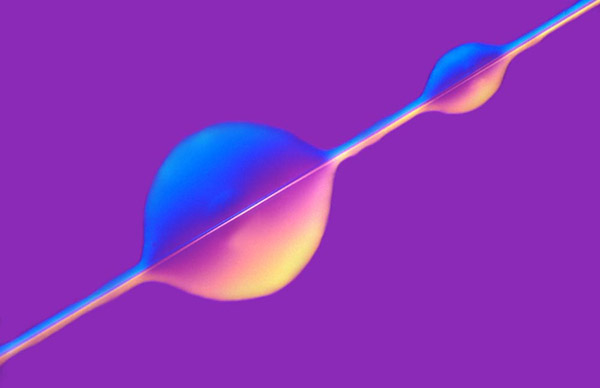 Spider's web, DIC. Spike remarks: 'The orb spider's web was actually touching the slide on which it was lying - hence the shape of the glue blobs!'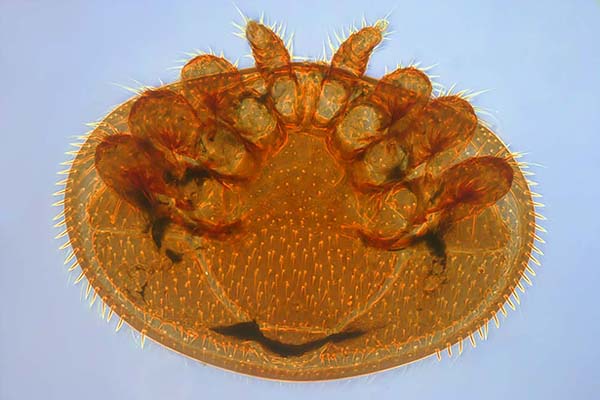 Bee mite, Varroa. HFW = 1.8 mm.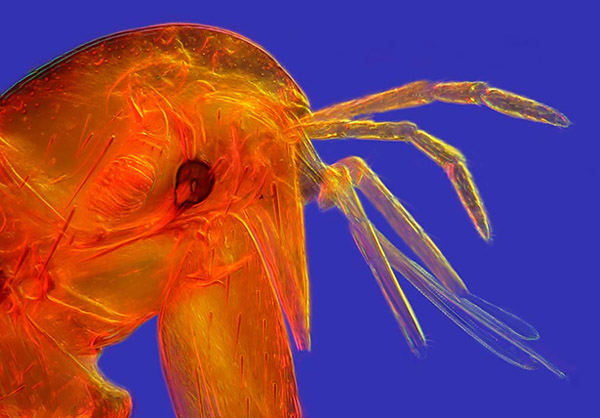 Vole flea, Amalaraeus penicilliger, head and mouthparts.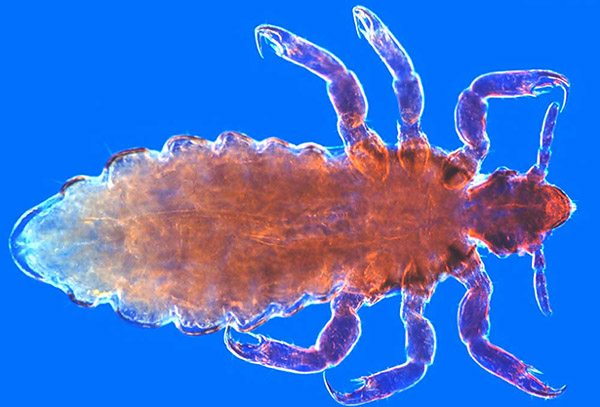 Human body louse, Pediculus humanis corporis, Rheinberg.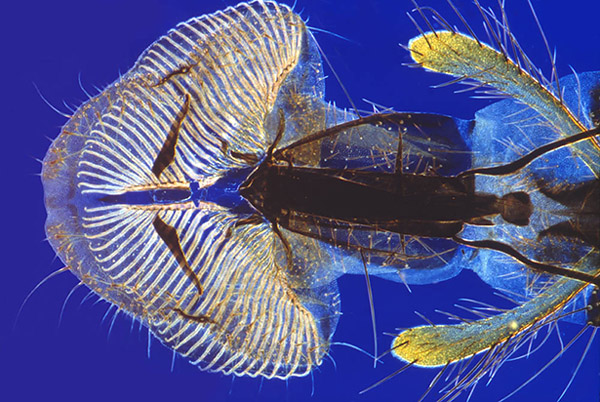 Blowfly proboscis, Rheinberg.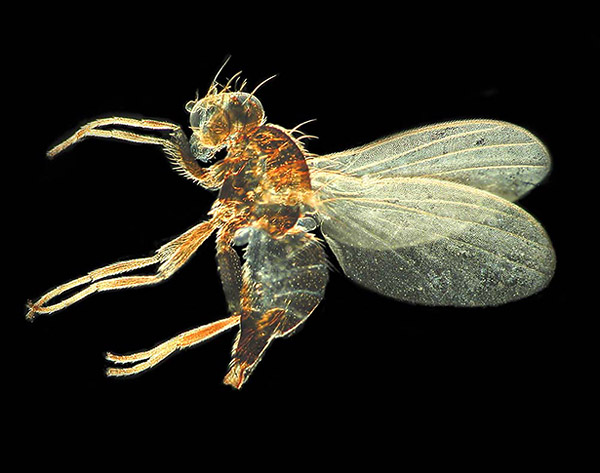 Fruitfly, darkground.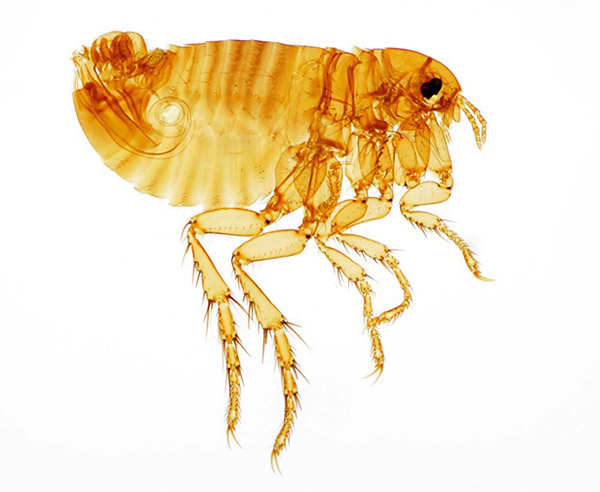 Human flea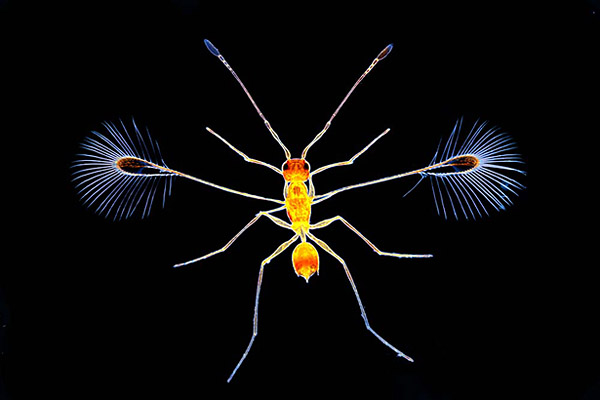 Fairy fly, Mymar pulchellus. Fred Enoch mount. Darkfield. HFW = 4 mm. Spike remarks:
'It was originally a Rheinberg image but looked more striking in darkground (hours with a 3 - 10 pixel black 'brush' going round all those hairs etc!)'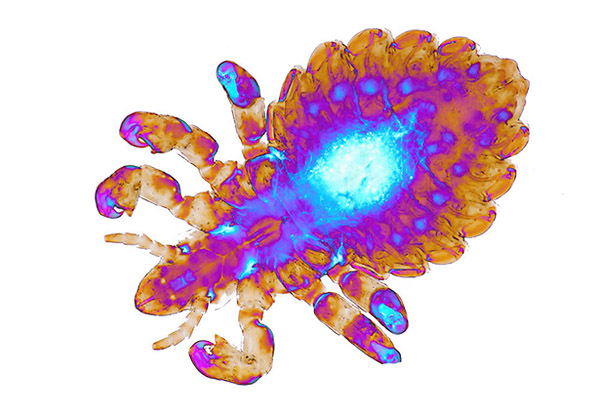 Crab louse, Phthiris pubis. Brightfield, solarized, then colour invert in Photoshop. HFW = 4 mm.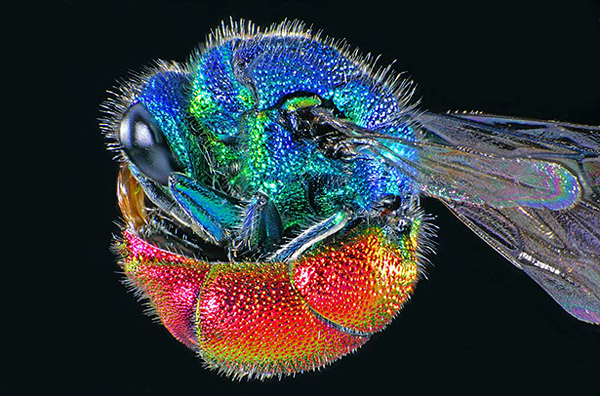 Wasp, Chrysis ignita. HFW = 9 mm.
Comments to the author Spike Walker are welcomed.
Images © M I Walker 2007 and must not be used without permission of the author.
All rights reserved.
The author's website www.the-ultraphot-shop.org.uk provides resources and spares for the Zeiss Ultraphot range.
Via 'Microworld Services', Spike Walker is a consultant microscopist and photomicrographer.
Please contact the author via e-mail above for details.
---
© Microscopy UK or their contributors.
Published in the December 2007 edition of Micscape.
Please report any Web problems or offer general comments to the Micscape Editor .
Micscape is the on-line monthly magazine of the Microscopy UK web site at Microscopy-UK