Alfred Reeves ("A. R."): Victorian era Microphotographer, 1829-1907
by Brian Stevenson, Lexington, Kentucky, USA
The introduction of commercial microphotography in the mid-1800s caused quite a stir among the public. While JB Dancer is credited with the invention and is now undoubtedly the most famous producer of early microphotographs, numerous other photographers quickly took up production of miniscule photographs designed for viewing through a microscope. One of these was Alfred Reeves, better known to many antique slide collectors by his initials, "A.R.". His full name appears on a few known microscope slides (Fig. 1). Brian Bracegirdle's Microscopical Mounts and Mounters misprinted the name as "A. Reeve", but the name appears as "Reeves" on all historical records. In the Summer, 2007 issue of Micro Miscellanea, Stanley Warren presented an excellent argument for considering Reeves to be the producer of the many microphotograph slides bearing the initials A.R.

Figure 1. Rare mount of a photomicrograph bearing A. Reeves name. Original photograph provided by Reg Porter.
Alfred Reeves featured prominently in an anonymously-written article on microphotographs that was reprinted in numerous magazines in 1859. Several of those magazines have been digitized, and can be readily found on the web from such sources as Google Books. Regarding Reeves and his work:
"Mr. Alfred Reeves has recently forwarded to us a specimen of one of those minute pictures, which consists of a plate containing the portraits of kings and queens of England since the time of the Conquest. Here, on a space not larger than 1/16 of an inch square, may be perceived a miniature "National Portrait Gallery" with a portrait of every king and queen surrounding her Majesty, who is properly made the centre figure of the interesting group."
A picture of that slide and its image is shown in Figure 2. From the publicity he received from the reprinted microphotography article, one would expect that Alfred Reeves should have become as famous as Dancer. Instead, he possibly gave up on microphotography by the 1870s, and had taken up a completely different occupation by 1890.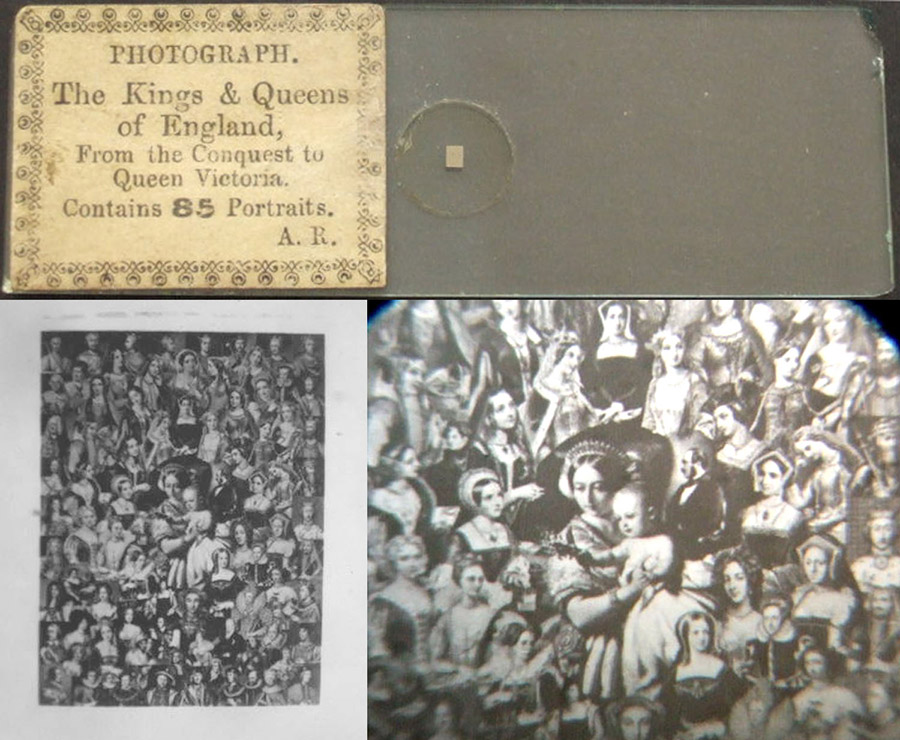 Figure 2. "Mr. Alfred Reeves has recently forwarded …, on a space not larger than 1/16 of an inch square, … a portrait of every king and queen surrounding her Majesty". Original photographs courtesy of David Evans.
Alfred Reeves was born in 1829 in Taunton, Somerset, third of three sons of Thomas and Jane Reeves. By 1841, Alfred, his parents and two brothers had moved to St. Pancras, Middlesex. The 1851 census shows Alfred and eldest brother Thomas living with their parents, and both sons working as photographic artists. On Oct. 5, 1853, Alfred married Elizabeth Palmer, and the couple moved to Tottenham Road, St. Giles, Middlesex.
According to Stanley Warren, two microscope slides labeled "A.R." bear microphotographs of five pound note number 96275, which was issued in January, 1859. Warren's article also reproduces an 1861 advertisement from Reeves, stating that he "prepares reduced copies of photographs, with lens attached, adapted for setting in rings, pins, charms, &c." (i.e. stanhopes), as well as his own "micro-photographs in great variety, and of the most perfect description."
Alfred Reeves exhibited his "microscopic photographs" at the 1862 International Exposition in London, and was awarded an Honourable Mention. J.B. Dancer exhibited in the same class, and received the same honors. Warren quotes the Report of the Exposition's Juries as writing, "the reduced copies of pictures for microscopic examination.., although partaking of the character of toys, may yet become of important application and that Mr. Reeves exhibits interesting specimens in this class."
Elizabeth died shortly after the success of the Exhibition, probably in 1863. Alfred re-married in 1866, to Emma Pavey, in Middlesex. At some point during the next 5 years, Alfred moved to Plymouth, Devon, where he continued as a photographer. Whether or not he continued producing microphotographs in Devon is unknown, but the distance from the major markets of cities such as London suggests that if he did continue, they were probably a minor product.
By 1881, Alfred and family had moved again, this time to Luton, Bedfordshire, where Alfred again set up a photographer's shop. Luton at that time was a major site for production of straw hats, and the majority of the Reeves' neighbors worked in that profession. Emma joined in, being recorded as a "bonnet sewer" on the 1881 census. By 1890, the whole Reeves family was in the straw hat-making business, the 1890 edition of Kelly's Directory of Bedfordshire listing Alfred as a "straw hat manufacturer", located at 21 Hastings street. The next year's national census listed Alfred as a "maker", Emma as a "finisher" and son William as a "packer" of straw hats. Alfred appears to have kept to this business until his death in 1907.
This information indicates that Alfred Reeves was commercially producing microphotographs by 1859, but may have ceased production by the mid-1860s. It is reasonable to date slides bearing his initials to that time period. The five pound note slides described above date from 1859. If any reader knows of a slide with a later date, I would appreciate learning that information.
Alfred's eldest brother, Thomas Reeves, was also a professional photographer, although I am not aware of any evidence to suggest that he produced microphotographs. It is probable that the two brothers worked together at times. Thomas also moved around England pursuing his career, and Alfred's move to Devon may have been to take over Thomas's business there. An 1867 example of Thomas's work can be seen at http://freepages.genealogy.rootsweb.ancestry.com/~brett/photo2/tsreeves.html
All comments to the author Brian Stevenson are welcomed.
Acknowledgements:
Many thanks to David Evans, Reg Porter, Brian Davidson and Geoff Goldberg for their assistance.
Resources:
Brian Bracegirdle, Microscopical Mounts and Mounters, Seacourt Press Ltd., Cowley, Oxford, 1998
Stanley Warren, Initials on microphotographs – thoughts on AR, Micro Miscellanea, Summer 2007, Issue 66, pages 20-29
The Photographic News, 1859, vol. 2, page 15, http://books.google.com/books?id=nbQaAAAAYAAJ
Medals and Honourable Mentions Awarded by the International Juries, 1862, pages 208 and 438, http://books.google.com/books?id=DvoGAAAAQAAJ
Victorian & Edwardian Portrait Photo Collection, Photographers' Profiles, Thomas Saunders Reeves (c1816-c1889) of Exeter, Plymouth & London, and Alfred Reeves (c1835-) of Plymouth & Luton: http://freepages.genealogy.rootsweb.ancestry.com/~brett/photo2/tsreeves.html. Includes a photograph by Alfred's brother, Thomas, and brief biographies of the Reeves brothers.
England birth, marriage, death and census records, accessed through ancestry.co.uk
PhotoLondon, Alfred Reeves: http://www.photolondon.org.uk/pages/details.asp?pid=6441. Some bullet points about Reeves' life, although the suggested death information is probably incorrect.
Kelly's Directory of Bedfordshire, 1890, page 99, accessed through http://www.historicaldirectories.org
British Hat Guild, a history of British hat manufacturing: http://www.britishhatguild.co.uk/hat_story.htm
Microscopy UK Front Page
Micscape Magazine
Article Library
---
© Microscopy UK or their contributors.
Published in the December 2008 edition of Micscape Magazine.

Please report any Web problems or offer general comments to the Micscape Editor .

Micscape is the on-line monthly magazine of the Microscopy UK website at Microscopy-UK .
---
© Onview.net Ltd, Microscopy-UK, and all contributors 1995 onwards. All rights reserved. Main site is at

www.microscopy-uk.org.uk

with full mirror at

www.microscopy-uk.net

.