!- was a call to change title function. Removed -->
Macro and Photomicrography with the Canon G1
by Guido Ballabio, Italy
Page mirrored on Micscape with the kind permission of Guido Ballabio
from the author's web site.
Please use the links below left to navigate,
rather than scrolling down the page.


Gallery preview below, click Gallery link left to view larger images.

| | | | |
| --- | --- | --- | --- |
| Spider | Slide | Onion | Euro |
| Salt | Sauce | Seed | Insect |
More galleries soon on the author's web site.
Comments to the author Guido Ballabio are welcomed.

























PRESENTATION


---



WELCOME



Site optimized for
800 x 600
screen setting






I am a Photographer who has recently discovered
on the Web some very nice " Microscope Pictures " *
taken directly through the Microscope Eyepiece
with a normal consumer Digital Camera.
* (Micscape Editor's note: refers to images by Micscape contributor Paul James.)





I have decided to make similar experiments with my
Canon G1 on a simple Microscope but I have been obliged
to find, after many trials, a different " Technique" to
take the pictures, with the Eyepiece removed





In the Gallery are exposed the first results of these
experiments and new pictures will be added following
my progresses on the use of the Microscope
and the related photography technique
Image Gallery
Scroll down through table of images below
then return to article menu.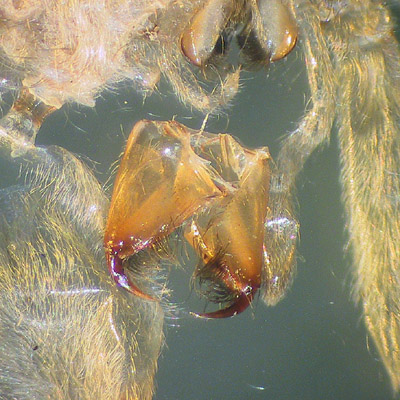 SPIDER DETAILS
Micro 40x
Reflected and low transmitted light on a very little spider ( 1mm ) dissected on a glass.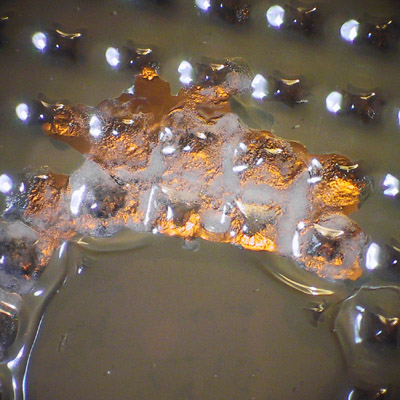 SLIDE FILM
Micro 40x
Reflected light on the details of the end frame of a 24x36 slide film.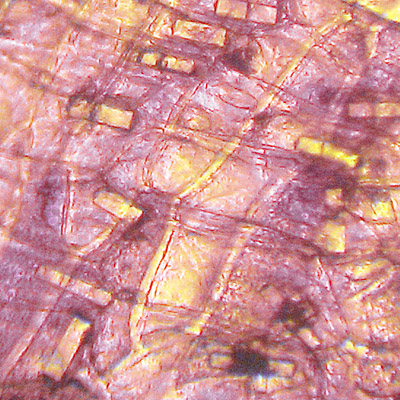 ONION SKIN
Micro 60x
Reflected and transmitted light on the thin skin of a red onion.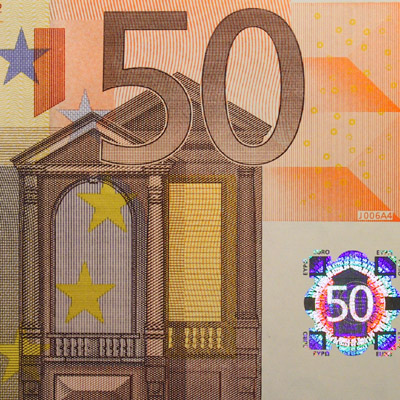 EURO MARK
Macro 2x
Reflected light oriented to show colors on the laser mark.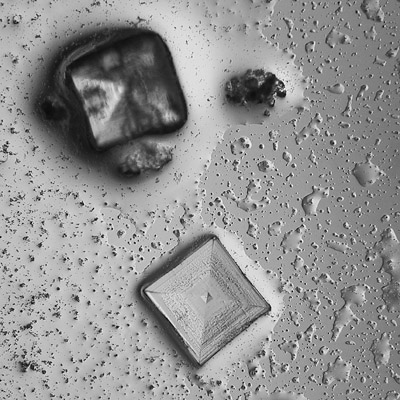 SALT CRYSTALS
Micro 10x
Reflected and low transmitted light on crystals of salt formed after dilution in water.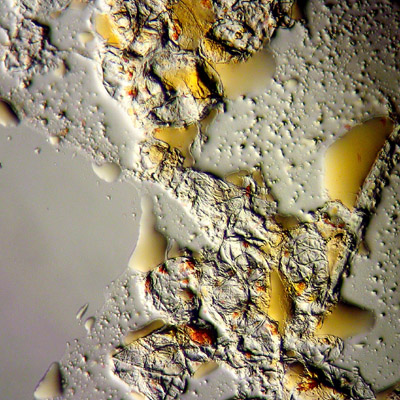 TOMATO SAUCE
Micro 10x
Reflected light on a bit of oil tomato sauce lead on a glass.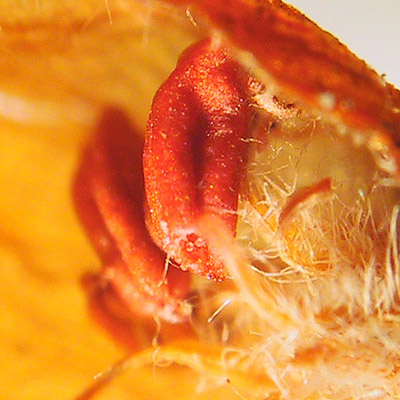 SEED SECTION
Micro 10x
Reflected light on the internal of a small seed.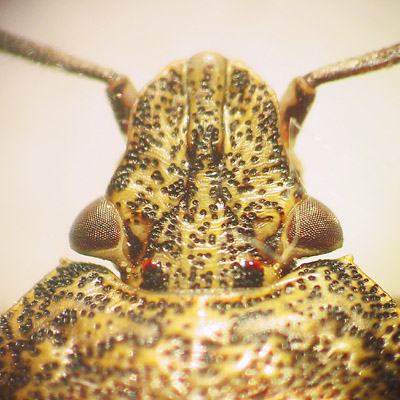 INSECT HEAD
Micro 3x
Reflected light on the head of a classic garden insect.
( Nezara viridula )
Return to article menu.




























AUTHOR'S LINKS


---





REFERENCES
ON
THE WEB



---
© Guido Ballabio 2003.
Published in the February 2003 edition of Micscape Magazine.
Please report any Web problems or offer general comments to the Micscape Editor.
Micscape is the on-line monthly magazine of the Microscopy UK web
site at Microscopy-UK.

---
© Onview.net Ltd, Microscopy-UK, and all contributors 1995 onwards. All rights reserved. Main site is at www.microscopy-uk.org.uk with full mirror at www.microscopy-uk.net.