Historical snippet: Medal awarded to the microscope maker C. Baker at the
'United Provinces Exhibition Allahabad 1910'.
by Howard Westlake, UK
Editor's note: Howard Westlake kindly sent scans of this interesting bronze medal which he possesses. The inscriptions are given below each image.

Howard remarks: I know little more, other than that this exhibition was an annual event to promote arts and industry during the British occupation of the region and that 1910 was special, as it was that year that the first airmail service started from there to the UK - so an expert of that era on the Web tells me when he assessed my medal. The medal is 2½ inches in diameter.

The contributor Howard Westlake would be interested in hearing from readers who could provide any additional information on this medal or the exhibition and also historical resources on the microscope company C. Baker.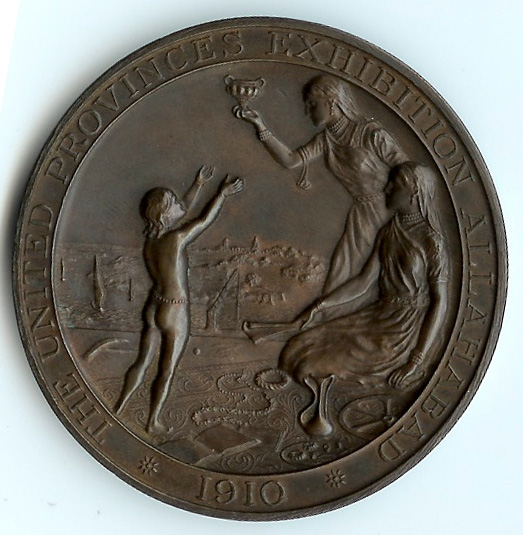 Inscription reads: 'THE UNITED PROVINCES EXHIBITION ALLAHABAD' dated 1910.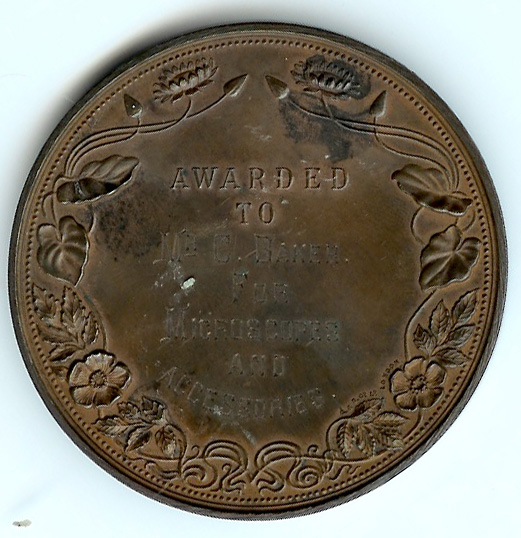 Inscription reads: 'AWARDED TO MR. C. BAKER. FOR MICROSCOPES AND ACCESSORIES.'
---
© Microscopy UK or their contributors.
Published in the February 2004 edition of Micscape.
Please report any Web problems or offer general comments to the Micscape Editor.
Micscape is the on-line monthly magazine of the Microscopy UK web
site at Microscopy-UK
---
© Onview.net Ltd, Microscopy-UK, and all contributors 1995 onwards. All rights reserved. Main site is at www.microscopy-uk.org.uk with full mirror at www.microscopy-uk.net.