Notes on digitising video tapes of microscopy footage
by David Walker, UK
The pace of change of video recording media and other storage formats is hard to keep up with. Until a few years ago I was recording analogue video microscopy footage onto a domestic VHS video recorder. When my last recorder failed, I gave up the analogue VHS tape format and now record direct to PC using a USB 'C-mount' camera or Live View DSLR. For domestic TV recording I waited until affordable DVD recorders were well established.
So I now possessed some VHS tapes of old footage which I couldn't view or use. I toyed with the idea of buying one of the domestic dual format VHS / DVD 'transfer' recorders or a very cheap VHS recorder, but I don't have enough tapes to justify it. I also have little faith in the hardware reliability; family and friends have had a variety of big name VHS recorders fail on them with repair bills that can't be justified, assuming they are repairable as modern 'boxes' often seem to be full of air apart from some large 'chips', basic mechanics and power supply. Although my first DVD recorder, a Philips, also failed within a few years of light use; the model turned out to be notoriously unreliable.
There was one particular VHS video tape of pond life I wished to 'recover', as had spent time editing it to a reasonable standard and included footage of the live birth of a bdelloid rotifer; an event that I'd never seen since in my pond dipping studies.
A quick 'Google' search showed that there was a thriving video format conversion service industry. Conversion of a VHS tape to DVD with return postage was about £12 for the cheapest, so this seemed a more cost effective approach for one or two tapes than buying hardware. The company I tried www.ontodvd.com gave a professionally presented result and was pleased with the video quality. Although maybe it was the Christmas postage effect, as it did take eight weeks for the tape to be processed despite a few 'chase-up' emails.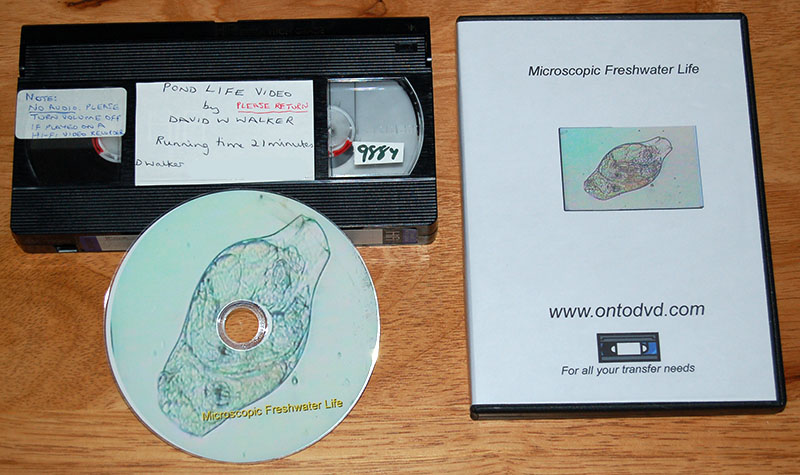 A typical conversion package, there are many companies who offer this service. A DVD title is given to the company
and they present a still on the packaging. Coincidentally in this case the very 'pregnant' bdelloid rotifer.
The DVD played fine both on my PC (with a suitable decoder installed) and Panasonic domestic DVD recorder / player. So, how do I edit small clips from the huge DVD video files and convert them into a format suitable for sharing on the Web? Exploring the files on a typical video DVD shows a number of different file types although helpful websites, e.g. this one, explains what they each do. For the microscopy enthusiast like myself interested in editing short sequences of audio free microscopy video footage, the editing approach seemed fairly straightforward. The video files were those with a 'VOB' extension, which are described as a 'specialised MPEG-2 file'. Apparently the video is usually split into 1 Gbyte files on a DVD, so I just selected the VOB file of interest.
I was already a user of VirtualDub, a powerful but easy to use video editing freeware package. A 'third party plug-in' had been written for VirtualDub to open and edit VOB files. I expected my three year old PC to grind to a halt opening a 1 Gbyte video file but it didn't happen and had no problem playing, exploring and editing the files. (Opening and initial processing one of these large files took 4 minutes from the DVD, but was less than 30 secs if the video file was transferred from the DVD to the PC's hard drive.)
To keep video clips for the web to a reasonable size, there's a wide variety of video compression formats, but DivX and Xvid are popular ones. The codecs and players can be downloaded at www.divx.com and www.xvid.org; once installed on the PC, the codecs become available for the editing software to use. Other parameters to help minimise file size are: reduce the frame rate (5 - 10 fps is often enough from the original 25 fps); resize or crop to a small video frame, 320x240 pixels is often sufficient; convert to monochrome if there's little colour information.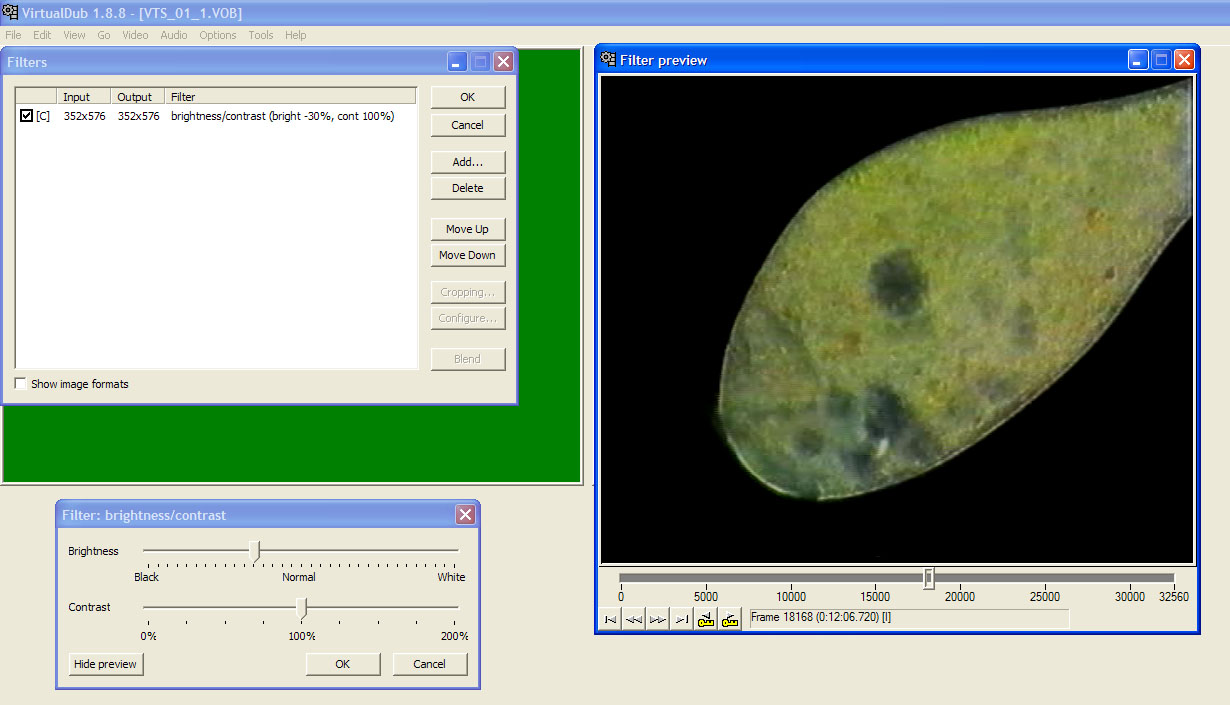 Part of the desktop view of VirtualDub (v1.8.8 Build 30091) using the 'MPEG-2 plugin v3.1 by fccHandler' to open VOB files. A 20 minute DVD video file was ca 30000 frames, but after loading the file the software seamlessly plays and fast scrolls through frames for editing (on a 1.8GHz Intel iMac, 2GB RAM running Windows XP Home SP2).
Shown here adjusting the brightness of a Stentor sequence which was slightly overexposed in the original.
Short sequences can be readily selected, and saved to a computer video file such as avi format using a video compression codec like Xvid.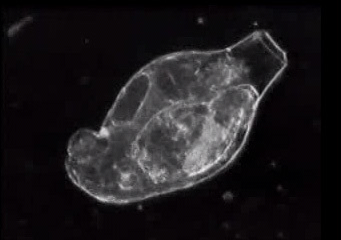 LOMO Biolam, 20x objective, Panasonic C-mount WV-CL350 security camera (430 line resolution). Recorded ca. 1985.
Right button click image to save to PC, then view video in PC's own player.
Edited video clip from DVD showing the live birth of a bdelloid rotifer, genus Rotaria
Showing mother before birth and mother and youngster after the birth.
Birth at ca. 2.5 minutes.
Above uses Xvid compression, 1.8 Mbytes. Codecs here if doesn't play on Windows / Linux PC.
For Windows / Mac with DivX codec, a video is here, but larger, 11 Mbytes. DivX Codecs are here.

A 6 min 45 sec avi video sequence but a modest file size of 1.8 Mbytes with Xvid compression.
Virtual Dub Filters applied to reduce file size:
'Frame rate conversion' option, by processing every fifth frame but keeps original time sequence.
Resized to 320 x 240 pixels. (The VOB video files seem to be 352x576 pixels and needed to use the 'resize' filter in Virtual Dub to restore a TV 4:3 format e.g. 320 x 240 as used here.)
Monochrome.

Comments to the author David Walker are welcomed.
---
© Microscopy UK or their contributors.
Published in the February 2009 edition of Micscape.
Please report any Web problems or offer general comments to the Micscape Editor .
Micscape is the on-line monthly magazine of the Microscopy UK web site at Microscopy-UK
---
© Onview.net Ltd, Microscopy-UK, and all contributors 1995 onwards. All rights reserved.
Main site is at www.microscopy-uk.org.uk with full mirror at www.microscopy-uk.net .