!- was a call to change title function. Removed -->
Carl Zeiss 'Jenalumar' Microscope
by Raymond Sloss, UK
I came across my Jenalumar at one of the regular UK annual microscope meetings. It sat ignored and lonely among the apparently more desirable Zeiss west, Nikon, Wild and Olympus kit which disappeared rapidly to enthusiastic buyers. The Jenalumar was dirty, had bent condenser controls and didnít seem to have typical microscope styling. When I looked more closely I was surprised to find it fitted with huge 25mm thread planapo and planachro objectives and 30mm eyepieces. I had just that week seen a pair of the same eyepieces sold for over £350 on German Ebay. When I enquired I was amazed to find the microscope was available for less than the eyepieces had fetched. I bought it immediately, took it home, stripped it down, and after a few repairs was pleased to find it in perfect condition.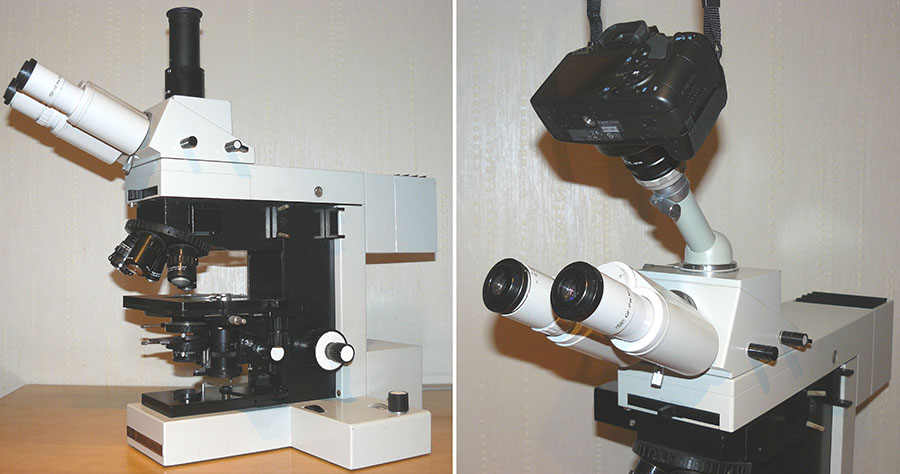 The Jenalumar was one of the Jenaval series of microscopes, as far as I can make out from Jena catalogues they were first produced in the eighties. Like its predecessors this line of microscopes was totally comprehensive, no aspect of optical microscopy was left uncovered.
The Jenalumar is an infinity corrected transmitted light and epi-fluorescence microscope. The standard transmitted illumination is by 6 volt 25 watt halogen. In my example I have replaced the mercury fluorescence lamp in the epi-fluorescence system with 12 volt 100 watt halogen (I discovered that my Canon DSLR can expose and photograph fluorescence that canít be seen at all visually!). The construction of the microscope is quite modular, one screw locking components onto rugged dovetails. This allows great versatility in building a stand for a specific purpose. The stand was originally supplied with sloping armrests, I donít have these, but in use the controls are all to hand making for very restful viewing and operation.
All the objectives and eyepieces are marked GF which I assume is GroŖes Feld - large field. The objectives are very large and have 25mm threads (they donít match Zeiss west or Wild Epi sizes). I have collected a wide selection of planachro, apo and planapo objectives including epi types. The views they provide with the 30mm GF eyepieces are simply spectacular. I have the best west German, Swiss and Japanese objectives, for me the sharp, contrasty views of the Jena GFís outdo them all (I know Iíll get flak for that!)
The trinocular head has a sliding lever changing the light path from binocular head to camera, and another lever operating a very convenient focussing Bertrand lens. There is a removeable slider between the binocular head and the objectives, allowing introduction of optical accessories into the infinity light path.

The transmitted illumination is more than adequate for any technique. The left side of the base has a thumbwheel which operates five built in filters. The field iris is controlled by a thumbwheel on the right side near the transmitted light rheostat. The epi-fluorescence light path has its own filter holder, centerable iris and sliding fluorescence cube with three positions.

The rotatable, drop control stage is very solid, and like the condensers is removable with one screw. My stage is fitted with Zeiss west slide clips as the originals were missing. Two condensers are mounted together below the stage and can be swung in and out easily. There is a low power condenser and an aplanatic high power condenser, both centering, and the high power has an individually centering iris.

I have several planachro phase objectives (marked in green and double ring type) but no Jenalumar phase condenser. As the photo shows, it is possible to fit the older Amplival stage complete with zoom condenser. This allows phase contrast observations using the condenserís centering triple ring annulus. This is not, however, very convenient, despite the single screw release all the objectives have to be removed to allow the new stage to slide onto the dovetail. Although it is of course possible to use the pancratic condenser for all types of illumination, when fitted to the Jenalumar there is not enough room to rotate and utilise the alternative turret heads. They have to be selected before fitting the stage. Use of this earlier condenser was not part of the design brief.
The top photo shows a Canon 450D attached to the trino using an inclined monocular. This system allows very convenient observation of the back screen of the camera, and the whole arrangement is very solid. The 450D is ideal for microscopy, it not only has live view but the image can be enlarged x5 or x10 making focussing of the most difficult subjects easy. This feature combined with mirror lock up and IR remote release makes sharp photos childís play. With the mirror out of the way it takes more than a modern shutter to vibrate a 24 Kg Jenalumar!
The Jena factory obviously had a lot of success with this series of microscopes. Their use is mentioned many times in scientific papers from across the world. In Germany the objectives and accessories still fetch premium prices.
I have another microscope in this Jena series, the ĎJenamedí, a routine microscope with some unusual design features which I will describe in a future article.
I have far too many microscopes. I often wonder if I should have stuck to the Biolam I used for thirty years. As I get older common sense begins to register, I am slowly going to part with the bulk of my collection. One thing is certain, as I get down to the last few essential microscopes that I will keep, the Jenalumar will still be on my bench.
Comments to the author, Raymond Sloss are welcomed.



---
Published in the February 2009 edition of Micscape Magazine.
Please report any Web problems or offer general comments to the Micscape Editor.
Micscape is the on-line monthly magazine of the Microscopy UK web
site at Microscopy-UK.
---
© Onview.net Ltd, Microscopy-UK, and all contributors 1995 onwards. All rights reserved. Main site is at www.microscopy-uk.org.uk with full mirror at www.microscopy-uk.net.