Microscopy themed maximaphily - a note with examples
by David Walker, UK
(See footnote for image use.)
What is maximaphily? I can anticipate some fellow microscopy enthusiasts asking. It was certainly a topic that I was unfamiliar with until a year ago. Maximaphily is a recognised 'classification' of philately associated with all aspects of collecting, creating and studying so-called 'maximum cards'. These are commercial postcards with the stamp placed and franked on the front with the stamp, card subject and the postmark being associated in some way. They are called maximum cards because for the creator or collector of such cards they are seeking so-called 'maximum concordance' of these three aspects.
There are formal rules set by the Maximaphily Commission for what constitutes a maximum card and for it to achieve maximum concordance. But for casual collectors of philately material associated with microscopy, as is the present author, it's an appealing way of collecting attractive and often informative media related to microscopy. (See Resources below for further information on the topic and its history.)
Fritz Schulze shared his enthusiasm on Micscape for stamps with a microscopy theme and he illustrated his article with splendid examples from his collection. My own interest was prompted by the Royal Mail celebrating the 150th anniversary of the Royal Microscopical Society in 1995 with a set of stamps, greatly helped by the definitive articles by Wergin and Heathwood who have catalogued such stamps. (See Resources below.)
I stumbled on maximum cards when browsing online seeking stamps to bolster my modest collection. I only have a dozen or so cards that could classify as maximum cards and these are illustrated below to show how I believe their degree of concordance varies.
One of the appealing aspects of maximum cards, unlike microscopy themed stamps or first day covers, is that the collector can also be a creator and could aspire to produce cards with 'maximum concordance' on a microscopy theme. For example, 2023 is the 300th anniversary of Leeuwenhoek's death. If the Netherlands PO created a stamp to celebrate this event, this stamp could be attached to a commercial postcard that showed a portrait of Leeuwenhoek and/or aspect of his work or microscopes. For maximum concordance, the card should have a relevant postmark, eg franked in Leeuwenhoek's home town of Delft or even better, a postmark especially created with a Leeuwenhoek association. The card in the gallery below celebrating the work of Emil Racoviță shows a superb example of such 'maximum concordance' to celebrate a famous scientist and his work.
First day covers also of course often have illustrated envelopes and postcards to complement the stamp, but these are usually specifically created to sell with the stamp. Bringing together an appropriate commercial postcard, stamp and franking arguably has more creative potential.
Once a maximum card has been devised and created, they could be sent as mementoes to colleagues and may have potential collectability within the maximaphily community. A Club or Society could also devise such cards as a memento on the anniversaries of their founding or to celebrate famous members.
Examples with increasing degrees of concordance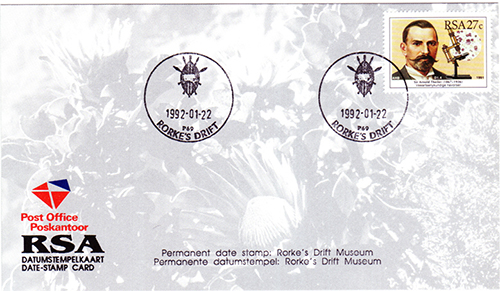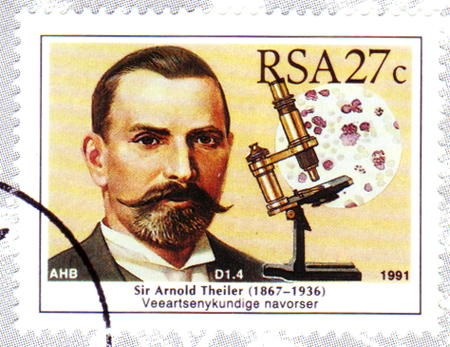 The above example is an attractive microscopy themed stamp presented on a card but it would not qualify as a maximum card. The stamp itself is a type that particularly appeals to the microscopy thematic stamp collector as it shows both a scientist, an accurately presented microscope of the period and a photomicrograph / drawing. Arnold Theiler was noted for his pioneering work in veterinary science in South Africa (see Wikipedia entry).

However, the card is described as a 'Date-Stamp Card' but is not a commercial postcard (the reverse is blank). The botanical subject of the postcard does not obviously share any relation to the stamp subject. The postmark is South African and therefore relevant, but Rorke's Drift, famous for its battle in the Anglo-Zulu war in 1879 is not related to the scientist.
Card copyright not stated on reverse: Post Office Poskantoor?
*********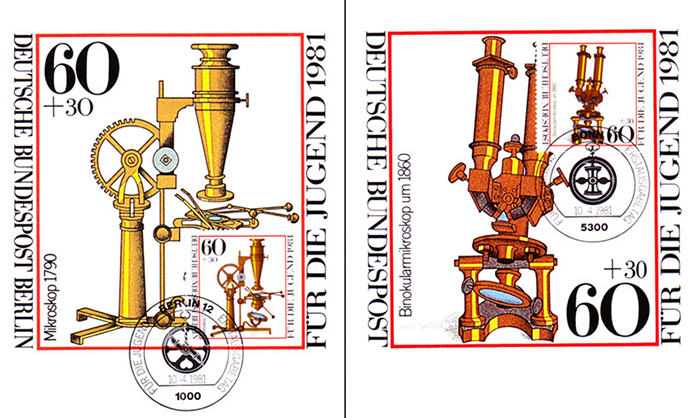 Click here to read the information on reverse of both cards in German.
The above two examples from a set of stamps are again attractive presentations of microscopy themed stamps but still don't fulfil requirements for the more rigorous maximum card collector. The cards are not postcards as were not designed for a message and stamp on reverse, although for the microscopy enthusiast, the reverse of each does have a description of the stamp's background.

The subject of the card is a facsimile of the stamp itself; this is useful for the thematic stamp collector as it allows the stamp design and in this case genuine microscope models to be studied more readily. But cards where the subject is exactly the same as the stamp may rate it low as a formal maximum card. The special postmark is relevant to the stamp content.
Card copyright not stated on reverse: Deutsche Bundespost?
*********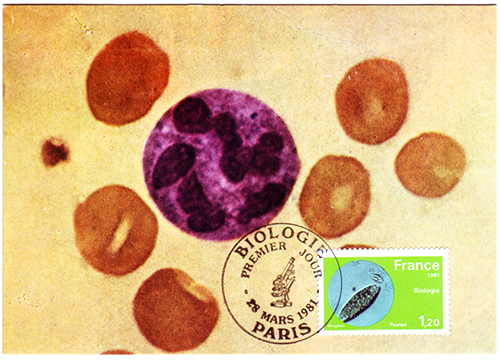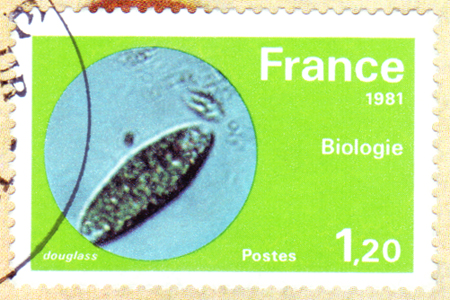 The above is an example of a maximum card by the formal rules but it may not score very highly for 'maximum concordance'. It is a genuine commercial postcard with areas on reverse for the message and an address; the postcard subject is of white and blood cells viewed under the microscope; the stamp is a 'Biologie' theme and also shows a photomicrograph, in this case a protozoan. The postmark has the same theme as the stamp and shows an antique microscope.

Thus the postcard subject, the stamp and the postmark are microscopy related to qualify as a maximum card. However, their relation could be regarded as rather loose; it would requite a theme to make the three components more cohesive, e.g. feature a study of a protozoa based blood diseases by a 19th century scientist.
Card credit: 'Editions J Farcigny. Courbevoie.'
*********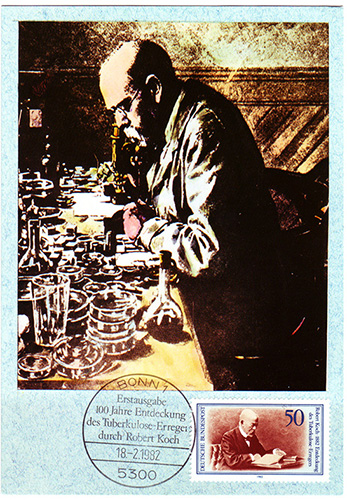 Card credit: 'Deustsche MaxiPhil Maximumkarte.'
*********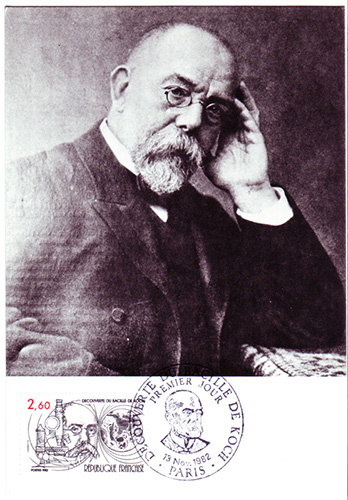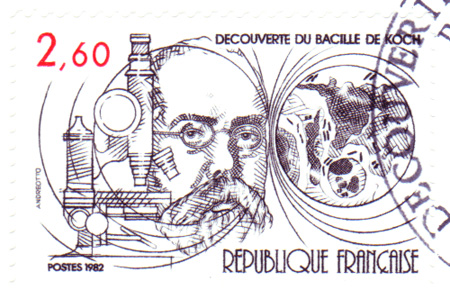 Card credits: 'Photo Roger Viollet, Paris. Editions Jean Farcigny, 92400 Courbevoie.'
The above two attractive maximum cards celebrate the life and work of Koch, the German bacteriologist who won the Nobel prize (medicine) in 1905 for his work on tuberculosis. The postcard subject, stamp and the postmark are in good concordance and complement each other.
*********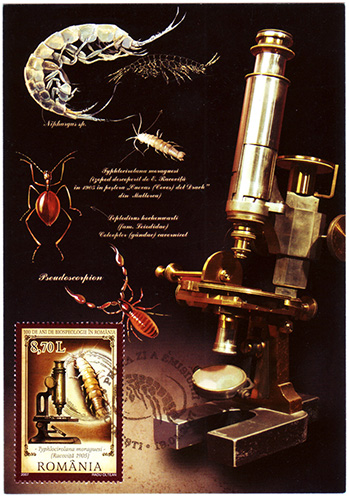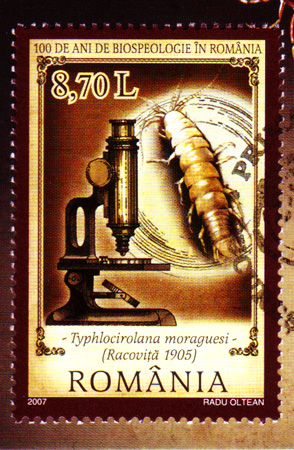 This is my favourite maximum card of the few I possess. An appealing aspect of collecting such media is that it can prompt researches on the card topic. Emil Racoviță was a fascinating figure in Romanian science. The Wikipedia entry notes that he was 'a Romanian biologist, zoologist, speleologist and explorer of Antarctica', and later: 'He is considered to be, together with René Jeannel, one of the founders of biospeleology. He was particularly interested in isopoda, of which he discovered many.'

For the collector of microscopy themed stamps alone, the card is a beautifully executed and informative presentation, showing the man, a microscope, and accurate depiction of some of the organisms which he found in caves. The microscopes depicted on the stamp and card differ and unsure which if either are directly related to his work (a query to the Romanian Museum dedicated to him did not reply). I would be interested to learn the maker of the model on the card.

High, possibly maximum concordance is achieved because the stamp is closely related and complements the postcard subject, rather than just a facsimile of the stamp and the postmark is a special one for the subject.

Postcard is copyrighted to www.romfilatelia.ro and has been reproduced with their kind permission. Not to be reproduced elsewhere or used commercially without their permission.
The remaining cards are further examples where the postcard subject, stamp and postmark are in varying degrees of concordance.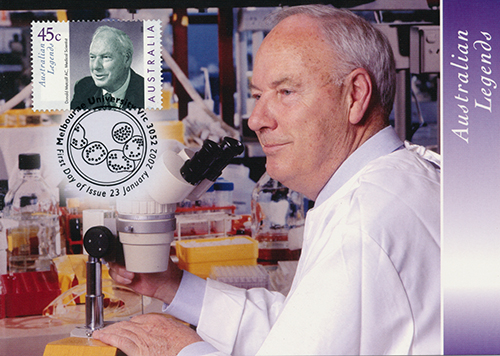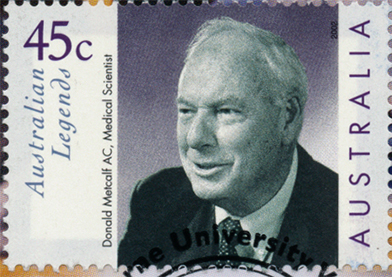 A card celebrating the life and work of Donald Metcalf who has carried out pioneering research in various areas of medicine, see Wikipedia entry. Excellent concordance. Card credits: 'The Walter and Eliza Hall Institute of Medical Research. Melbourne'.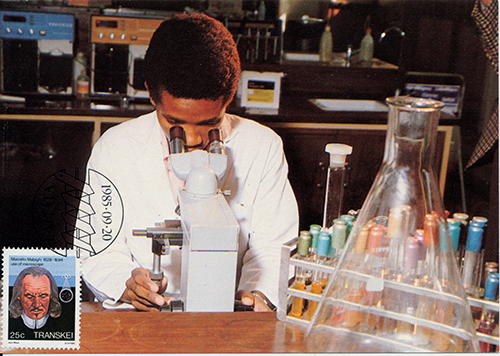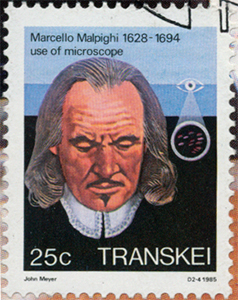 A 'Heroes of Medicine' card celebrating the varied studies of Marcello Malpighi in the 17th century, see his Wikipedia entry. The card subject, stamp and postmark are biology, microscopy related but not as strongly as other examples. For greater concordance, the card subject would need to be more closely associated with Malpighi's work. Card credits: 'Photo Bernard Clark. Merchant Press.'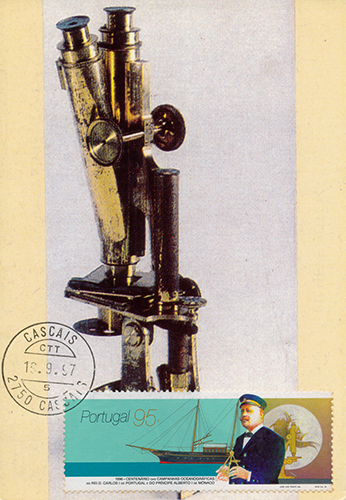 This card celebrates the centenary in 1996 of the oceanographic studies of Rei D. Carlos I of Portugal, see this paper on his expeditions and studies. The postmark for Cascais is a Portugese coastal town where Carlos installed the first Portugese oceanographic laboratory in 1896. The card has excellent concordance. The very attractive stamp in a long format is the only example of this format on a microscopy theme that I possess. The note on rear of card suggests the microscope was the model used. No card credits stated.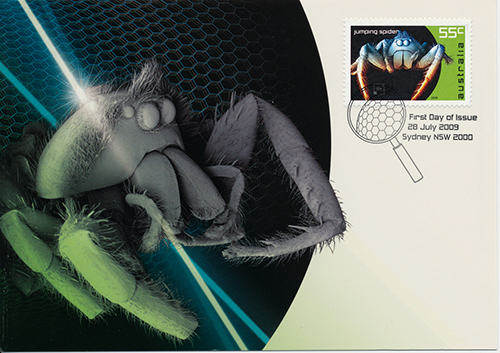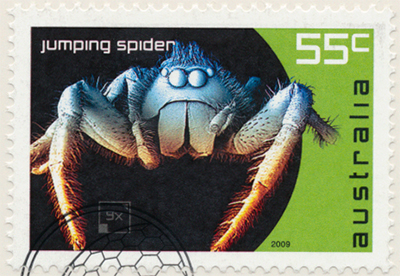 A maximum card showing an example of photomicrography rather than the microscope. Excellent concordance. Card credits: 'Jumping Spider photograph courtesy of the Australian Museum, Sydney.'
Comments to the author are welcomed.
Footnote: The copyright holders are not clear on some cards and/or who to contact; credits where known are stated. Where a contact was possible, formal permission to use on this not-for-profit site for educational use was kindly granted. The remainder have been used under the US 'Fair Use' of copyrighted material guidelines as Micscape is hosted in the US. Image size is modest to allow only screen use. Right clicking to save an image offline has also been disabled. If an original copyright holder has queries on current use please contact the author via the link above.
Note added February 22nd 2015. Since writing this article, the server has moved from the USA to the UK. 'Citing the US 'Fair Use' policy for third party image use (widely used e.g. by Wikipedia) is thus no longer valid where it was not possible to either find and/or contact the copyright holders of the images. The article has been retained as an educational resource on this not-for-profit website. If a copyright holder objects, please contact the author above and we will be pleased to remove an image or change/add an image credit. Thank you.
Selection of maximaphily resources
www.maximaphily.info - Fédération Internationale de Philatélie Commission for Maximaphily. The official website with background information, regulations etc.
'What is Maximaphily? - an illustrated article in Acrobat format by 'Nicos Rangos, FIP Maximaphily Commission former chairman'.
'Maximaphily history' by Barbara Bartsch on Stamp Arena website, with links to further pages which illustrate what are and what aren't maximum cards.
Micscape resources on thematic philately on a microscopy theme
Stamps and microscopes - Fritz Schulze (Canada) presents a selection of attractive stamps with a microscopy theme. (In Acrobat pdf format.)
Microscopy on stamps - General introduction by David Walker.
Photomicrography on stamps - Gallery of examples by David Walker.
Other online resources
'Microscopy as illustrated on postage stamps' - an excellent online stamp gallery, divided into six categories of microscopy themes including famous scientists.
Some milestones in the history of pathology illustrated by philately by Dr Joao Carlos Prolla, M.D. (Link downloads a doc file.)
'Scientific instruments on stamps. Part 1. Microscopes and telescopes.' by Edward J Burge. Bulletin of the Scientific Instrument Society, 1991, no. 30, pp. 10-12. Link is to Back issue index. Parts 2 and 3 showing other instruments on stamps are in Bulletin 31 and 32.
References on thematic philately with a microscopy theme
'Microscopes and Postage Stamps' by William P. Wergin, Proceedings of the Royal Microscopical Society, 1990, volume 25, pages 115-121, 212-214, 249-253, 324-327,416-422. A series of definitive articles and coloured plates. The last set of pages is a list of stamps depicting microscopes up to August 1990. The list includes the country, date of issue and the Scott catalogue number. Also provides references to articles published prior to 1990 on similar topics.
'Microscopes on Stamps: A Checklist to 1996' by W Heathwood. Quekett Journal of Microscopy, 1997, 38(1), pp37-47. This invaluable list provides the SG catalogue number, the face value, year of issue and a brief description of the stamp. Useful guidelines on starting a collection are also provided in the accompanying article.
'The Royal Microscopical Society Stamps' by Peter Evennett, Proceedings RMS, 1989, 231-237. A fascinating insight into the design and production of the stamps issued to celebrate the RMS 150th anniversary (illustrated on the first day cover above).
'Microscopy Receives the Stamp of Approval' by A. R. Lane, Microscopy and Analysis, 1989, September, 15-18. An interesting article on how microscopes are used to monitor the production of stamps and also provides a good introduction on the types of printing techniques used.
---
© Microscopy UK or their contributors.
Published in the February 2013 edition of Micscape.
Please report any Web problems or offer general comments to the Micscape Editor .
Micscape is the on-line monthly magazine of the Microscopy UK web site at Microscopy-UK
---
© Onview.net Ltd, Microscopy-UK, and all contributors 1995 onwards. All rights reserved.
Main site is at www.microscopy-uk.org.uk.