My favourite slide.
Frithjof A.S. Sterrenburg
Heiloo, The Netherlands
In the spring of 1947, when I was 12 years old, we moved to a house that had the dubious distinction of being the last one built in the village during the War. Its Ersatz ancestry was obvious to the inhabitants because it seemed to consist of a haphazard collection of the most substandard materials imaginable. For instance, the wiring did not contain an ounce of copper ( a strategic material) but was made of some sort of zinc alloy. The sewer system was not exactly topnotch either, for there was about a foot of water standing in the cellar, with a suggestive odour…
I had already been interested in microscopy for quite a while then and having devoured Paul de Kruif's famous book "Microbe Hunters" was particularly fascinated by bacteria. I owned a small Victorian unbranded drum microscope, which only magnified about 100x and not very sharply either, but when our good family doctor discovered I was a microscopy fan, he gave me permission to use his Zeiss microscope – which had a real oil immersion objective! – when this was not needed for examining bloodsmears etcetera.
So I placed a drop of the vile cellar brew on a coverslip (not on the slide!), dried, fixed and stained it with gentiana violet, mounted it in Canada balsam and took it to Doctor's surgery. Trembling with anticipation under the Doctor's critical supervision, I put it under the microscope. Sensation! Zillions of huge Spirillums (native Latin speakers would say "Spirilla", I know…) and even the doctor confessed he had never seen anything like this… Neither have I since, but I mainly cherish this slide for the sense of discovery it gave to the youngster I was then!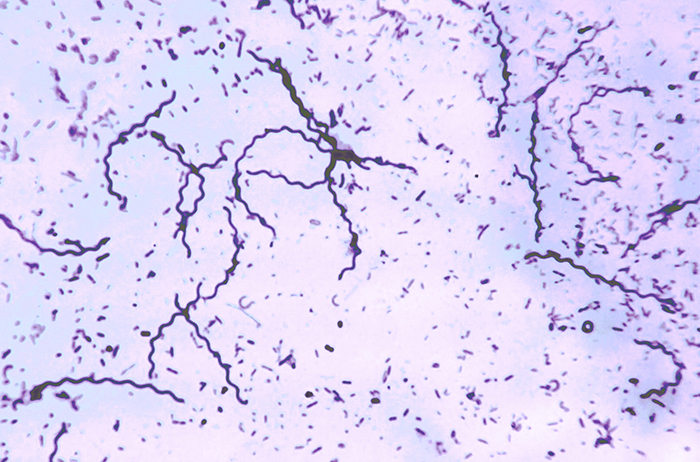 ---
© Microscopy UK or their contributors.
Published in the February 2014 edition of Micscape.
Please report any Web problems or offer general comments to the Micscape Editor .
Micscape is the on-line monthly magazine of the Microscopy UK web site at Microscopy-UK
---
© Onview.net Ltd, Microscopy-UK, and all contributors 1995 onwards. All rights reserved.
Main site is at www.microscopy-uk.org.uk.