The appeal of stamp sheets - the richness of design features using polarisation microscopy as an example.

by David Walker, UK
I wouldn't describe myself as a philatelist but as a microscopy enthusiast I do enjoy collecting philately items on selected themes related to microscopy. I particularly like the challenge of seeking those out on narrower themes from the many hundreds of microscopy related stamps that have been issued. Galleries shared to date include selected topics in microscopy, photomicrography, diatoms, radiolaria, Van Leeuwenhoek / Robert Hooke and marine plankton / oceanography. Fritz Schulze has also shared his own attractive selection in his 'Microscopes and Stamps' article.
The particular appeal for me in seeking out stamps on a chosen topic is to find those with a wealth of design features as this can prompt further studies. A number of countries issue one or more stamps incorporated into a larger sheet. This can both bring together the discrete stamps of an issue as well as permitting design elements to be extended onto the sheet. One of my favourites which I've come across to date is shown below issued by the Central African Republic in 2011. It's one of two sheets celebrating mineralogists but the other does not have microscopy elements.
It's a pity that the designers of stamps and sheets are rarely credited, as in this case, because they often show considerable research and accurate portrayal of features.
Microscope: Two models are shown and in such detail that they are likely derived from photographs, possibly from one or more maker's catalogue. They are both clearly recognisable as dedicated polarising / petrographic microscope with each having a single centerable, interchangeable objective, rotating stage and slide-in features on the limb for polar work. The detail is sufficient to possibly narrow down to a maker / era if not the model. My best guess is that either one or both are post WWII Spencer models (comments welcomed). A number of features including the limb shape match their model designs (see the 'Spencer Polarizing Microscopes' catalogue of 1946 hosted on Steve Neeley's invaluable website resource on American Optical / Spencer microscopes.
To date this is the only stamp issue that I've come across that feature recognisable polarising / petrographic microscopes and would be interested to hear of any others that readers may have come across. (Admittedly the models shown are more recent than the period over which at least two of the mineralogists depicted were working). There are other stamp issues showing a microscope with rotating stage but that alone doesn't distinguish it as a polarising microscope as it's also a feature of many biological models.
Mineralogists: Three are shown, two of which were unfamiliar to me and prompted some interesting background reading (the links are to their Wikipedia entries).

Auguste Michel-Lévy (1844 - 1911) - a French geologist and a name familiar to many microscopists as the well known and used interference colour chart is named after him. He was a pioneer of using thin sections.

Florence Bascom (1862 - 1945) - an American geologist and Wikipedia provides a fascinating biography. The entry notes that she has become regarded as the country's first woman geologist.
Otto Wilhelm Hermann von Abich (1806 - 1886) - a German geologist, the Wikipedia entry noting that his work included studies of spinels, fumaroles and volcanology.
The second stamp sheet in the series (not shown) featured the Polish mineralogist Ignas Domeika (1802 - 1889) who lived and worked mainly in Chile. The sheet has a short biography. The mineral illustrated, domeykite, was named after him.
Minerals and thin sections:
There are many examples of stamps depicting minerals and is a popular thematic to collect in its own right. This sheet is the first I've come across to date that depicts photomicrographs of rock / mineral thin sections. There are some that depict photomicrographs of subjects under crossed polars, e.g. the German stamp showing Vitamin C in their attractive 'Microwelten' series.
The three geology specimens shown are kyanite, abichite and a calcareous rock. The thin section image shown for the latter does seem to show a subject of that type with typical microfossils. I'm not certain if the other two thin section images are distinctive for kyanite and abichite. Abichite (a hydrous copper arsenate) was named after Otto von Abich featured on the stamp. I'm not clear if the other two minerals can be associated with the mineralogists shown.
Is the stamp sheet on a topic of relevance to the country of issue?

To my knowledge this stamp sheet's design elements have little or no relevance to the Central African Republic and raises a somewhat contentious topic in philately, especially when collecting topicals. Each year many smaller countries including Pacific Islands issue sets of topicals on major themes of interest to collectors but of no relevance to the country—it can be a valuable income generator. This raises questions in the philately literature as to whether collectors are being potentially exploited and writers often note that whether a collector chooses to purchase a given issue is very much an individual one—a policy I adopt.
My own opinion is that without these issues many of the narrow topical subjects I wish to collect wouldn't have any examples to collect at all. A notable example is for recently awarded Nobel Prize winners. I have a very attractive set of sheets that were issued within a year of the Nobel Prize in 2016 for chemistry awarded for 'the design and synthesis of molecular machines', a topic as a retired chemist which fascinates me. Without exception each informative issue was issued either by an African country or a Pacific island—the three winners were born in France, the Netherlands and Great Britain (Scotland) whose postal authorities are unlikely to celebrate their award if past Nobel winners are indicative.
As the above example illustrates, the stamps and sheets can be very attractive and often feature carefully thought out design elements that can keep a collector busy with background reading. Many aren't that expensive, this pair of sheets was £4 although I am wary of sheets priced beyond what I'm prepared to pay. For example, I'm currently collecting philately items depicting photomicrographs or detailed drawings of snow crystals and there are two stunning sheets on this theme that I'd like to own but not at £26 per sheet which a dealer is asking!
If any readers are collectors of topicals / thematics on any subject, I would be interested to learn of their own collecting policies.

Comments to the author are welcomed.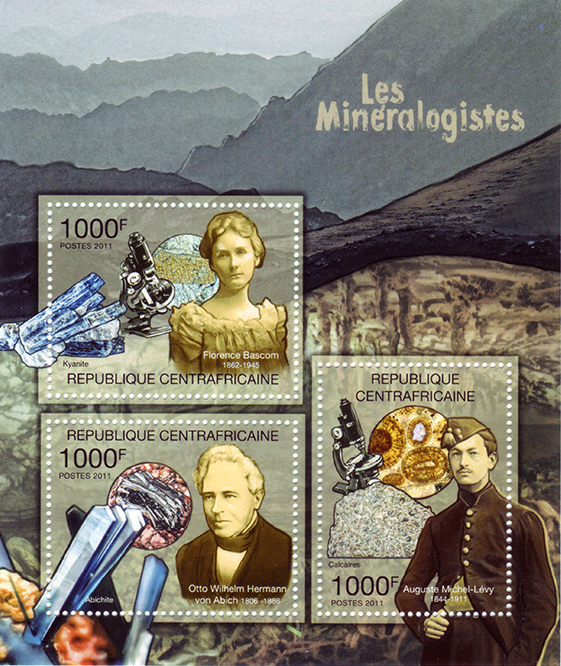 Central African Republic sheet (size 12 x 10.3 cm) issued in 2011 has a wealth of features of interest to the microscopist.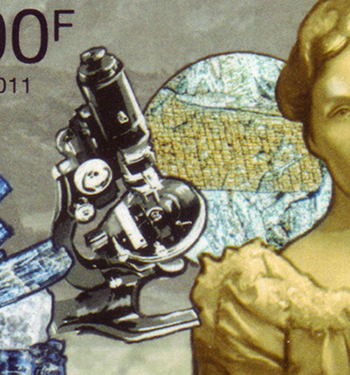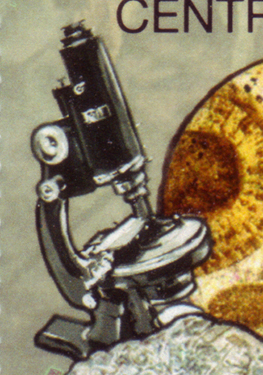 Detail of the microscopes. The left hand model looks the more advanced with additional slide-in features on the tube. The limb shapes look somewhat different and unsure if by the same maker. The right hand model has design elements similar to those of post WWII Spencer models.
Image acknowledgements. The copyright of the stamps and envelope designs remain with the postal issuing authorities and the designers have been credited where known. They are presented here at a limited size as an educational resource on this not-for-profit website. If a copyright holder wishes to contact the author please use the email above. Thank you.
Acknowledgements. Thank you to the many unsung compilers of the Wikipedia entries which are invaluable as a first point of research into a wealth of topics.
Sourcing stamps. For readers interested in seeking out one or more of the stamps on the above or other topics, one of the best portals for thematics is delcampe.net. Catalogue numbers aren't needed and often not stated. Searching for country with year and keyword of theme can usually show all the dealers offering them. Where not offered on delcampe.net, eBay is the second choice.
---
© Microscopy UK or their contributors.
Published in the February 2018 edition of Micscape.
Please report any Web problems or offer general comments to the Micscape Editor .
Micscape is the on-line monthly magazine of the Microscopy UK web site at Microscopy-UK
---
© Onview.net Ltd, Microscopy-UK, and all contributors 1995 onwards. All rights reserved.
Main site is at www.microscopy-uk.org.uk.