MICSCAPE PRACTICAL MICROSCOPY TIPS
---
A METHOD OF SEALING GLYCOL JELLY MOUNTS BETWEEN TWO COVER GLASSES William Ells, Coniferae, Walnut Tree Lane, Maidstone, Kent ME15 9RG. England
---
Glycerine jelly mounts can be somewhat difficult to seal, in warm weather I have found the jelly in some of my pollen mounts oozing out. I understand a drop of formalin on the jelly before the cover glass is put on will cause the jelly to harden, I have not tried this myself.
Some years ago I read of a method of using two cover glasses to make a mount, I am sorry I cannot give the original reference. I was reminded of this when it was referred to by David Cuffe in the newsletter of The Postal Microscopical Society, Balsam Post no. 10 Nov. 1988, again the original reference was not given.
Mounts I made in this way in 1988 show no signs of leakage.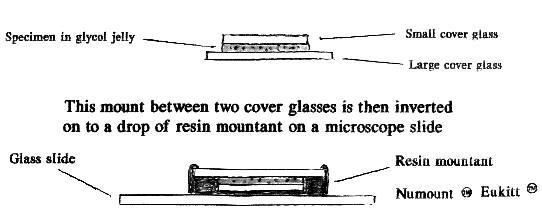 Comments to Comments to the author sent via our contacts page quoting page url plus : ('wells','')">Bill Ells welcomed.
Acknowledgement
The Micscape Editor's thank Bill Ell's for contributing this microscopy tip.
---
© Microscopy UK or their contributors.
Please report any Web problems or offer general comments to the Micscape Editor,
via the contact on current Micscape Index.

Micscape is the on-line monthly magazine of the Microscopy UK web
site at Microscopy-UK

WIDTH=1
---
© Onview.net Ltd, Microscopy-UK, and all contributors 1995 onwards. All rights reserved. Main site is at www.microscopy-uk.org.uk with full mirror at www.microscopy-uk.net.