PRACTICAL TIP
Transmitted light box for stereo microscope
By William Ells
Coniferae, Walnut Tree Lane, Loose, Maidstone, Kent.
ME15 9RG, UK.


---
Many modern microscopes have a base designed to be used with transmitted light. As mine was provided with incident lighting (top) only, I made up the box shown in the drawing. Exact dimensions are not given, as the box must be made to suit the microscope or materials available. My box is about 8 inches square and 2.75 inches high. I used a 15 watt 240 volt pygmy type lamp in a medium bayonet holder and cut an opal perspex disc to replace the reversible black and white opaque disc when using the transmitted light base. A useful addition would be a switch either mounted on the box or a press table lamp type inserted in the flex.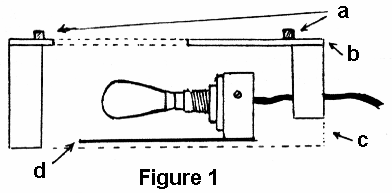 FIGURE 1. SECTION OF LIGHT BOX FROM SIDE
Key:
a) Wood strips to locate base of microscope
b) Hardboard top
c) Heat outlet
d) Metal sheet to reflect light and heat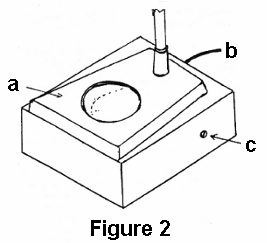 FIGURE 2. VIEW WITH MICROSCOPE BASE IN POSITION
Key:
a) Microscope base
b) Wire to mains
c) Light batten fixed each side with single
screw to tilt for changing lamp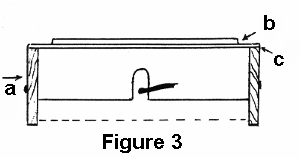 FIGURE 3. REAR OF BOX
(showing gap for heat outlet and slot for wire to allow light batten to tilt)
Key:
a) Wood sides of box
b) Wood strip to locate base of microscope
c) Hardboard top


Comments to Comments to the author sent via our contacts page quoting page url plus : ('wells','')">Bill Ells welcomed.

Editor's note:
For safety it is recommended that a knowledgeable person is consulted if you are unfamiliar with wiring mains voltage equipment, particularly with regard to earthing any metal parts of the light box.
Acknowledgment

The Micscape Editors thank William Ells for contributing this practical tip, which first appeared in Balsam Post, No. 10, 1988, the magazine of the 'Postal Microscopical Society', UK.
---
© Microscopy UK or their contributors.
Please report any Web problems or offer general comments to the Micscape Editor,
via the contact on current Micscape Index.

Micscape is the on-line monthly magazine of the Microscopy UK web
site at Microscopy-UK

WIDTH=1
---
© Onview.net Ltd, Microscopy-UK, and all contributors 1995 onwards. All rights reserved. Main site is at www.microscopy-uk.org.uk with full mirror at www.microscopy-uk.net.