Who made these slides?
Text and Images by Peter Strong
---

My friend, Terry Silk, recently lent me three boxes of slides, apparently of considerable age. Terry bought these from a market stall about twenty years ago in either Tiverton or Taunton in England.
I thought it would be interesting to try and find out the origin of the slides - and where better to try then on the world-wide web.
Maybe you can help track down their source?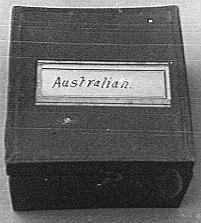 The boxes are roughly cubical, about 90mm x 95mm and around 65mm in height. They are dark grey in colour. Here is a closer look at one of the boxes I photographed in Black & White.
Not a lot to go on, I know.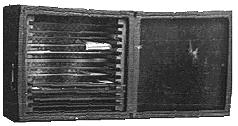 Inside any of the boxes, the slides are neatly contained with many of the slides being 50mm wide x 75mm long and 2mm thick. The boxes also contain slides of the standard size.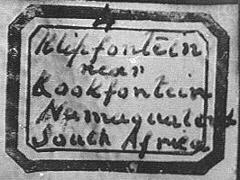 All the slides are of rock sections. Making allowance for age, they are well made and contain igneous rock sections - essentially granite - from Australia and South Africa. There seems nothing unusual about the rocks concerned. Most are labelled as per this example.
"Now, the interesting questions are: who was this widely travelled geologist, and why was he so interested in igneous rock?" Comments to the author sent via our contacts page quoting page url plus : ('micuk','')">Any ideas..?
Editor's note: the Microscopy UK and Micscape Editors would like to thank Peter Strong, who is a new contributor to Micscape magazine, for submitting this original article.
---
© Microscopy UK or their contributors.
Please report any Web problems or offer general comments to the Micscape Editor,
via the contact on current Micscape Index.

Micscape is the on-line monthly magazine of the Microscopy UK web
site at Microscopy-UK

WIDTH=1
---
© Onview.net Ltd, Microscopy-UK, and all contributors 1995 onwards. All rights reserved. Main site is at www.microscopy-uk.org.uk with full mirror at www.microscopy-uk.net.