Introduction
As we enter the 20th year since the start of this web site (1995) and the birth of Micscape Magazine, I cannot help reflecting on the history of the project and where we stand today. Many of the early contributors of Micscape Magazine, the people who gave it the impetus and momentum to get it started and rolling forwards, are, sadly, no longer on earth. Many more who gave so much to others here, freely, have moved on to embrace other avenues for sharing their work. Me? I'm still here. As the founding member of creating a web presence for Microscopy as a pursuit for non-professionals, and the co-founder of our magazine - Micscape, I will be here and engaged with this, I guess, until I no longer walk the earth.

The State Of Play
Looking around the Internet and World Wide Web today, I see a different media platform from the one existing in 1995. Back then, it was all totally a place for information sharing, not commercialism. But like all powerful ways which enable people to reach each other on a grand scale, the ambition to employ that means to make money and gain profit, the Internet was recognised to be the most powerful tool in existence to achieve such goal. Many of the other web sites supporting amateur microscopy have either disappeared or just simply stopped evolving. The reasons for this are many: YouTube for microscopy videos, Wikipedia for good information, Facebook and social networks for 'entity presence', provides a common means for hobbyist microscopists to share their work with others. Also, the development of mobile phones and tablet devices have appealed to an ever increasing number of people. Study, in any real terms, takes time and patience, often in a quiet surrounding. If you're on the move, sitting in cafes and trains, then looking at quite detailed articles about exploring the world with a microscope, is not so much a rewarding experience.

The number of contributors offering work here has fallen too. Most months, we only receive an article or two from the most resilient of long term contributors. Our individual ages are against us as well. We are the old-timers... the people who spent most of our lives before the Internet spawned. New generations are out there, but so many of their young bright minds are so easily distracted into hobbies and interests offering quick rewards. It becomes increasingly difficult to seize and hold their attention to an interest requiring a small degree of focus, and the patience to develop real skill and knowledge.

To The Young And The New
But we are not all equal. Many young people do have enquiring minds and are prepared to sit quietly. Many will take up this interest and become rewarded and impassioned by what they discover. Many older people ultimately move through too-busy lives to emerge in their fifties, sixties, and seventies with a little more quality time to discover new interests, and microscopy becomes their joy. What they all need though is guidance, support, encouragement and positive advice from more experienced amateur microscopists. And that is why I remain here at Microscopy-UK... to provide at least one place where the unique young, and the mind-alive mature adults can come and learn, share, and join with others in learning more about the reality we share. Hundreds, if not thousands, of young people will have been bought a microscope as a Christmas gift. How many of them will give up after five minutes of twiddling knobs and seeing nothing of interest except blurry images and experiencing increasing frustration at their lack of ability to use the 'thing' well?

The Future
I still firmly believe in the ideas which started me out in the endeavour of Microscopy-UK. I encountered Microscopy later in life, but at the a time when the Internet was beginning. My interests were divided between learning and developing more skills associated with computer technologies and my fresh interest in Microscopy. Rather than divide these interests, I brought them together and created this presence. It's time for change. A fresh look and attitude is required to engage new people to Microscopy and yet also retain the experienced and the dedicated. I tried a year or so ago by creating Pippa's Progress. Sadly, as soon as it got going, my young lady, Pippa - who already suffers serious health complications, became increasingly ill due to them. She was finally admitted to hospital just before Christmas and it's unlikely she'll make a speedy recovery. I hope to continue the seed she has sown here through finding a new ambassador to champion what she achieved. Hopefully, she will recover and possibly return here in person. Meanwhile, I feel, in many ways, it is time to return to the beginning and start again in a more structured way. I therefore propose to change the style and approach of both Micscape and Microscopy-UK so it is aimed at bringing the new people to the 'hobby' of microscopy closer to learning and exploring the whole nature of the microverse in novel and ambitious ways.

A new age needs a new approach. Newcomers need fresh lively content and direction fit for their era.

A Call To Arms
I have the energy and fire to achieve this almost single-handedly, but it is best when other like-minded people join into a venture together and, through their synergy, achieve an outcome greater than one person can ever hope to achieve. With this in mind, I would ask anyone interested in producing an improved presence here to get in contact and offer me their ideas or how they might wish to contribute in other ways. Meanwhile, I now set about a gentle evolution of this web site in the coming months. Please write to me directly at molsmith@fastmail.fm

In The Meantime
In the meantime, I believe people new to microscopy might be encouraged to get some water from a local pond, stream, drainage ditch, and put some drops under their microscope. It was this single act which inspired me as the following clips from a video by the late Ken Jones of The Quekett Microscopy Club demonstrate. The video, which I have edited down to a shorter time, was made back then in those early days of Microscopy-UK and was recorded onto VHS tape, well before the advent of digital cameras and the technologies which are so abundant and cheap to acquire today.

Mol Smith (Mic-UK founder)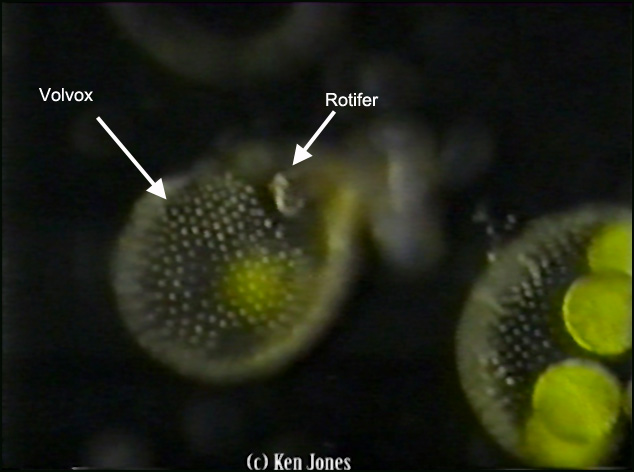 Predator

Unfortunately, life at the smaller scale mimics the life we share here at the Macro level. Living things compete with each other for resources, often in blind predatory ways. Pond and freshwater life is far from being a placid and tranquil place, despite how peaceful a calm pond looks on a sunny day. Hunting, birth, death, and war exists within a small world of water, a world we look at so closely under a microscope and possibly reflect on our own?

The volvox colony here has been invaded by a Rotifer, a microscopic animal, who swims around picking off the members of the colony cell-by-cell. It is ideally adapted to finding and eating food in this way.

You can see the gap created in the transparent surface of the colony where the 'eaten' cells have been taken from. The rest of the cells in the colony continue to contribute their flagella movement to the spinning whole. Are they unaware of the damage being done?

An interesting question here is how does each cell 'know' how to move its flagella in such a way to contribute to the movement of the colony as a whole? What mechanism orchestrates this synchronicity?