Plankton themed stamps - a selection.

compiled by David Walker, UK
I wouldn't describe myself as a philatelist but as a microscopy enthusiast I do enjoy collecting philately items on selected themes related to microscopy. I particularly like the challenge of seeking those out on narrower themes from the many hundreds of microscopy related stamps that have been issued. Galleries shared to date include selected topics in microscopy, photomicrography, diatoms, radiolaria and Van Leeuwenhoek / Robert Hooke. Fritz Schulze has also shared his own attractive selection in his 'Microscopes and Stamps' article.
When compiling a set of themed stamps such as those depicting diatoms and radiolaria, they often form part of a larger topical set and can be more interesting / cost effective to purchase the set rather than a single stamp. The gallery below includes a selection of plankton depicted on stamps which featured in sets which also depicted diatoms and radiolaria. The smaller critters are mainly covered and not larger plankton such as jellyfish. Also shared are some attractive issues on the topic of oceanography where it relates to sample collection on famous voyages and famous scientists associated with oceanographic research.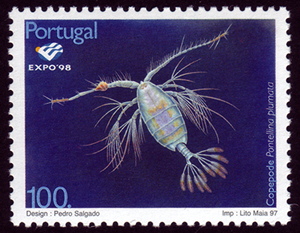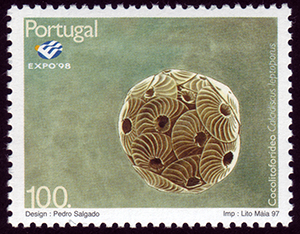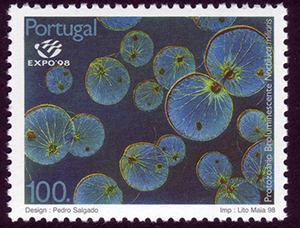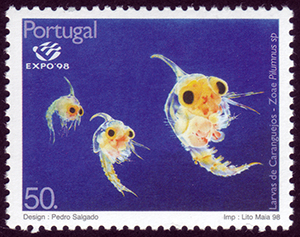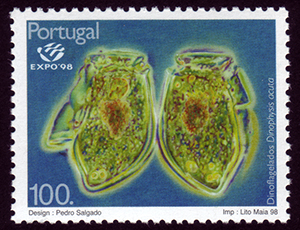 Portugal 1998. Lisbon hosted EXPO '98 and the Wikipedia entry notes that 'The theme of the fair was "The Oceans, a Heritage for the Future", chosen in part to commemorate 500 years of Portuguese discoveries'. A variety of philately related items were issued to celebrate the event including at least twelve stamps depicting ocean life. The five stamps above depict smaller plankton other than diatoms. The designs look as if they are based on photographs and are credited to Pedro Salgado and 'Imp: Lito Maia 97'.
The subjects are as follows, retaining the Portuguese descriptions of the organism types:
'Copepode Pontellina plumata', 'Cocolitoforideo Caladiscus leptoporus', Protozoário Bioluminescente Noctiluca miliaris', Larvas de Caranguejos - Zoae Pilumnus sp' (crab), 'Dinoflagelados Dinophysis acuta'.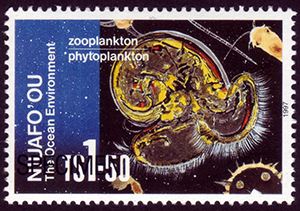 Niuafo'ou 1997. Wikipedia notes that this is 'the most northerly island in the kingdom of Tonga'. They issue their own stamps and a set of four on 'The Ocean Environment' showing 'zooplankton / phytoplankton' were issued. The other three included diatoms so have been shared previously. I'm not certain what organism is depicted—its structure looks multi-cellular so possibly the development stage of a larger organism—comments welcomed.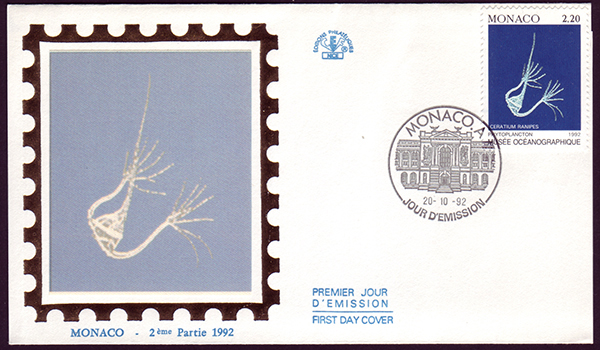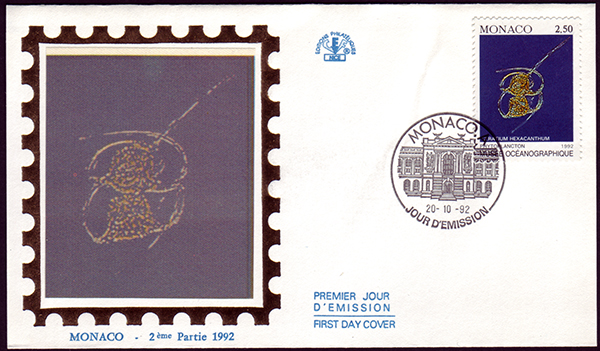 Monaco 1992. This tiny principality has a long and distinguished history associated with studies in oceanography and which are centered at the Oceanographic Institute. The website notes that it was founded by Prince Albert I of Monaco (1848 - 1922). His Wikipedia biographical entry has a section summarising his pioneering studies in oceanography.
Monaco has issued a number of stamps related to oceanography and two first day covers depicting two stamps with silk cachets on the envelope are shown. The postmarks show the impressive facade of the museum which enjoys a striking position on a headland facing the Mediterranean Ocean.
The two stamps and cachets show the dinoflagellates Ceratium ranipes and Ceratium hexacanthum.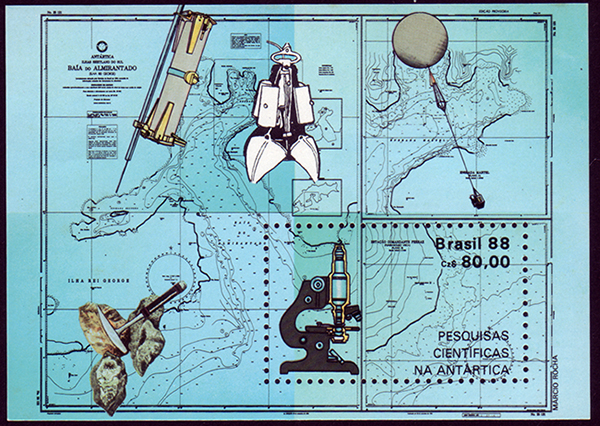 Brazil 1988. One of the appealing aspects of collecting thematic stamps for me is that the designers often include a wealth of design elements on either the stamp or, as here, a miniature sheet. Interpreting the significance of each design element can be rewarding, if not sometimes challenging. The theme of this stamp sheet appears to be Brazilian research on Antarctica were Brazil have a research base at Admiralty Bay—the map featuring as the background. Other design elements include various apparatus for such studies including a microscope and aquatic sampling equipment for both a water column and from the bottom.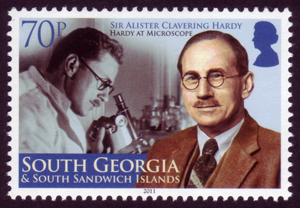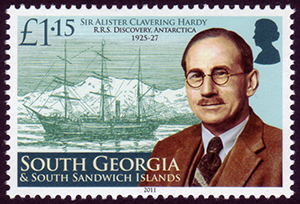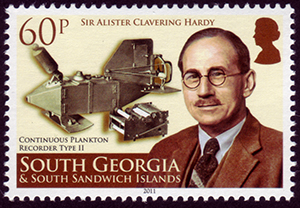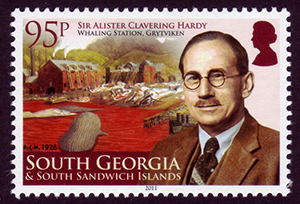 South Georgia and South Sandwich Islands 2011. This is one of my favourite sets of stamps. It is an attractive set of four featuring the work of Sir Alister Hardy (1896 - 1985). The name will be familiar to those who own his classic two volume works in the New Naturalist series. I have Part I 'The Open Sea. The World of Plankton' first published in 1956. It's beautifully illustrated and an authoritative survey of the topic. The set shows a wealth of design features, his work at the microscope, the continuous plankton recorder (CPR) which he designed with Sir Cyril Lucas, the voyage of the R.R.S. Discovery 1923-27 and the whaling station at Grytviken. Wikipedia's biographical entry summarises his life and work and contributions to oceanography. The design of the CPR is ingenious and has been in use from 1931 up until today, see Wikipedia entry. It was designed to be towed by any ship so the data built up over the years has proved invaluable.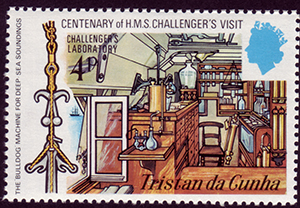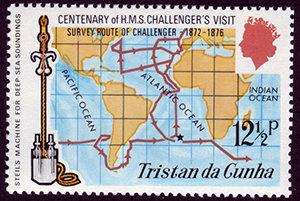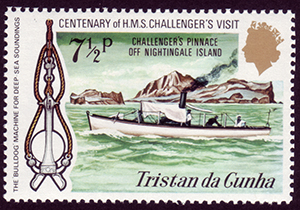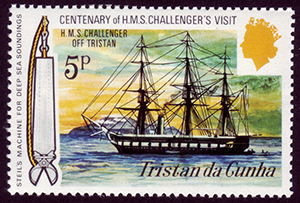 Tristan da Cunha 1973. This set of four stamps celebrates the renowned Challenger Expedition of 1872 - 1876 carried out on board HMS Challenger. As the Wikipedia entry succinctly summarises 'it made many discoveries to lay the foundations of oceanography'. The design elements include, the survey route, HMS Challenger, the ship's smaller boat and the Challenger's compact laboratory. The sampling equipment is labelled and are: 'the bulldog machine for deep-sea soundings' (left upper and lower stamp), Steil's machine for deep-sea soundings' (right upper and lower stamps). Sampling equipment included clever features to enable samples to be taken at known depths in the water column before isolating the sample to bring to the surface.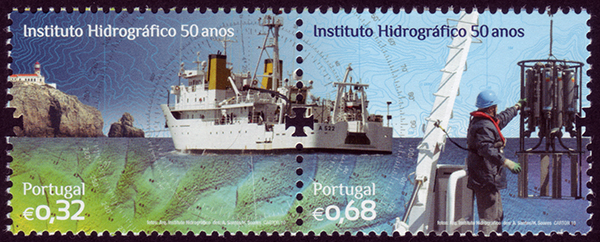 Portugal 2010. This pair of stamps celebrates the first 50 years of their Hydrographic Institute. A research vessel is shown and a sampler design that has been also depicted on other stamps. It may feature multiple sample tubes arranged in a circle, possibly for sampling a water column either to measure physical / chemical properties and/or to collect fauna and flora.
Photo credits: 'Arq. Instituto Hydrografico des: A. Santos / H. Soares CARTOR 10'.
Comments to the author are welcomed.
Image acknowledgements. The copyright of the stamps and envelope designs remain with the postal issuing authorities and the designers have been credited where known. They are presented here at a limited size as an educational resource on this not-for-profit website. If a copyright holder wishes to contact the author please use the email above. Thank you.
Acknowledgements. Thank you to the many unsung compilers of the Wikipedia entries which are invaluable as a first point of research into a wealth of topics.
Sourcing stamps. For readers interested in seeking out one or more of the stamps on the above or other topics, one of the best portals for thematics is delcampe.net. Catalogue numbers aren't needed and often not stated. Searching for country with year and keyword of theme can usually show all the dealers offering them. Where not offered on delcampe.net, eBay is the second choice.
---
© Microscopy UK or their contributors.
Published in the January 2018 edition of Micscape.
Please report any Web problems or offer general comments to the Micscape Editor .
Micscape is the on-line monthly magazine of the Microscopy UK web site at Microscopy-UK
---
© Onview.net Ltd, Microscopy-UK, and all contributors 1995 onwards. All rights reserved.
Main site is at www.microscopy-uk.org.uk.