Microscope Query
Can you help date this Baker microscope?
Editor's introduction:
Can any of our readers help date the Baker microscope shown below for the owner Anni Kappi? Baker were a well known UK maker based at 244 High Holborn, London and the firm ran from 1855-1959.

For some microscope makers it's possible to match a serial number to likely date of manufacture but apparently for Baker no such lists are known. Their serial numbers were up to ca. 40 000 when they were taken over by Vickers in 1959 (who have also now ceased making microscopes), which may give a rough idea where the stand number of 19 661 stood in their years of operating. (This information was sourced from Brian Bracegirdle's excellent book 'Notes on Modern Microscope Manufacturers', Quekett Microscopical Club, 1996).
Incidentally we are very pleased to host queries on the older microscopes on Micscape, as it's a good way of bringing together enthusiasts worldwide who own or who have knowledge of these microscopes.
Anni Kappi, Helsinki, Finland writes:
Hello,

I have an old microscope which I got from my dad some year ago. It is manufactured by C. Baker (London). There is also a number sequence 19961 (or 19661) written on the surface of the microscope. I assume it is the serial number. I have three different objective lenses (1 1/4", 1 3/4" and 2 1/4") and ocular lenses (x5, x10 and x20) for the microscope.

I hope that you specialists could help me to find out how old my microscope might be. I'm also interested to hear some information about the manufacturer.

I send you some pictures of the microscope. I hope they help you to figure out what kind of microscope I'm talking about.

Thank you for your help in advance.

yours,
Anni Kappi

Email: akappi@cc.hut.fi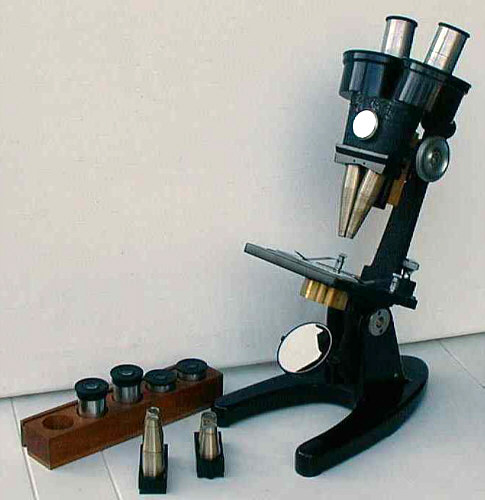 ---
© Microscopy UK or their contributors.
Published in the July 1999 edition of Micscape Magazine.
Please report any Web problems or offer general comments to the Micscape Editor,
via the contact on current Micscape Index.
Micscape is the on-line monthly magazine of the Microscopy UK web
site at Microscopy-UK
---
© Onview.net Ltd, Microscopy-UK, and all contributors 1995 onwards. All rights reserved. Main site is at www.microscopy-uk.org.uk with full mirror at www.microscopy-uk.net.