More on desmid eaters
by Mike Dingley, Australia
In last months' (May) edition of Micscape, William Ells wrote an article Desmids and Other Algae- Primary Producers in the Food Chain. He mentions a rotifer Tetrasiphon hydrocora which had a desmid from the genus Micrasterias in its stomach. I have actually photographed this rotifer (shown below) which I found in a sample in New South Wales, Australia . The image shows the rotifer in question which contains two genera, namely Closterium and Netrium, within its body cavity. However, I did not see the rotifer ingesting the algae but photographed it as is.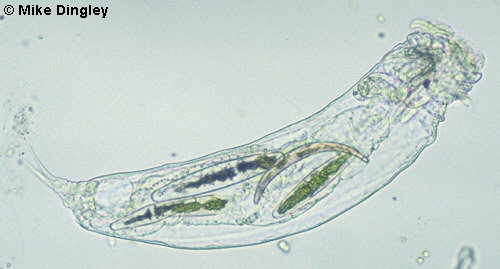 The second image (below) shows a ciliate, possibly Paramecium sp? Which also contains some desmids. These are Pleurotaenium and likely to be Pl. trabecula.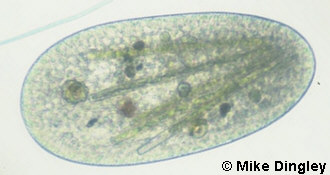 If anyone has images of animals that have fed on desmids I would like to hear from you on michaeld@amsg.austmus.gov.au
Many thanks to Dr. Russell Shiel for identifying the rotifer.
---
© Microscopy UK or their contributors.
First published in June 1998 Micscape Magazine.
Please report any Web problems or offer general comments to the Micscape Editor,
via the contact on current Micscape Index.
Micscape is the on-line monthly magazine of the Microscopy UK web
site at Microscopy-UK
---
© Onview.net Ltd, Microscopy-UK, and all contributors 1995 onwards. All rights reserved. Main site is at www.microscopy-uk.org.uk with full mirror at www.microscopy-uk.net.