In December 2006 I assembled a small image gallery called 'Colours of Winter' celebrating the shapes and textures of early winter concentrating on buds, leaves and seed heads from the garden and hedgerows typically seen in my part of West Yorkshire. To follow up I have created this more expansive gallery as late winter turns to spring, this time my main aim is to capture the vibrant colours of the popular flowers of the season such as the crocus and snowdrop. Since crocuses and snowdrops are very common and being small and low to the ground they are often overlooked but if we bring the camera right down to their level a whole new dimension can be seen.
The South Pennines in West Yorkshire can be a hostile place especially during January and February but if we look around we can find many interesting things to photograph. We are not blessed here with the warmer climate of Southern England but with a little perseverance we can find a selection of varied and fascinating colours from nature. I have purposely chosen just a few plants and flowers to emphasize how beautiful these often overlooked and unobtrusive forms can be if we take just a few minutes and have a closer look. All the flower pictures were taken in situ requiring very close proximity to the ground when using a hand held DSLR which was set to high ASA typically between 400 to 1000 and using a Nikon 60mm macro lens set at f2.8 throughout to obtain the soft focus back drops. The winter scenes were taken with a consumer digicam, the Sony P200.
A few weeks before capturing the pictures of flowers and leaves to follow, the wintry weather was in full flow reminding us the South Pennines can be a cold place although we get nowhere near the conditions of 20 years ago.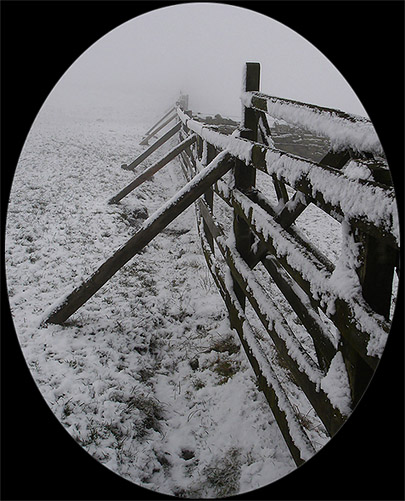 As a fence disappears into the fog, sheep roam the desolate fields below.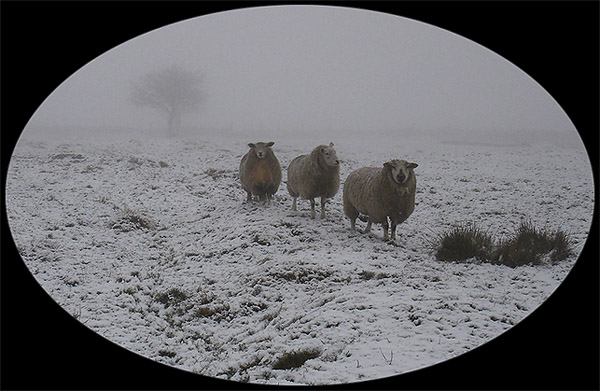 Sheep taking a look at the camera!
Their thick fleece keeps them nice and warm in the winter snows.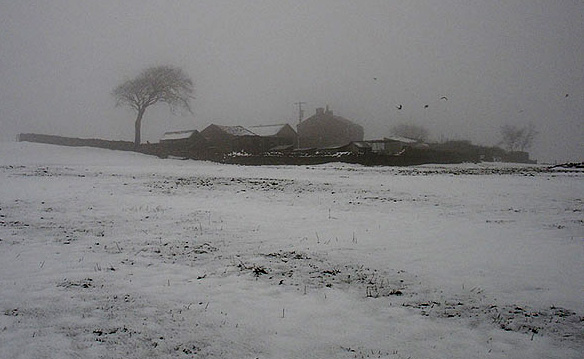 Circling birds flying over an old farm house.
Gloomy winter afternoon closing in as the birds find a sheltered spot out of the cold wind.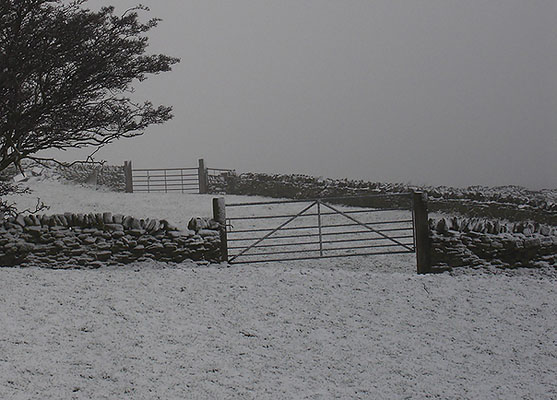 Gates and dry stone walls are typical of West Yorkshire scenery.
A mid-day cold and frosty winter scene.
---
But, in just a few weeks time, snowdrops and crocuses make their appearance...
Each one of the pictures tells a little story of nature...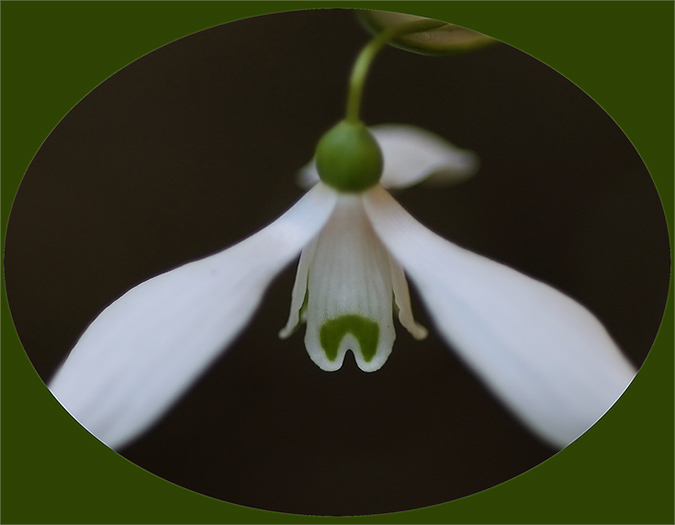 An Orchid?
No, but the gently spreading petals of a tiny garden snowdrop can be just as beautiful.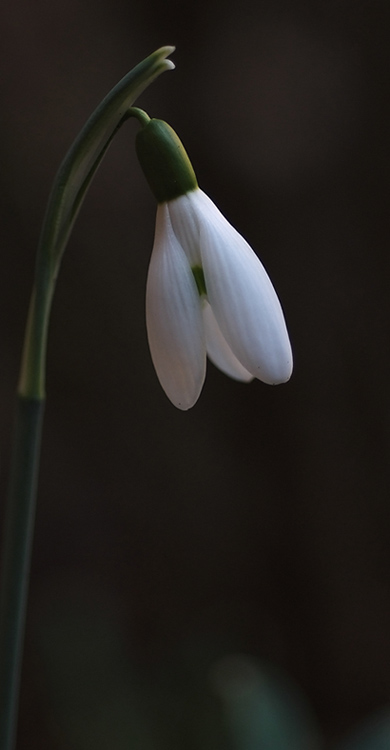 Elegance!
Snowdrop beginning to open its petals.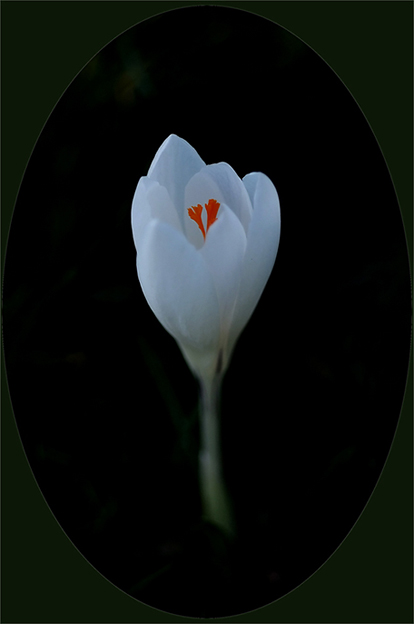 Pure white!
Delicate shades of a crocus.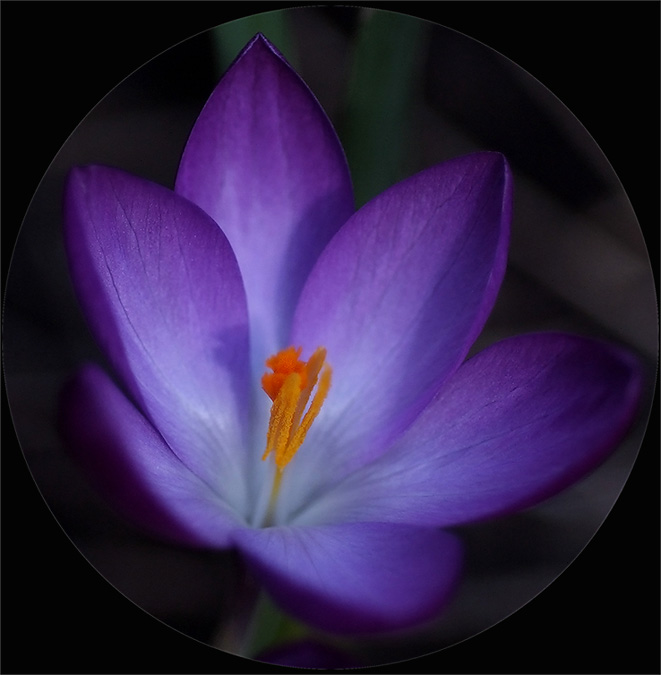 Breathtaking charm!
The deep hues of a single crocus flower in a winter's afternoon sunlight.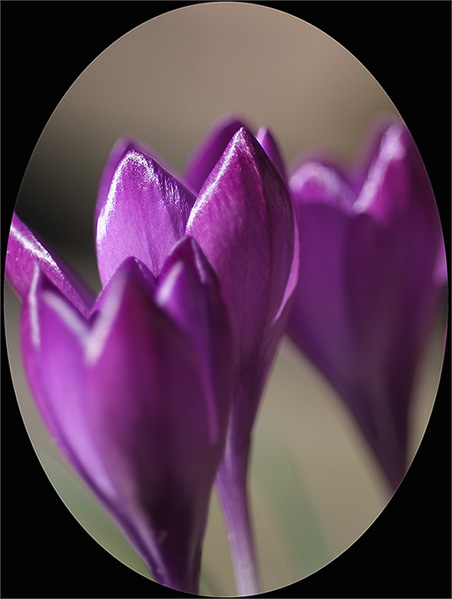 Enjoying the sun!
A group of crocus flowers.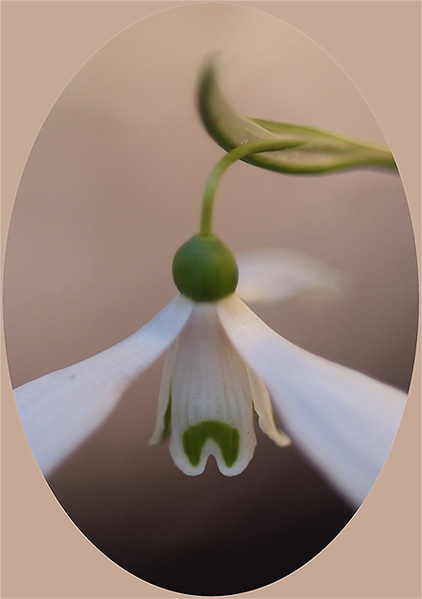 Beauty!
The exquisite and gentle outline of another snowdrop.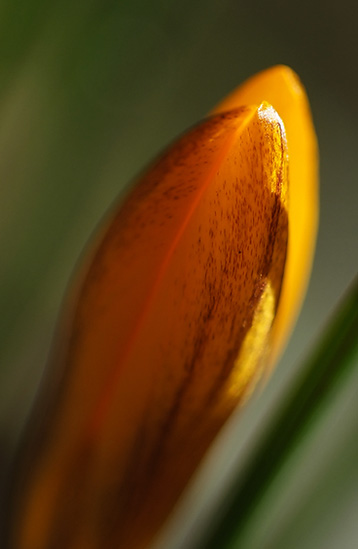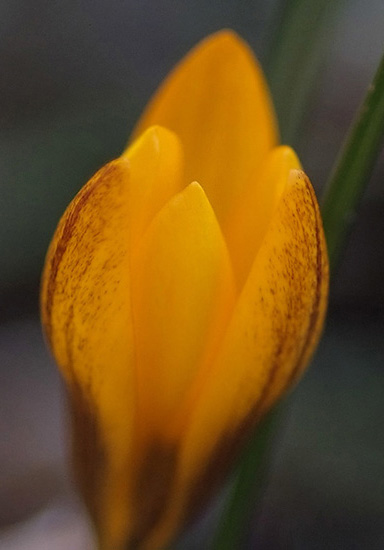 Golden glow!
Above and below a study on yellow crocuses.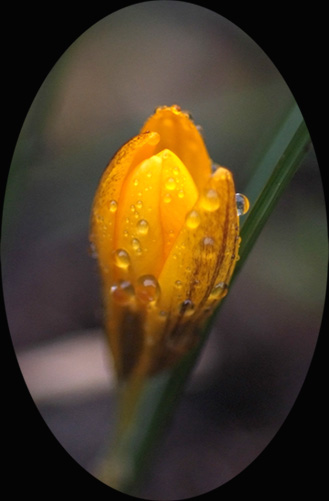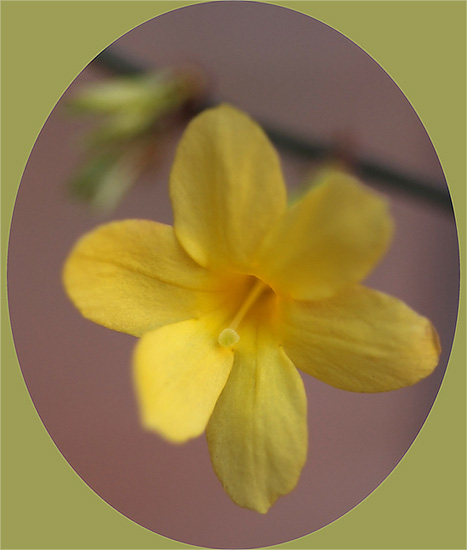 Delicate yellow!
The soft colours of winter jasmine.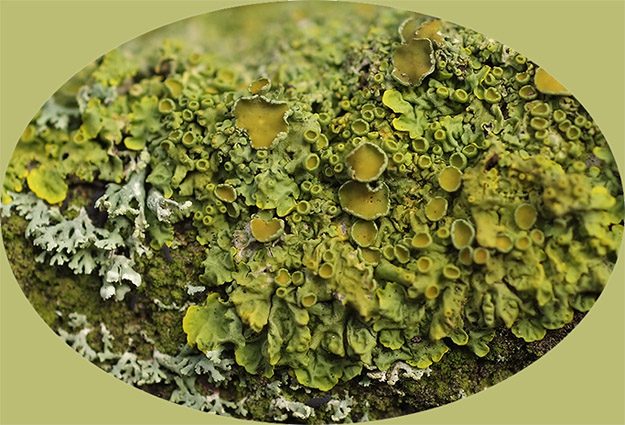 Lichens on a dry stone wall.
The old walls of the Pennine hills provide excellent locations for lichens to take hold.
---
Purple crocuses.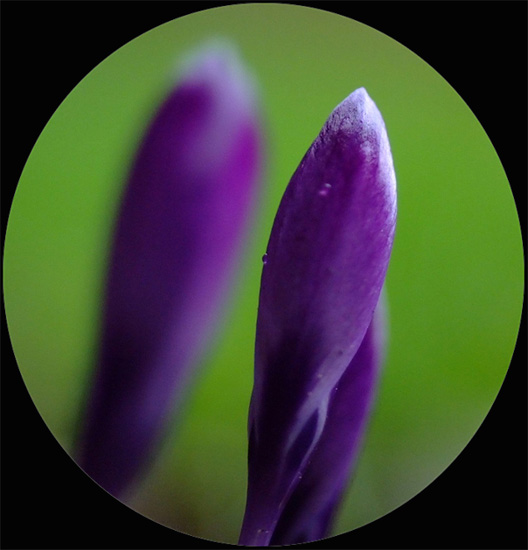 Unfurling!
After overnight rain tiny droplets of water cling to the crocus flowers.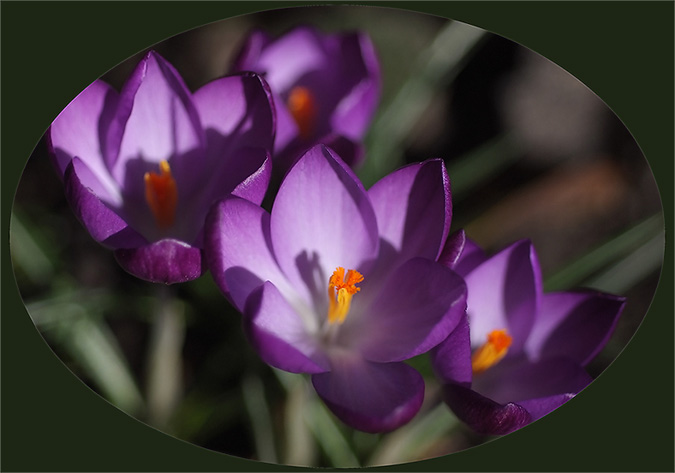 Intimate!
Above and below, crocuses in the late afternoon sunshine, an hour later they had all closed their petals.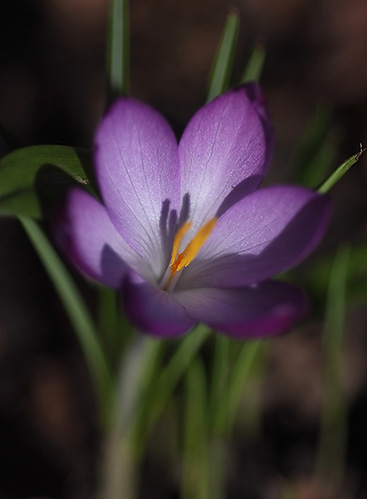 Peaceful in the garden.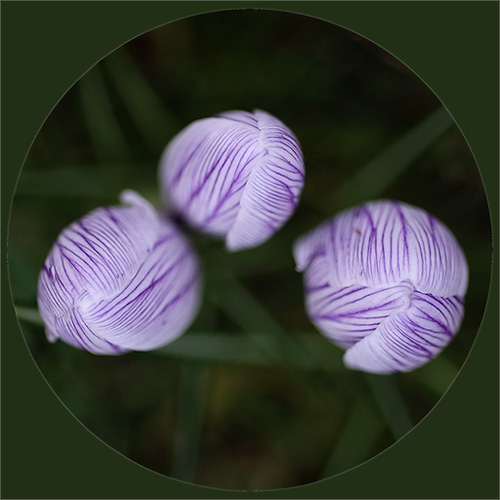 Looking down!
Not long to open, three crocuses growing amongst a grass bank.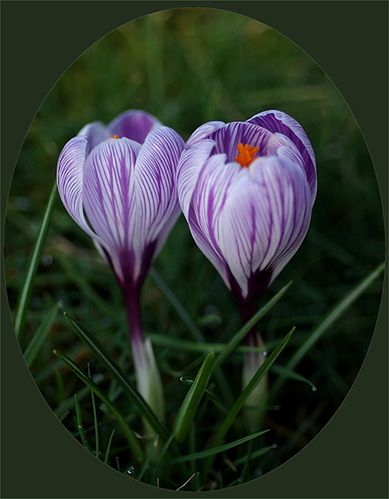 Opening!
Variegated crocuses opening to the morning sun.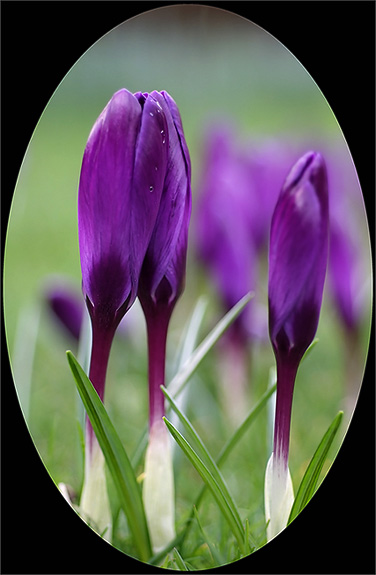 A few of many.
From an open cluster.
---
Some black and white images...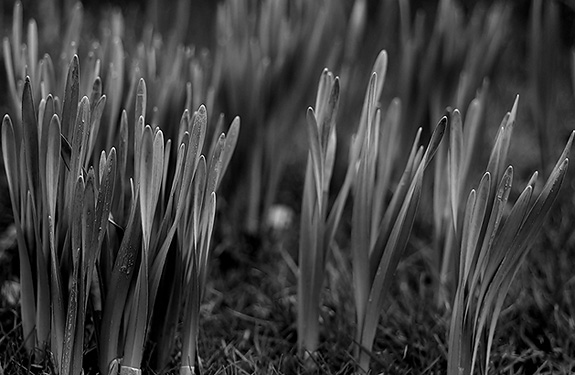 Daffodils growing on a sunny bank of grass, the flowers have yet to come.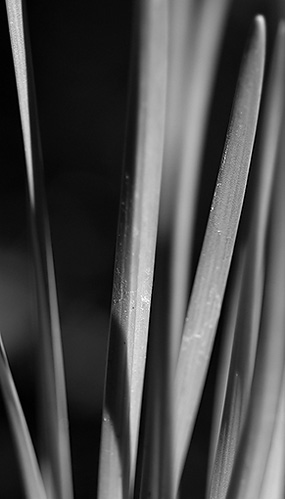 Close-up of daffodil leaves.
From the miniature garden variety.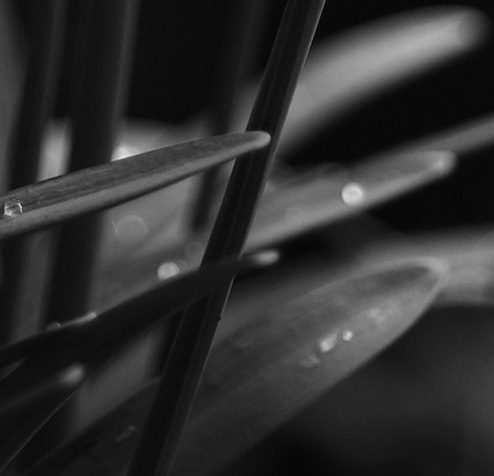 A study on leaves and droplets.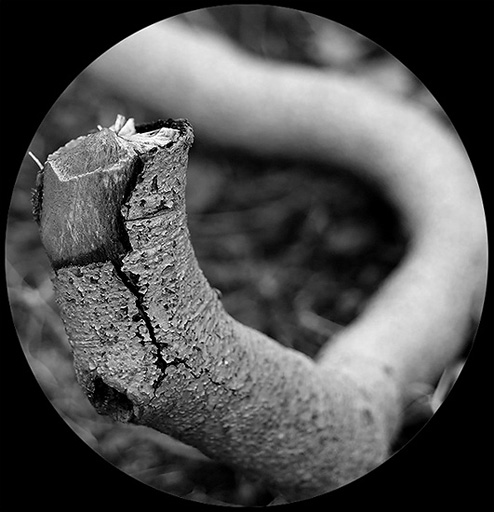 A dead branch curls like a serpent!
---
And finally...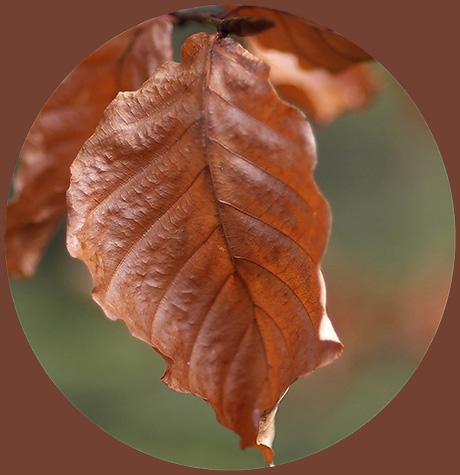 Old leaves.
---
© Microscopy UK or their contributors.
Published in the March 2007 edition of Micscape.
Please report any Web problems or offer general comments to the Micscape Editor .
Micscape is the on-line monthly magazine of the Microscopy UK web site at Microscopy-UK
---
© Onview.net Ltd, Microscopy-UK, and all contributors 1995 onwards. All rights reserved.
Main site is at www.microscopy-uk.org.uk with full mirror at www.microscopy-uk.net .